Considering all of the California camping opportunities, the benefits of camping in California become apparent to the Class C Motorhome camper just as soon as they take into consideration our state's diverse climate.


The varied landscape of this state offers the greatest opportunity to view more
In fact, the only environment that is not represented within California's borders is the arctic tundra.
Custom Search
Other than a tundra, you can find pretty much any other geographical landscape along its 3,400 miles of coastal waterways or the 30,000 miles of rivers and streams. We also have 5,000 lakes eight major mountain ranges and one very small unique mountain range.

With the above thoughts in mind, my goal for this page is to give good information about where to go to find the perfect California camping locations.

To start with, we have various groves of Redwood Forests up north on the "Lost North Coast". Fort Bragg, Mendocino, Point Arena, and Bodega Bay have some great coastal sights and towns. In fact, Mendocino has been compared to the rocky shores of New England.

We have many great central coastal area beaches and parks between Santa Cruz and Santa Barbara County. When going South of Santa Barbara, you get into the classical beach camping in Southern California. This Southern California beach scene stretches between Los Angeles and San Diego Counties.


We Have Campgrounds In CA That Stretch
All Along Our 800 Mile Coast
With a coastline that is over 800 miles long, there are many stunning areas to camp and recreate. California camping along the coast can vary from the mild climate of San Diego with its miles of open sandy beaches to
the more rugged pocket beaches and cooler climates north of San Francisco.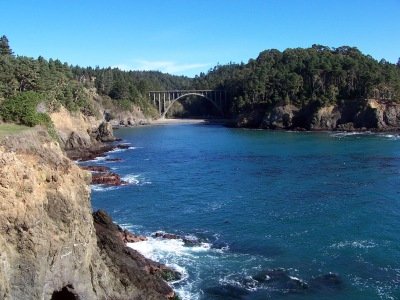 Russian Gulch state Park along Hwy 1
---
Death Valley Is Less Than Ninety Miles From The Tallest Peak In The Lower 48… Mt Wilson
The tallest mountain in the lower 48 (Mt. Whitney at 14,494 ft) is located in the southern Sierra Nevada mountain range. This is just west (85 miles) from the lowest and hottest place in the U. S... Death Valley. Death Valley is 282 feet below sea level with a record for the highest temperature (134 degrees F.) set on July 10, 1913.
It does get cold in this state... on Jan. 20, 1937, Boca, CA (El 5,532) set a record at -45 degrees F. But let's just say, this is not normal... we do call ourselves the "Sunshine State".
It also should be noted that Mt. Shasta (a volcano that last erupted in 1786) is 14,162 feet high and is the fifth highest peak in California. This volcanic peak is located in the Cascade mountain range... and is much easier to climb than Mt Whitney.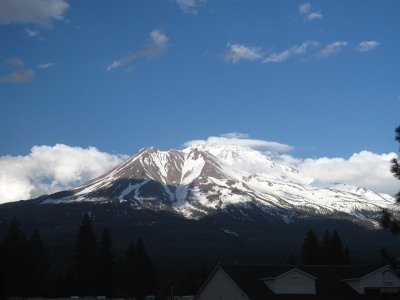 Mt. Shasta In The Southern Cascade Range
---

With all of California's coastline, mountain ranges, deep valleys, and a mean elevation of 2,900 feet, you very quickly realize that you are not in Kansas. The California camping potential even manages to throw in over 27 million acres of desert if you want the isolation that will let you really see the stars.
There is no way that I can list all the campgrounds in CA. That is not the purpose of this site. I only want to talk about specific California campgrounds that we have found to be of our liking and believe that you would enjoy. Woodall's 2012 Northern American Campground Directory
is a good source of campground information that should fill in the gaps. The book has a complete list of EVERY campground the western United States.


We Have A Rich History Of Cultural
Population Diversity That Is Still Growing
Historically, California has been the home for various indigenous peoples for at least 15,000 years. There was a varied and distinct Native American population that took advantage of this area and its bounty of food and great weather.
Things began to change in the early 1600s when Spanish explorers arrived looking for El Dorado (A place of fabulous wealth or inordinately great opportunity).
However, California as we know it today, really got started just after the discovery of gold, and the ensuing gold rush of the 1850s.
Because of our varied terrain and population cross section, it can be said that California's camping options are as diverse as its citizens.
We have rugged mountains, high desert, low desert, valleys, and a coastal range of mountains with a variety of redwood groves. There are also the huge inland redwood giants tucked into various canyons along the Sierra Nevada mountain range.
Calaveras Big Trees State Park
---
To Sum This Up, Camping In California Offers
Something For Everyone
We also have a thriving and scenic delta region that seems to be stuck in a period of 50 or more years ago. This
delta area is located in the great central valley that
has many California Camping options.
Among all of this diverse scenic landscape, spread throughout California, you will find small and large pockets of wine producing areas. If California were a separate country, it would be the world's fourth largest wine producer.
California camping opportunities abound, whether you want a comfortable RV park in a major metropolitan area with full amenities or boon-docking locations on remote B.L.M. land! We have it all... national parks, state parks, or local county campgrounds. California has something for everyone.
---