San Joaquin Delta is a contradiction in that this special geographic location has a personality unlike any other place you will find in California.

This Sacramento River Delta region (This area is sometimes referred to as the San Joaquin - Sacramento River Delta Region, Sacramento River Delta, San Joaquin Delta, or any combination of Sacramento/San Joaquin Delta) is mostly an agricultural region.
Custom Search
Sacramento River Delta Recreational Opportunities
However, there are plenty of opportunities for recreational enthusiasts. You will find boating activities, such as fishing, water skiing, kayaking, and wind surfing. There are also diverse
activities such as great hikes,
rowdy festivals, and quiet, isolated sloughs that can restore the soul. Most of the 1000 miles of the San Joaquin Delta waterway can be summed up with the word, "quaint". It is almost Midwest in flavor.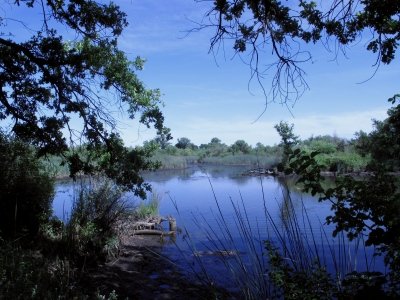 Lost Slough
This Is An Inverted Delta
The San Joaquin Delta region is also unique in that it is considered to be an inverted delta region. Inverted deltas are very rare. There are just a couple of them in the world, and none are as extensive as ours.
Inverted deltas consolidate runoff from multiple channels into one major waterway going into the ocean. The San Joaquin Delta traps all the water runoff from California's Central Valley and channels it through the Carquinez Strait and into the San Pablo Bay. It then makes its way under the Golden Gate Bridge and into the Pacific Ocean.
This is the exact opposite of the "classic" delta in that, when viewed from an altitude, it will fan out from a narrow river entrance to a multiple channel system where it enters the ocean. The Nile River is an example of this type of delta.
Inverted deltas are very rare because they have a tendency to fill up with silt in a geologically short period of time.
---
A Favorite RV Park
You have many choices of RV parks and campgrounds to stay at while visiting our San Joaquin Delta. An example of a small RV Park that has good sites with 30 amp power is the Ko-Ket Resort.
This resort is unique in that they have site locations
directly on the Sacramento River.

This San Joaquin Delta RV resort has 10 shaded grass sites that are sitting right on the river. This is a very nice little park that is very well maintained.

Ko-Ket also has an easy access from the freeway. It is only 8 miles from I-5 using the Walnut Grove Thornton Rd exit. Using this route keeps the driving distance along a narrow levy road to just over 2 miles. For some rigs, this could be a real plus.


Directions to Ko-Ket:


From I-5 take the Walnut Grove Thornton Rd west.


Walnut Grove Thornton Rd merges with the River Rd... stay right and continue on River Rd for about 600 ft, then turn left and cross over the Georgiana slough.


Immediately after crossing the Georgiana slough, make a right on Andrus Island Rd... after a short distance, this becomes Isleton Rd.


Stay on Isleton Rd for just under 2 miles... Ko-Ket will be on the right.


---
A Unique Town…Locke, CA
Leaving Ko-Ket and driving north just over 3 miles on Isleton Rd. will take you to the town of Locke, CA. There are many small towns in the San Joaquin Delta. Locke, however, is somewhat unique. Although its roots only go back to the early 1900's (there are many small towns in Northern California that can trace their heritage back to the 1850's), it still holds a unique place in California History.
This is the only town in the country to have been built entirely by the labor of Chinese workers for the exclusive
use of these same workers.
In other words, the Chinese built this place and then lived here. Now, you may be asking, "Why in the heck were all these Chinese settling in the San Joaquin Delta?"
Well, that may be a good question if you are not from the area. But, as everyone who is from here knows... these Chinese immigrants were a major factor in the early economic growth of our state and our country.
The Chinese immigrants have been a major contributor to our economic health for the last 150 years or so. Chinese labor... I say labor, because they worked where no one else would, put the Transcontinental Railroad over the Sierra Nevada Mountains. This is considered to be one the greatest technological feats of the nineteenth century.
The Chinese were also instrumental in the building of the Panama Canal, and the building of levies in the San Joaquin Delta.
Unfortunately, many US citizens were not open to the idea that the Chinese should have equal opportunity in this great nation. It wasn't until the 1940's that our government figured out that these people should become citizens and have the right to vote. But, that is another topic.
---

Locke is not a large town, and it has never had a population over 600. This San Joaquin Delta town is not going to be accused of being a tourist trap. It is unusual though... the main street profile has not changed since it was built. The people here quietly go about their business and welcome visitors.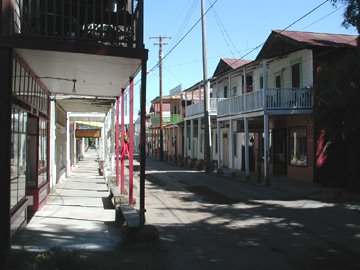 Downtown Locke
A Short Hike Along A Sacramento-San
Joaquin Delta Slough

Behind Locke is a 2.5 mile hike that is somewhat hidden. At one time, this was a very small state park.  However, the park has closed, and therefore, bathroom facilities are no longer available.  There is still a trail back here and there is a path leading to it from the Easter side of the town. This is a small community, so be courteous to these residents...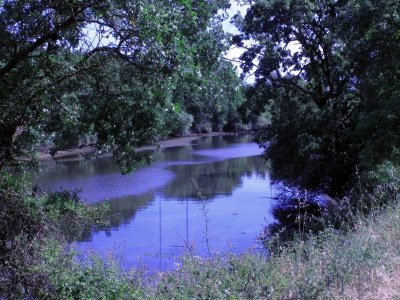 RR Slough

This is one of the few areas that still gives a glimpse of what our delta system was approximately 150 years ago. It is an incredibly peaceful area with sloughs, natural islands, and meadows teaming with birds, such as the great blue herons, mallards, kingfishers, and cormorants.

The nature of our delta dictates that viewing "The Meadows", as it is called, is best done by boating access. However, the above mentioned trail will give you a flavor for this unique area.

This hike incorporates a narrow corridor of land alongside Railroad Slough. This is the home for otters, beavers and muskrats that inhabit the waterways and shoreline of the surrounding sloughs. Blackberries are abundant during the summer months, and offer a summertime treat.

---
---
Return To Top Of Page


Leave The San Joaquin Delta Is A Prime Class C Motorhome Destination! And Return To California Hiking Is The Best Way To See The Wonders

That This Diverse State Offers!
Leave The San Joaquin Delta Is A Prime Class C Motorhome Destination! And Return To The Class C Motorhome: How To Achieve The Maximum RV Lifestyle!