The Utah National Park System Offers Zion Park As Its Most Visited
National Park


The Utah National Park System includes Zion, Bryce Canyon, Arches, Canyonlands, and Capitol Reef. Because these parks are relatively close together, all five of these great national parks can be seen using the Grand Circle Road Tour.


The Challenge Is Time... You Will Want To
Leave Room To Dink Around
This route will take you over 1100 miles of highway. It is possible to drive the Grand Circle route in one week; however, you would be missing a lot. This part of the country should be enjoyed at a leisurely pace.
View Larger Map
Utah/Arizona Grand Circle Route
The Grand Circle begins and ends in Utah. In addition to the parks mentioned above, this route offers you the opportunity to also visit the North Rim Grand Canyon, Mesa Verde, Monument Valley, Lake Powell, and the assorted state parks like Quail Creek and
Snow Canyon State Park.
A Good Place To Catch Your Breath
Before Driving 1,100 Scenic Miles
Our trip to Zion brought us in from the Las Vegas Area. We actually stayed at the CasaBlanca Resort in Mesquite, NV. If you are driving up from the Los Angeles Area, the CasaBlanca would make a good stopover point.
It is just under 500 miles from L.A. to Mesquite. I don't know about you, but that is a long way for me to drive a motorhome in one day!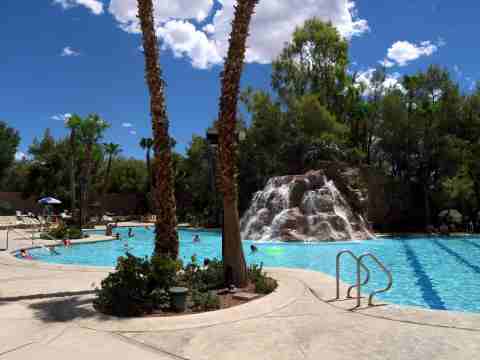 The CasaBlanca Pool
At any rate, there are advantages to using this resort as a rest day... maybe two. They have an RV Park for a reasonable price... and you get to use the pool shown above.
This resort also has a couple of very good restaurants available along with a full buffet on the weekends.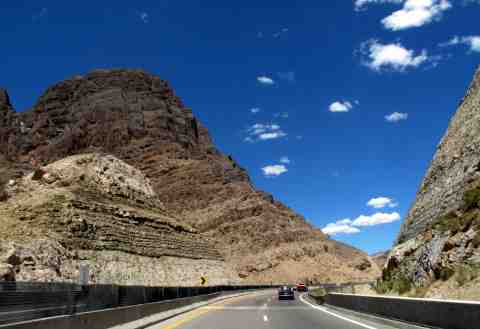 Leaving The Flat Desert Of Arizona Is A Welcome Change In The Scenery... Beginning With The Virgin River Gorge
Also, you don't want to drive into Southern Utah and begin your Utah National Park tour after dark. After Miles of flat Arizona desert, the scenery change is amazing going through the Virgin River Gorge.
If your RV travels to the Southern Utah National Parks tour begins with Zion,
you have a choice of two Zion National Park campgrounds
that are great destinations for your Class C Motorhome. You have the Watchman and South Campgrounds just inside the southern park entrance on Highway 9.


Return To Top Of Page

Leave Utah National Park And Return To The Class C Motorhome:
How To Achieve The Maximum RV Lifestyle!