After buying a new set of tires, can tire safety still be a problem? Tires generally, along with motorhome tires and even travel trailer tires, need to be as fresh and new as possible at the time of purchase... or do they?


Custom Search
It appears that this "tire vintage issue" is not a settled argument. I am thinking, therefore, a bit of discussion on this topic of tire safety is in order.
Essentially, There Are Two Camps In This Aged RV Tire Debate.
In recent years, a debate has begun concerning whether or not tires can, or should, have an expiration date. There seems to be some evidence pointing to a defined, or set, period of time that our motorhome tires can be used before replacement... regardless of tread wear!
Strategic Safety Thinks Tire Safety Is A Major Concern
There are organizations like Strategic Safety, who advocate the position that motorhome tires will become a hazard after a set number of years... regardless of mileage and tread wear. They feel this is a real tire safety issue.
Their position is that ALL tire rubber compounds will deteriorate and become a road hazard waiting to happen. They claim that although a tire looks new, it may have been setting in the trunk or on the dealer's shelf for 6, 7, or even 10 years. If this were the case, it could cause a massive blow-out without warning... this kinda make you want to go out and do a solid tire inspection right now.
---
The Motorhome Tire Manufacturers Claim That The Age Of A Tire Is Not A Key Factor
This second opinion comes from the tire industry which has fought efforts to mandate an expiration date on RV tires. The tire industry maintains the position that age is not a KEY factor in tire safety and performance.
Dan Zielinsky of the Rubber Manufacturers Association states, "We have taken a stand against the industry setting arbitrary replacement guidelines for tires based solely on age."
It should be noted that the Rubber Tire Manufacturers Association represents the tire manufacturers in the U.S.
The U.S. tire manufacturers insist there's no scientific evidence to support a "use by" date for tires. According to Timothy Aeppel, a staff reporter of the Wall Street Journal, the tire industry says that tires are safe as long as the tread depth is a minimum of 1/16th of an inch, no matter what the age, and there are no visible cuts, signs of uneven wear, bulges or excessive cracking. Other trouble signs are if tires create vibration or excessive noise.
---
Broadcast News And Our Elected Representatives Have Put Their Two Cents In... They Have An Opinion
Over the past few years, there have been various television documentaries like the 2008 ABC investigation that hyped the concerns of Tire Safety.
Also, there have been various states like California and Hawaii that have introduced specific legislation attempting to address the issue of aged tires.
In Hawaii, Senator Mike Gabbard introduced SB 1064 which would prohibit the sale of old tires. This piece of 2010 legislation was designed to stop the sale of tires over six years old according to the manufacturing date. Meanwhile in California, the Assembly passed legislation in 2009 that would make the retailers show in writing the age of the tire at the time of sale.
What Do They Think About This Across The Pond?
While the U.S seems to be taking a more or less laissez faire attitude toward our aged tires, the English have been more proactive on this subject of tire safety. Across the Atlantic, the British Rubber Manufacturers Association has posited similar warnings about the dangers in using tires over 6 years old. They have warned that these older tires should not be put in service.
Ford Has Felt The Heat... They Like New Tires On Their Vehicles
It should be noted here that of the big three car manufacturers in Detroit, it seems that only Ford has suggested that the Feds impose an expiration date on tires over 6 years old. In fact, the Ford Motor Co. has recently started to suggest to customers that there is a need to replace their tires after six years.
In the not too distant past Ford became entangled in a sudden-tire-blowout scenario that caused multiple roll-overs on one of their popular vehicles. They essentially took a beating with the Explorer/Firestone tire failures and roll over incidents that began in the year 2000.
This wave of deadly crashes involved Firestone's tires that suddenly, for no apparent reason, failed. This happened mostly on Ford Explorers. The crashes sparked a series of lawsuits including monetary and personal-injury claims that are still being litigated, and the pending outcomes could cause Ford big bucks in restitution. To sum this up, it appears that Ford is a bit cautious now on matters relating to tire safety.
At any rate, Ford has the U.S. tire industry ticked off. Ford claims that they have research indicating that all tires "degrade over time, even when they are not being used." This even includes our pristine spare tires hanging over the back of our Class C Motorhomes.
Remember, a dirty under-inflated or overloaded tire is guaranteed
to give you grief... even if it is only two or three years old.
---
So How Old Is Your Tire?
Now that you know about the possible issue that has been created with aging RV tires, how do you find out how old your Class C Motorhome tires are? Well, it's not that hard to find out.
Tire manufacturers have always put an encoded dating number on their RV tires. The problem has been that tire manufacturers have not been forthright in how to decipher their numbers.
So let's get into how we decipher this encoded number. It is a fairly simple process. First, you must find a three or four digit number located on the sidewall.
On some motorhome tires, you will find this number on the outside sidewall, and on other motorhome tires it can be located on the inside... which is a real pain. I cannot find any rhyme or reason for this... I'm thinking that this relates to who mounts your tire. You appear to have a have a 50/50 chance for it to be on the outside.
However, you might want to go under your rig and check the physical condition our your motor home tires anyway. It would serve you well if you were to find cracks, bulges, and potential tread separation before you had a blow-out on the road.
This would be a good time to do some preventative care. Cleaning your tires and using some 303 Aerospace Protectant
goes a long way toward keeping your tires like new!


Look around the inside and outside of the sidewall for the Tire Identification Number (TIN). The TIN is located at the end of a Department Of Transportation (DOT) number. The DOT number has six or eight digits. The TIN number usually follows this DOT number and is going to be either a three or four digit number.
If you see the DOT and you cannot find the three or four digit TIN number, then look on the opposite side of your tire. It could be on either side... it just depends on how the tire is mounted.
If you find a three digit number, the tire was made before the year 2000. If this is the case, the first two digits represent the week number, and the last single digit is the year manufactured.
So if your tire has a 369 like the graphic below, it would indicate that your tire was made in the 36th week of 1999.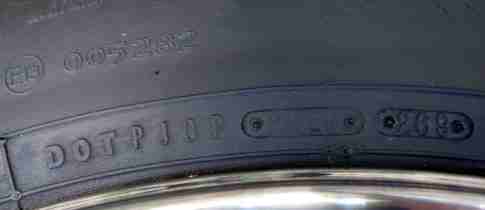 The Motorhome Tire Indicates It Was Manufactured
In the 36th Week Of 1999
However, most of us will find four digit numbers. A four digit number indicates that the tire was purchased after the year 2000. Decoding this number is similar to the previously mentioned three digit number with the following exceptions.
The first two numbers will again represent the week manufactured, and the second two numbers the year of manufacturing.
So if you your four digit number is 1906 like the following graphic shows, it would mean that it was manufactured in the nineteenth week of 2006.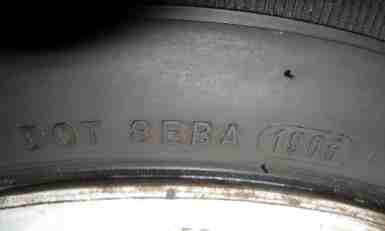 This Graphic Of A Motorhome Tire Shows A Post 2000
Manufacturing Date of the nineteenth week of 2006
---
Keeping Your Tire Paperwork Organized May Save You Money!
As a side note, something to pay attention to is the warranty period for your RV tires. It is VERY important that you retain your sales receipt when purchasing your tires.
In fact, I would keep all of the relevant data on your motorhome tires inside the vehicle with your registration papers. The reason for this is that most U.S. tire manufacturer's warranties will cover your motorhome tires for four years beginning with the date of purchase or five years from the week and year your rig's tires were manufactured.
If you lose your receipt, your tires may have fewer years of protection, especially if your motorhome tires sat for two years at the dealership. However, if you kept your sales receipt, then your warranty period would be four years from the date of purchase... the result usually being more years of coverage.
So How Do We Sum This Up?
This aged-tire issue is not something to totally ignore. However, I'm thinking that the jury is still out on this. I've not read where definitive testing has been performed indicating this tire safety issue is a major concern.
However, there is a lot of anecdotal evidence suggesting that there may truly be a tire safety issue here. The next few years will probably resolve this issue one way or the other. Hopefully, it will not become political.
At this point in time, I'm thinking that a good
visual inspection regularly completed
on your motorhome tires will go a long way toward keeping you safe on the road. This is also a good time to think about your responsibilities to
to clean the RV tires under your rig.


Return To Top Of Page

Leave Tire Safety And Return To Your Motorhome Chassis

Leave Tire Safety And Return To The Class C Motorhome: How To Achieve The Maximum RV Lifestyle! Page