RV Safety:
Which One Is Safer On The Road… The Class A Or The Class C Motorhome?


RV safety, for those who want to feel secure, is something that needs to be discussed. When we are looking to buy and use a motorhome, we have a tendency to visualize our future lifestyle being at an off road location. We usually don't think about getting in an accident while on the way to this destination. But, stuff happens... and it could happen when we least expect it.


What Are The Motorhome Safety Advantages And Disadvantages Of The Class C and Class A Motorcoach?
Custom Search
So, what is the best design when referring to motorhome safety? It sort of depends on a few fundamental issues. This page is going to point out some pro and con RV safety tips that will compare the Class A Motorhome with the Class C Motorhome.
There are many factors to consider when discussing RV safety and a motorhome's performance. I will tell you up front that both versions of these motorhomes have advantages and disadvantages.

The Class A and Class C Motorhomes share some basic road handling and recreational vehicle safety issues.


Here are a couple of areas that you should consider:


As a general rule, you want the wheelbase to be over 50% of the total length of the machine... the closer to 60% the better.



This longer wheelbase equation gives a MUCH safer emergency stopping capability. A short wheelbase is a "squirrelly wheelbase" and will want to flip under panic stop conditions.



Not having the big heavy television with a CRT (Cathode Ray Tube) up above the cab.



In a wreck, this could drop on your head and really aggravate an already irritating situation.



Having to pay attention to the amount of weight that is being carried around.



All motorhomes have limits on what they can haul.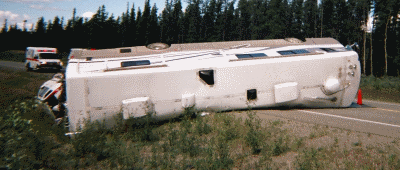 Oops!
---
The Safety Advantages Of The
Class C Motorhome Are
They are crash tested by the National Highway Traffic Safety Administration (NHTSA). This is because they are built in an automotive assembly line with all the other cars and trucks that Ford, Chevy, and Chrysler make.


They are generally smaller and can be driven into "tighter spaces".



They simply, on average, do not take up as much room.



From a driver's perspective, it is just like driving a van.


The Safety Disadvantages Of The
Class C Motorhome Are
They have a type of suspension that results in a more fatiguing drive.


They are subject to wind buffeting... making it harder to keep in the driving lane


They have a drive line, cargo carrying capacity, and suspension components that hinder the amount of stuff you can take with you.



This makes them prone to overloading... a condition that can blow tires and hinder controlled breaking.


---
The Safety Advantages Of The
Class A Motorhome Are
They are easier to drive, and they have a much more forgiving suspension... making them much less fatiguing.


They have an overall better visibility, but some models are better than others.


They have a shorter turning radius than your typical Class C.


The Safety Disadvantages Of
The Class A Motorhome Are
Some models come with a wooden frame or a delicate metal frame... this frame will not always hold up under impact.


They are not generally crash tested by NHTSA.



There are some European motorhomes that claim this type of testing (Hymer EXSIS-i), but they are not not sold in the U.S.



They are required to have a larger camping space if they are over
30'... some parks vary in this consideration. As a rule of thumb, if you can keep your tires on the pavement, you are good to go.


They can be intimidating to new or inexperienced drivers.


Here are my last couple of thoughts about RV safety. This subject of driving safety tips obviously ties into driving an RV safely; but in reality, neither of these classes of motorhome are difficult to manage... with the exception of a couple of issues. If we do not pay attention to these two issues, we could be heading into harms way.
With a well-maintained motorhome there are two key areas that can get us into trouble... being overloaded and going too fast!
If I were to give advice on any safe driving tips, it would be to slow down, and
watch your weight.
We all know that driving fast can get us into trouble. What we may not be aware of is that if our rig is overloaded and we are unable to stop in an emergency situation, we could be held responsible for causing an accident. Bottom line... a heavy rig will not stop as fast as a lighter rig! Just something to think about.
Another area of concern when thinking about RV safety is the issue of RV Recalls. Like a lot of things in today's world, knowledge is power. If you are considering the purchase of a new or slightly used rig, it may be a good idea to have current information on any recalls that may be in effect.
---
Custom Search



---
Return To Top Of Page

Leave RV Safety: Which One Is Safer On The Road… The Class A Or The Class C Motorhome? And Return To Your Motorhome Chassis
Is The Foundation To Your Home On Wheels

Leave The RV Safety: Which One Is Safer On The Road… The Class A Or The Class C Motorhome? And Return To The Class C Motorhome:
How To Achieve The Maximum RV Lifestyle! Page