California Lakes range in elevation of over 7900 feet (Mammoth Lakes, CA,) to elevations of less than -280 feet (Bad Water Lake, Death Valley, CA,). In between these two extremes, are over 5,000 lakes, many of which have great campgrounds available for the outdoor recreation enthusiast.


Lakes in California offer water skiing, paddle boarding, lake canoeing and kayaking along with fishing... heck, you can sometimes even hike completely around the things!
I live in Northern California, so I'm familiar with those lakes between and around Sacramento and Lake Tahoe. Years ago, I used to water ski in Folsom Lake, Union Valley Reservoir, Scott's Flat Lake, and Camp Far West Lake. I can tell you, there is nothing like jumping into the crystal clear water of a California Lake on a hot summer day! However, things have changed and I don't water ski anymore. So, if you are like me, and don't want to pull a good sized ski boat around with your Class C Motorhome, you may be into other forms of California water sports.
Custom Search

Here's A California Lake That Is Ideal
For Camping At An Elevation Of 4000 Feet



Sugar Pine Reservoir is a picturesqe Sierra Nevada lake that is nestled in a cedar and pine forest at just under 4,000 feet. It features two small 29 site campgrounds. This small lake is unique in that there is a one mile paved trail adjacent to the camping/day use area. This trail is paved and suitable for wheel chairs.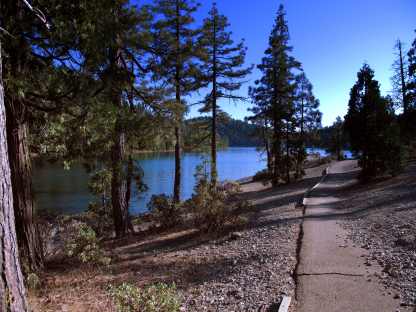 The Lake View Will Continually Change During The
Four Mile Hike Around Sugar Pine


This one mile paved trail combines with an upgraded dirt trail that provides a very nice 4 mile hike that will take you completely around the lake.


Bring your camera, this is a very photographic setting. At around 4,000 feet this California lake is very much in the forest. 
It should be noted that any small boat can use Sugar Pine's launch ramp, but the speed limit is limited to 10 mph. This makes for great canoeing, kayaking, paddle boarding and sailing. 
At 6500 Feet Loon Lake Is A Great
Starting Off Point For Desolation Valley


Another tranquil alpine setting a little higher in the Sierras is Loon Lake.  Loon Lake is 2500 feet higher in altitude than Sugar Pine Reservoir. It is just at the cut off where trees meet rock. While there is still a good amount of pine forest at the campsites, you will also find beautiful contrasts with the surrounding rocks. 


At this level, you are seeing the spine of the Sierra Nevada Mountains. Here you will find trees with "character".


This is a High Sierra Nevada lake that is only about 10 to 15 miles north west of Emerald Bay on Lake Tahoe... as the crow flies. However, because of the rugged terrain, you would need to backtrack down Ice House Rd. to Hwy 50 and then go east for a bit. This turns into an 80 mile road trip. Of course there is a short-cut... if you want to walk! 

It can get cold at night, and during the the summer months there are occasions when a thunder storm may roll overhead. However, generally these storms are brief and refreshing.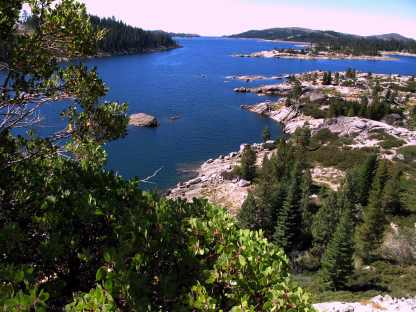 Looking West Over Loon Lake...
Just Behind Me Is Desolation Valley


This lake is at the top of the tree line situated next to desolation valley. Desolation is a roughly 20 mile by 60 mile wilderness area that has been set aside from any type of vehicular use. Other than a few hiking trails, it hasn't significantly changed since the early 1800's. You can expect to see a lot of granite rock formations. These rocks can be stunning.


Lake Tahoe Is The Gem Of
The Sierra Nevada Mountains


Of course, I can't write about California Lakes without giving some detail about Lake Tahoe. Lake Tahoe is divided by four sets of boundaries. There are the West and North shorelines referred to as the California side, and the East and South shores referred to as the Nevada side of Tahoe. Each of these areas has a unique quality that give a great diversification to this wonderful location.

You can drive completely around this lake using Hwy 89 on the West, Hwy 28 on the North and Eastern sides of the lake, and Hwy 50 along the South. Much of the road system is very scenic, and there are many small towns that should be explored. In addition, there are lots of opportunities to get on the water in Lake Tahoe. You can rent all of the usual stuff like ski boats, paddle boats, kayaks, canoes, etc. They have para-sailing and tour boats for hire. And oh yeah, do they have campgrounds!


---


As I stated above, I simply cannot cover all of the 5,000 or so California lakes that are tucked away in remote areas. Therefore, I will discuss those that I have been to and found enjoyable... not all lakes are equal.

In the not too distant future, I hope to get up on Hwy 88 and hike back into Lake Margaret. I hiked this trail last year, but I didn't bring a camera... duh! Anyway, it is a nice three or four mile hike that should take a healthy person a couple of hours in and out.

I, of course took longer. But then again, I like to dink around. There is no camping at this California Lake, but Caples Lake and Silver Lake are nearby. There are a fair amount of services on these two locations. Caples lake has a good but small campground with 34 sites. Just down the road is Silver Lake campground with over 60 sites. Both of these campgrounds will take a rig up to 40 feet in length.
Return To Top Of Page


Leave California Lakes Offer Prime Class C Motorhome Destinations And Return To The Class C Motorhome Info Made Simple