Our family has been camping at Sugar Pine Reservoir since the late 1980's. When we first discovered this location, we quickly determined that this was one of the more scenic lakes in California. The weather is mostly temperate and the season can be fairly long (Depending on the year, it can extend from March through November).

Campsites for Class C Motorhomes are located at Giant Gap and Shirttail Creek campgrounds. They are located on the north shore of this lake, and there are 30 campsites in each campground. Double or triple vehicle sites are available, and Motorhome length is recommended to be less that 30 feet.


Custom Search
Between the two, Giant Gap is closer to the lake with some sites considered lake front. It is recommended that you bring in your own fresh water. This lake is on a well system so supply is limited.

Across the lake is a boat ramp and a large, two-site group campground (Forbes Group Campground). Forbes is located on the Southeast side of Sugar Pine Reservoir. Each campsite accommodates approximately 50 people and comes with a large fire pit, center cooking and picnic table, piped water, vault toilets, and a central parking lot to accommodate recreational vehicles. A trail connects the two sites to the lake and boat launching. Reservations are required.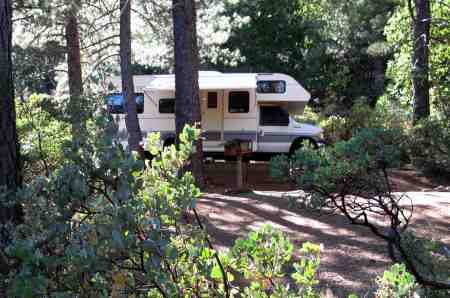 Here We Are All Settled In At Giant Gap Campground...
Lots of Shade And Privacy!
Like many lakes in California, Sugar Pine Reservoir can be crowded during the peak summer season. However, early Spring and Fall have a sharp decline in activity. The days are a bit shorter during these times of the year, but the early Spring season brings out the wildflowers like the ever present Lupine. You can also see a scattering of brick red Penstemon, Morning Glory and Brodia. We even spotted some Leopard Lillies on one of our hikes.
During The Spring Season You Can Find Many Varieties
Of Wildflowers (Including The Leopard Lilly) Along The
Joshua M. Hardt Memorial Trail
---

Sugar Pine Reservoir does not allow boats to go faster than 10 mph. However, there are good alternative boating opportunities. You will see lake canoeing and kayaking along with some sailing and paddle boarding. Cold and warm water fishing is also available... this lake is stocked!

Between the two Northern campsites you will find the Manzanita Day Use Area, and this facility is wheel chair accessible. In front of this day use area is a small island that the kids can wade out to. This is a protected area; but, like many places, there are no life guards. Therefore, supervision of children is definitely required.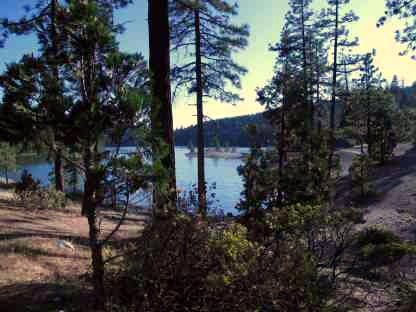 If You Look Closely... In The Middle Of This Graphic
You Will Find An Island That Is Within Wading
Distance From The Shore Line... Kids Love This!
---

While many folks come to Sugar Pine Reservoir just to relax and read a book. Some like to take advantage of the hiking trails in and around the lake area.

The most popular hike at Sugar Pine Reservoir is the 4 mile Joshua M. Hardt Memorial Trail. This is rated as an easy hike that goes completely around this reservoir. It is a level hike and offers a great amount of shade along with some very scenic views.

You should be aware that different times of the day offer differ advantages and disadvantages with the hike. Essentially, it matters on the times of day you choose to hike this trail.

During the hot summer season I like early morning and late afternoon hikes because the mid day can become a bit warm. Also, photography in during the middle of the day can have a glare to it. Early afternoon and evening shadows will soften up your pictures.


I have found that hiking this trail clockwise in the morning and counterclockwise in the afternoon works best for me.
I don't care to have the sun in my eyes.
---

There is also access to the North Fork American River for the brave of heart... a good map is required. All the North Fork trails are notorious for their 3 & 4 mile hikes... they can have an elevation change of 2200' in this short distance!

As an example the Green Valley Trail is approximately four miles beyond the Sugar Pine Reservoir dam. Continuing East along the Sugar Pine Road and a mile from the dam, you find Giant Gap Road. This is just past the paved road to the campground. To get to the trail-head you will need to turn right on Giant Gap and proceed for another three miles.

After traveling the three or so miles to the signed trail-head you will want to make a left.



Like most roads and trails going down into the North Giant Gap Road is rocky and a high clearance vehicle is advised.



The Green Valley Trail is only 2.4 miles in length... BUT!... the elevation change goes from 4080 to 1867 feet. This is a 2213 foot drop in just 2.4 miles!

Unfortunately, once you have reached the river you have limited options on this trail. It is possible get downriver for a bit or you may want to cross the river (depending on runoff) and travel upstream into Green Valley. The thing to remember is that you will be dealing with a steep and narrow canyon environment with limited possibility for camping.



With the price of gold being what it is, I would expect a good amount of prospectors taking up most of the flat area.



At any rate if you are in good health and want to experience a part of the Sierra Nevada that has not changed since the 1850's... well you may want to consider this hike.

I'm 67 years old and probably will not attempt this very strenuous hike. I have, in the past, done so. But that was a long time ago and I STILL had to grunt to get out of the that canyon!

If you do not consider this a day hike and want to spend the night, campfire permits are required for campfires, backpacking stoves, BBQs and lanterns.

All things considered, the small flat hike around sugar Pine Reservoir is looking pretty good!


---

If you have the ability to drive a few miles, a much better hike is the American River Trail. This is a 17 mile trail that parallels the North Fork American River. The good news is that it is considered to be an easy hike... it's level! The bad news is it is a real bugger to get to it.

You can access this trail using the Mumford Bar Trail or the Sailor Flat Trail. To hide in and walk the 17 miles of river front trail and back out again requires more than one days effort... unless you are a crazy man that wants to run the thing. No kidding... I once met a guy training for the Western States Endurance Run. This is a 100 mile race across the Sierra Nevada Mountains. It starts at Squaw Valley and ends in Auburn, CA.

Anyway this guy was running up out of the North Fork American River on one of those killer 2.5 mile 2200' elevation gain trails and he wasn't even breathing hard. We were all bent over double hanging onto tree roots and this guy comes bippin up the hill and not breathing hard! We should have tripped him... HA.

Anyway, it's pretty cool once you are at the bottom of the canyon. The challenge here is that both the Mumford and Sailor Flat trails are extremely difficult hikes... we are back to the 2.5 mile 2200 drop again!

However, unlike the Green Valley Trail, you have a destination that will allow a comfortable hike along the American River. Mumford Bar is somewhat over 15 miles from Sugar Pine Reservoir. Again, you will need good maps before walking off into this dense desolate area.


---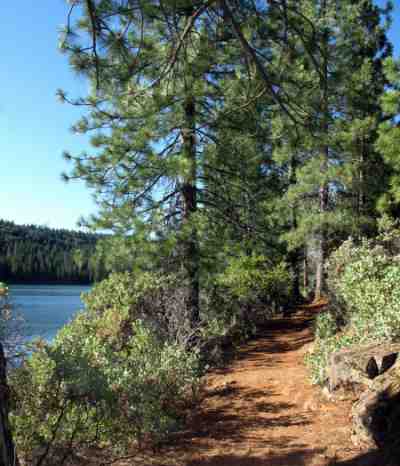 This Was Taken Along The Joshua M. Hardt Memorial Trail
Between Giant Gap and The Reservoir
---

As a heads up, off road vehicles are not allowed on the Joshua M. Hardt Memorial Trail... or in the immediate Sugar Pine Reservoir area.

So, those of you who have jeeps and such and like to play in the dirt, you can camp just to the South East at Big Reservoir or Morning Star campgrounds.



Big Reservoir is a PRIVATE LAKE... therefore,
YOU DON'T NEED A Fishing License to fish there!



You will also find the Sugar Pine & Parker Flat OHV (Off Road Vehicle) staging areas in the same area.


---

There are no facilities like a small store or restaurant at Sugar Pine. So if you need supplies, your best bet would be to drive to Forest Hill, CA. It is just 17 miles or so down the hill and you will find all kinds of services ranging from grocery stores to laundromats... they even have a SUBWAY.

Morning Star Lake also has a small store. It is a judgement call on whether or not it would suit your needs. It is something like 7 miles from Sugar Pine Reservoir.

Some folks would look at a map and think Colfax is actually a a good option for services. But, you would have to use Iowa Hill Rd. Colfax, CA is on the OTHER side of the North Fork American River Canyon. You know the one that goes straight down and back up again! Believe me, this canyon is just as hard on cars and trucks is it is on hikers!



Iowa Hill Road is steep twisty and narrow road (small one lane) that goes down to, across, and back up the other side of the North Fork American River. I would never recommend driving any type of Recreational Vehicle on the South side of this canyon road.
I don't even like to take a car up this hill!



In fact, as memory serves me... years ago when Lynn and I first moved to the Sacramento area we took Iowa Hill Road North to Colfax from the Forest Hill Divide. At that time, there was a wooden suspension bridge (single lane) spanning this river. I thought it was pretty cool, but Lynn has NEVER forgiven me for taking her over this bridge... man that was fun!

It has since been replaced and there is actually a nice little campground at that location. I think you could get one or two Class C Motorhomes down there from the Colfax side if you were less than 25'. I wouldn't really recommend it... but it is something you may want to check out if you are in the area.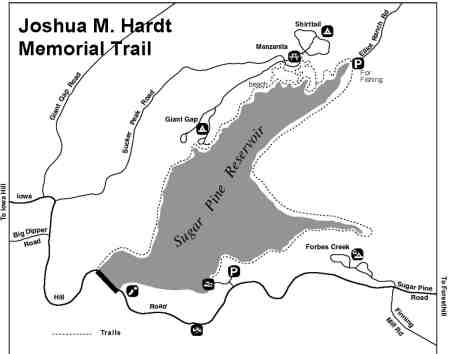 USDA (United State Department of Agriculture)Trail Map For Sugar Pine Reservoir



On the bottom right of the above map you will see Forbes Creek Group campsite on Sugar Pine Rd. If you take this road South East toward Forest Hill Road you will find the OHV staging areas mentioned above.

Text Link Return To Top Of Page

Leave Sugar Pine Reservoir Has A Great 4 Mile Trail And Return To California Lakes Offer Prime Class C Motorhome Destinations

Leave Sugar Pine Reservoir Has A Great 4 Mile Trail And Return To Class C Motorhome Info Made Simple