A Laundry Machine In A
Class C Motorhome


Would some type of portable washer and dryer laundry machine be of help in your Class C Motorhome? Are they really necessary? I know... I know... laundry and dirty clothes can be a mundane subject, but clothes do get dirty when you travel. Even when you are on the road, you will need to do your laundry on occasion.


You Don't Need A Full Sized Laundry Machine
To Have Clean Clothes
Custom Search
Wouldn't it be easier to put all of your clothes in a washer/dryer while on the road away from the convenience of a laundromat?
The thing is, though, not every Class C Motorhome has room for a permanently plumbed-in laundry machine.
As a note of interest, there is a Russian made washer (Lemaire Automatic Washing Machine) that is being used in Australia with good results. There are a couple of things that got my attention, such as:



The cost is less than $500.


There are more than a few Class C Motorhome owners using it and claiming that it works well.



The downside, of course, is that I've not been able to find them on the retail market. Lemaire does not appear to be importing to the States... I'm thinking they are wired for 220V AC 50Hz. This, of course, would present compatibility problems.
---
Because Of Lack Of Space, Our Options Are Limited
So, what are we to do... use a washer/dryer combo or a hand crank laundry machine along with a motorized electric dryer? It may be you just need a roll of quarters and a laundromat! Frankly, this is an individual choice that each Class C Motorhome owner is going to have to make.
It is possible that
a washer dryer/combo would be something that could suit your needs.
If you have room in your Class C Motorhome, it will do the job for a lot of laundry that has been soiled during the week's activities... stuff like dish towels, underwear, socks, etc. Depending on the size of the laundry machine you choose, you may also be able to wash sheets, bath towels or even denim pants.

---
There are, however, a couple of alternatives. Ultimately, if you are going to do your own laundry in your Class C Motorhome, you will need some type of washer, and some way to rinse your clothes.
This will probably require two machines, but this is not as bad as it sounds. First of all, you can get a
portable washer called the "Wonder Washer".
This portable washer is hand-cranked and allows you to wash up to 5 pounds of laundry.
Here is the breakdown on the Wonder Wash
Portable Washing Machine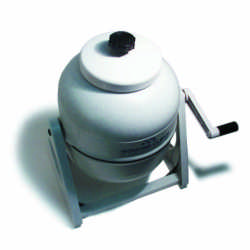 Unit washes up to 5lbs.


Washing pressure system forces detergent into articles being washed.


Uses a high speed efficient, economical washing cycle.


Can be used with Class C Motorhomes, small apartments, or most places with small loads.


Works well with delicate fabrics such as support hose, woolens, etc.


Economical in use, it save up to 90% of water and detergent.
Generally speaking, this is a good option for Class C Motorhome owners. They are light, small, and not permanently plumbed into your Class C... they are truly a portable washing machine.
However, The Wonder Wash is simply not capable of drying clothes or even getting a good rinse out of them. They just do a good job of washing your clothes with a minimal amount of detergent.
---
Therefore, now that you have your laundry clean, you will have to get something to rinse it. And guess what, there is a another type of laundry machine called the Spin Dryer.
This electric dryer does require 115 VAC to run, but this should not be a dis-qualifier for a Class C Motorhome since most Cs have a generator that provides the 115 VAC. Most people typically end up running their gen-set for at least a couple of hours a day, and they usually do not even begin to use all the power that is available.
If you are
running a solar/inverter setup, you may not have to run your
gen-set. This Spin Dryer uses less than 7 Amps per hour. Since it will run for less than 5 minutes per load, you are not going to be putting a serious drain on your batteries.
Here is the breakdown of the Spin Dryer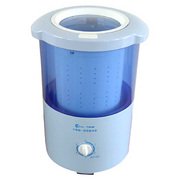 Will Spin dry a 5lb. load in 2-3 minutes.


Will spin very quietly at 1600 RPM.


It only weighs 1lb.


A very good match for the WonderWash.


Uses 115V at 82W.
---
If you really do not want to use your generator when washing clothes, then there are still options available that will get the job done. Believe it or not, my mother used one of these things when I was a kid. Well, I am 64... heck, I was born before television...
Anyway, you can use a good old-fashioned ringer! It's call the Dyna-Jet Hand Wringer.
Here is the breakdown of the Dyna-Jet Hand Wringer
It has an adjustable spring tension (up to 1 x 1/2").


It's not going to rust because it has a steel frame powder coated in black.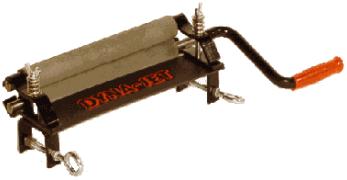 ---
Your last option would be, of course, to use a laundromat. This really isn't as bad as it first appears... if there is one close by.
If you are staying in an RV park, it may be a moot point because you will probably have a laundry room available. If you are in luck, the park where you are staying will even have WI-FI. Therefore, doing laundry would create an opportunity to check up on your e-mail or let you surf for attractions in the local area.
---
Custom Search



---
Return To Top Of Page

Class C Motorhomes & Laundry Machines Page, And Return To Class C Motorhomes And Housekeeping: Can We Make It Simple?

Class C Motorhomes & Laundry Machines Page, And Return To Class C Motorhome Info Made Simple Homepage