Custom Search
Backpacking To Feather Falls

Tucked into the foothills of the Sierra Nevada Range is one of the preeminent hiking trails above Lake Oroville.

Feather Falls is a favorite backpacking trail that I have taken many times. I usually take about 6 hours to go in and out... I like to dink around. It really is a full day hike, but you can do it in 4 hours if you are short for time. This is a California hiking trail loop that is roughly 3.5 miles in and around 4 miles coming out.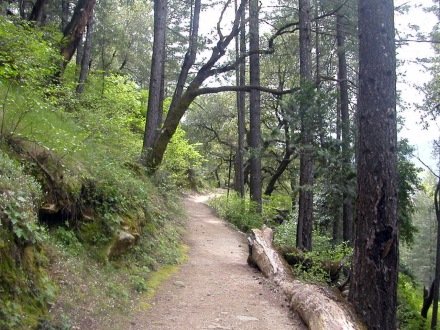 Coming out of Feather Falls through an
old growth deciduous forest
---
The Best Hiking Trails In And Around Marshall
Gold Discovery State Historical Park
Another California hiking opportunity is in the small gold rush town of Coloma, CA, There are several small hikes available that offer good views of the South Fork American River, or even Lotus Valley if you want to hike the Monroe Ridge.
A good place for a Class C Motorhome owner to spend the night, would be the Coloma Resort. Any potential American River rafting enthusiast can use this resort as a home base when exploring this area.
This is a nice place that is located just across the river from Coloma State Park. You will have to cross a somewhat narrow one lane bridge to get to this location. But, I feel that it is worth the effort.
Not only does this park have good site setting just on the water, you have hikes, gold panning, rope challenge courses, biking, yoga classes, fishing, hot air balloon rides, a warm water stone massage, and
even white water rafting if that's your thing.
It is a pretty sweet deal! You can contact Coloma Resorts Reservation Department at 1-800-238-2298.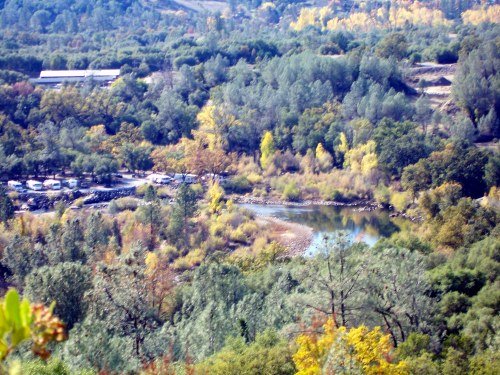 Looking Down On Coloma Resort From Monroe Ridge
---

The Monroe Ridge is a good bit of exercise, but easily manageable for anyone who is in good health. This is a level 3 difficulty (level 5 is the most difficult). It goes from 780' to 1275' in elevation. It is 3.5 miles long, and offers splendid views of both Lotus Valley and the South Fork American River flowing through Coloma. I start this California hiking trail on the east side of Hwy 49.

I have found that the simplest way to get to Coloma from Sacramento is to use Hwy 50. Going east on Hwy 50, take exit 37 (Ponderosa Rd). Go left, over the freeway. After crossing the freeway, take the first right (N. Shingle Rd). Just stay on this road until in ends on Hwy 49. Go right for approximately 1/2 mile and there will be a parking lot on the left. The trail begins at the south end of this lot.

I use this as a "training hike" for the Feather Falls trail. If a person can hike this trail up and back instead of just one loop, i.e., reverse direction and retrace your steps (6+ miles), you should be able to handle the Feather Falls trail.


Google Maps... Coloma, CA The Monroe Trail
The Best Hiking Trails Offer A History Lesson


Another couple of short California hiking trails just over 15 miles north of Coloma, CA, are the Lake Clementine Trail and the Mountain Quarries RR Bridge trail. These are good almost-level trails that are unique for a couple of reasons.

The Mountain Quarries RR Bridge Trail:


will take you to the Mountain Quarries RR Bridge that, at the time of its construction in 1911, was the largest reinforced concrete bridge in the world. This is a very short backpacking trail that is a good warm up for the Clementine Trail hike.

This bridge was called the "No Hands Bridge" because the locals would ride their horse over the thing without holding the reins shouting "Look, no hands!"


was part of a RR line that was used to haul limestone from a quarry near Cool, CA, to the town of Auburn. This bridge is/was a triple arch. Portions of this bridge were destroyed during the early phase of construction of the Auburn Dam. This dam was never completed, and parts of the bridge are now used for hiking and pedestrian purposes.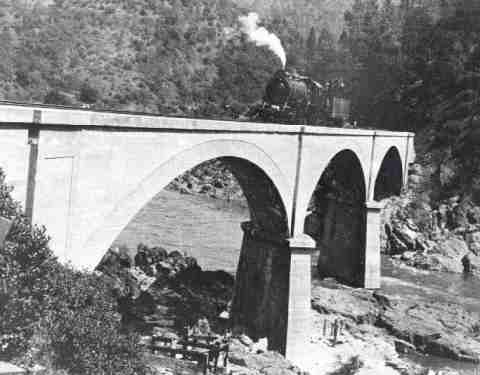 Mountain Quarries RR Bridge
Courtesy of El Dorado County
has a claim made by local folk lore that this is the only grade crossing in North America that trains stopped for vehicular traffic. Hwy 49 is just north of the bridge, and cars had the right of way. It was listed on the National Register of Historic Places in 2004.


---

The Lake Clementine Trail:
will give you a good look at the North Fork American River without having to climb the steep canyons. 

Unfortunately, most of the California hiking trails that have access to the North Fork American River require an altitude change of up to 2,000 feet in about a mile and a half.Needless to say, this is a serious grunt.
will allow you to view some historical landmarks. There were several bridges spanning this part of the river dating back to the 1850's. If you look carefully as you walk this trail, you can see the abutments that were used to support these bridges. 
lets you hike on part of an old stage coach route that connected the various mining camps to the town of Auburn.

Lake Clementine is a small recreational lake that would justify a four mile hike. This lake is tucked into the steep hills of the Foresthill Divide and has a pretty setting. However, the view of the dam's overflow spillway can be spectacular during a seasonal flood stage.
How To Get To These Trail-heads
To access these two California hiking trails from Coloma, CA, you drive north on Hwy 49 for approximately 15 miles. Just before you cross the North Fork American River, you will find the Mountain Quarries RR Bridge Trail on the west side of the road... on the left. This California hiking trail is approximately one-half mile in and out hike.

To get to the Clementine Trail you will want to continue across the North Fork American River and go right on the Old Foresthill Rd. You will almost immediately see a bridge (Old Foresthill Road Bridge, circa 1955) spanning the American River.

On the southeast side of the bridge (left) is the trailhead for the Lake Clementine trail.


There are places to park all along this area. Just watch the signs as some areas are posted, "No Parking".
---
Clementine Lake Trail Details
The Clementine Lake trail starts off as a dirt road but will narrow down to a trail and then open up as a road again. After the first 1000 yards or so the trail will split. You want to stay to the left and follow the river. About half way to the Foresthill Bridge are some old concrete abutments located on the north side of the river. This is all that is left of what was known as the Steel Bridge (circa 1911-1955).
This is an interesting area offering a California hiking trail that becomes a history lesson. There were many bridges built along this stretch of the river because it was the most direct route to the mining camps, and this location allowed cost effective bridge construction.
Upstream locations on the North Fork American River were located in wide steep ravines. Therefore, bridging along much of those river location were simply not economical... at least by the standards of the 1800's.
The apparent cluster of bridges built along this section of river is due to a simple matter of location.
Miners would put in a bridge, and it would wash out. When newer bridges were built, the older structures would
be allowed to go into disrepair.
At approximately 1/2 mile, you will walk under the Foresthill Bridge. This 2,248 ft-long bridge was completed in 1973. It is the tallest bridge (730 ft) in California.
The 730 feet tall Foresthill Bridge
Water was supposed to just reach the top of these cement pillars when the Auburn Dam was completed. However, due to earthquake concerns, this dam's construction came to a halt in 1976. All things considered, this bridge stands out.
Pushing on... at 3/4 of a mile, Clark's Swimming Hole can be found on the left and down the bank. Taking a short access trail down to the river will bring you to this deep rock-lined swimming hole.
The locals have been using this swimming hole for well over a hundred years. The water is now very warm because it comes off the top of Lake Clementine.
At mile one, on the opposite bank of the river, you can see what is left of a wood-covered toll bridge. Actually, all you can see are the rock abutments. This bridge was used between 1875 and 1911.
In this same area just upstream, if you look carefully, there is evidence of some abutments where the oldest bridges used to carry traffic across this river. There were three of them. They date back to 1852 through 1875.
When this old California hiking trail starts to climb and go away from the river, you will know that you are on a part of the trail that used to be a stagecoach route. This was part of the route that connected several gold rush camps, such as Iowa Hill and Georgetown.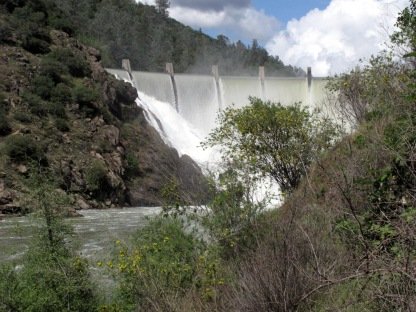 The 155 foot high Clementine Dam at flood stage...
Just under two miles into this California Hiking Trail will bring you to a gate. Just past this gate, you will find the Clementine Rd. You will want to follow it toward the left for the remaining 1/4 mile.
As you approach the dam, you will see a trail leading down to an overlook on the left. It is worth the extra few steps to take this little trail. It will allow you to watch the American River tumble over the top of this 155 foot dam.
If you retrace your steps and go back north just a bit, you will see another short California hiking trail that will take you down to the water. It goes maybe 1/4 mile but it will give you a chance to look up at the dam. Just another perspective...
Simply retrace your steps and it is a simple 2 mile hike back out to the trailhead.
---

Another short, flat, but very scenic California hiking trail is the 2.5 mile walk along a slough at Delta Meadows State Park located just East of Locke, CA.


---