Custom Search
Some waterfalls are year round and some are going to be seasonable. It is important to understand the best time for viewing these scenic waterfalls. Generally, you will have good flow during the spring runoff or just after a decent rain.
Some falls are seasonal in that they will be dry during our hot summer months. I'm listing here a couple of falls that I have found to be special, or interesting.
A Scenic Waterfall Along The Coast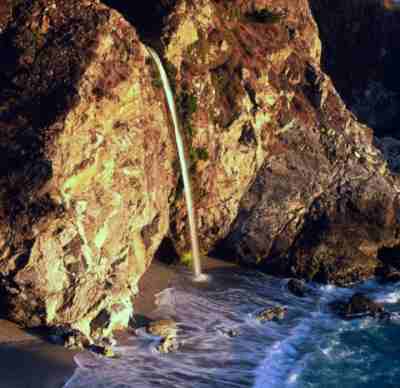 McWay Falls at Julia Pfeiffer Burns, Big Sur, CA,
Lat/Long: 36.15852 - 121.67017


The Graphic above shows McWay Falls at Julia Pfeiffer Burns State Park in Big Sur, CA,. This is an 80 feet fall and is only a half mile walk round trip. This is a year round hike and is considered to be easy. This fall can be found 37 miles south of Carmel, CA, on Hwy 1 at Julia Pfeiffer Burns State Park. Simply follow the Waterfall Overlook Trail. Parking is available.

Everyone knows about Yosemite Park and the many wonderful falls (Yosemite Falls, Bridalveil Fall, Nevada Falls, Ribbon Fall, Horsetail Falls and the Illilouette Fall) that are located there. But what about the rest of Northern California?


Feather Falls Is A Spectacular Example
Of A Scenic Waterfall


Feather Falls would be at the top of my list for an outstanding California waterfall. This fall is located in Northern California on the Feather River just northeast of Lake Oroville. This is a year round fall. Early spring can bring spectacular amounts of flow over these whitewater falls. 
I will have to admit, though, this is at the upper limit of my hiking ability.

After dinking around on this hike, I can easily put in over 10 miles of hiking. That is enough for one day. I recommend this hike only because of the beauty in the walk and the dynamic action of the waterfalls.


At Over 500 Feet, The Feather Falls in Early April Can Be Spectacular


Hiking this trail in the early spring will also showcase the spring blooming season. The new growth that occurs every spring is, in itself, worth the hike through this virgin forest.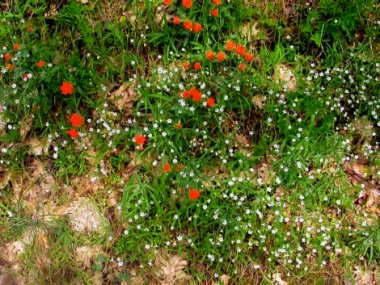 Springtime is Flowertime
This Is A Very Scenic Waterfall… And A Great Hike


I usually take about 6 hours to go in and out on this hike... I usually explore around a bit. It really is a full day hike, but you can do it in 4 hours if you are short for time. This is a loop trail that is roughly 3.5 miles long using the northern path and around 4.5 miles coming out on the south trail. Most people seem to go in using the northern route and come back on the southern trail.  

I've gone both directions and I find that I do better with accessing the falls using the north trail, and egressing on the southern trail. But then again, I'm over 60 years old and I find it a real grunt to get up the 2 mile climb if I use the reverse direction. Besides, they have benches on the southern route... this is very convenient for us old guys and gals that want to rest after three or four miles of hiking.
It works like this... the northern path is an old Indian path. It has been there for a long time. The first two miles drops off pretty quick. I'm not sure just how much, but it is enough.
This path also has a tendency to go up an down the hills... so you don't spend a lot of time walking on level ground. It can also become very wet when it is raining or if it has just rained.
The southern path, however, is a "new" path. This has been referred to as the "white man's path" because it wasn't traditionally used by the Native Americans. It is somewhat level, and it has benches.
Like I said, you can reverse out the path direction. It makes it very easy to get to the falls. Just be sure to save enough grunt to get back up that last two miles of hill.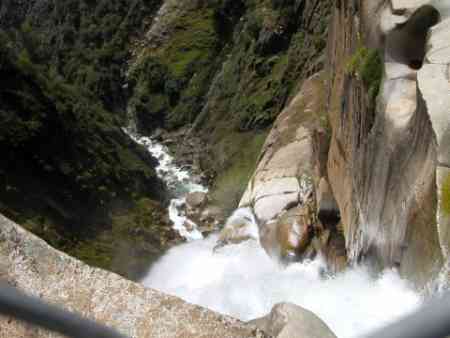 You are able to stand right at the head of this scenic waterfall!
---
So, Where Can You Camp?


There are good camping opportunities reasonably close to here. In fact, there is a campground right at the trailhead. However, it is somewhat primitive.

Unfortunately, most full service RV parks or campgrounds are about an hour away. Bidwell Campground, located on Lake Oroville, would be a good example. This is a good site where you are able camp right on Lake Oroville with hook-ups. There is also a shore-side marina with boat rentals. The phone number for this park is (530)538-2200.
Bidwell Campground to Feather Falls Trail Head
---
Another spot that will give you access to the Feather Falls would be Collins Lake. To get to Collins Lake, Depart Marysville on Hwy 20 E. 


Turn Left on Marysville Rd (Approx 12 miles)... look for Browns Valley One Stop Chevron Station. 


Turn Right into the entrance of Collin Lake (Approx 10 miles)... go 1/3 mile to the entry station. 

The nice folks here will give you a detailed map on how to get to the falls.  The phone number to Collins Lake is:
Toll Free: 1-800-286-0576
Local: (530) 692-1600
Clementine Dam Is A Much Shorter Hike With Very Different Types Of Scenic Waters


A much easier fall to view is located at the dam of Clementine Lake. This is an over-spill dam that can put on a very dynamic display when the North Fork of the American River is at flood stage.
The Lake Clementine dam was built in 1938 to control sediment that was a by-product of hydraulic mining. But, with typical government efficiency, two years after it was completed, this type of mining was discontinued by the State of California.
Oh well! It worked out okay because this little lake and dam is now used 100% for recreational purposes. There are good boating and fishing as well as hiking in the area.
This is a very easy waterfall to get to. You can drive right up to it. If you would prefer,
you can take the 4 mile round trip hike to this dam.
To get to Clementine Dam, depart Hwy 80 in Auburn at Foresthill Rd.