The Chevy Workhorse Chassis Takes An Old Company In A New Direction!


GM/Chevy and Workhorse Chassis formed a partnership to compete in the Class C Motorhome market back in November of 2004. They grew by 10% the first year and have, as of Nov 2007, a 20 percent market share. GM feels that they have a very competitive product for this RV chassis market segment.


This Workhorse Has Some Strong Points,
And A Couple Of Weak Points
Custom Search
The Chevy Workhorse chassis is powered by a GM Vortec 6.0L gasoline engine mated to a four speed Hydra-matic automatic transmission.
This RV chassis uses a coil spring independent front suspension and a rear leaf spring suspension that uses a heavy-duty stabilizer bar. This unit also uses four-wheel disc brakes with ABS (anti-lock brake system).
The running gear on this 2008 work horse
motorhome chassis is rated for GVWR of 14,050 lbs and a GCWR of 17,600 lbs.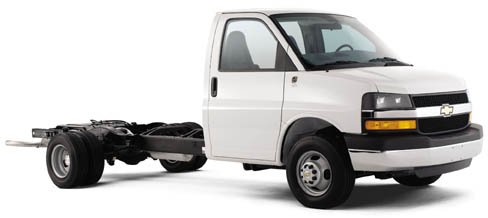 Chevrolet Cutaway Van
---
The Vortec has a displacement of 6.0L and can be referred to as the LQ4. It is the bored version of the Vortec 5300.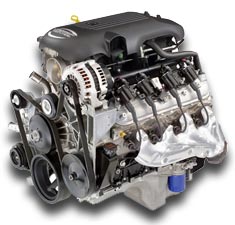 The 6.0L Vortec is a modern small block V8. The first Vortec engine appeared in 1986.
The vortec technology used here is designed to create a powerful swirling condition inside the combustion chamber, not unlike the powerful swirl inside a tornado.
This design feature creates a more even and well balanced air/fuel mixture that results in a more complete fuel burn. This, in turn, creates more power to the wheels.
The Vortec Brings Some Interesting
Advantages To The Market
This modern Vortec V8 has some interesting benefits that should be noted.



The powertrain for 2008 is covered by GM's new limited 5-year/100,000 mile warranty.


For 2008 the horsepower has been increased from 300 to 323 HP at 4,600 rpm and torque has increased from 360 to 373 lb-ft at 4,400 rpm.


GM offers a free 24/7 emergency roadside assistance program that is available during the above warranty period.


This Vortec's engine scheduled maintenance is limited to oil changes.



Using GM's "Oil Life System" technology, the engine oil change will only be necessary if the oil is actually dirty, rather than according to a predetermined interval.



GM's coolant will maintain its cooling and corrosion-inhibiting properties for 150,000 miles.
For the technically savvy RVers who use iPods, Chevy offers radios that are MP3 compatible.
---
In response to high fuel costs, General Motors has announced the availability of the 6.6-liter Duramax turbo-diesel engine for the 12,300-pound Class C Motorhome chassis. This 250-hp @ 460-lbs-ft diesel engine is mated to an 4L85-E heavy-duty four speed transmission.
New for 2009 the 6.0L V8 keeps the same horsepower and torque ratings and increases the GVWR from 14,050 to 14,200 lbs. The GCWR stays the same at 17,600
---
Custom Search



---
Return To Top Of Page

Leave The Chevy Workhorse Chassis Takes An Old Company Into A New Direction! Page, And Return To Your Motorhome Chassis Is The Foundation To Your Home On Wheels.

Leave The Chevy Workhorse Chassis Takes An Old Company Into A New Direction! Page, And Return To Class C Motorhome Info: How To Achieve The Maximum RV Lifestyle!