1995 Tioga Montara Had a Leak - Ouch!
by Bill Cooley
(Huntington Beach, CA)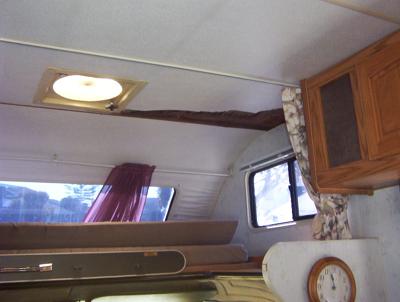 Inside Damage On Overhead Bunk Area

In 2008 I bought a used Tioga Montara from who I thought was a decent fella. He had it for about 8 years, and seemed to be on the up and up. When I got it home, it rained a few days later and I went inside to see droplets of water coming through the ceiling in the cabover area. Needless to say, he didn't tell me about the leak. A thorough review if the receipts showed that he had been dealing with the leak since he bought it.
In retrospect, now I realize why the seller had the heater system blower on when I first came to see it. He was getting rid of the smell caused by a long time water leak. Anyway, I should have given him the motor home back right away. There was a lot of internal damage, and I got estimates of $5,000 to $8000 to fix it. He gave me $2,000 back. BY this time I had done additional damage by poking at the damaged roof, and couldn't return the motorhome.

Anyway, I had the rubber roof reroofed, and the cabover rebuilt for the lower 5K estimate. Now 4 years later, it's coming apart and leaking again. I've attached some pictures to show the rebuild.