Your Motorhome Chassis Is The Foundation To Your Home On Wheels: What Are Your Choices?


Choosing the right Motorhome Chassis for your Class C should probably be in the "most important" column, right up at the top of the list.

Fortunately, or unfortunately depending on your perspective, in today's market there is a confusing array of RV manufacturers and floor plans to choose from.


Custom Search
They range in size from the small but practical pop-up trailer to the larger 40'+ Class A Motorhome. This site takes a closer look at the types of motorhome chassis that are available on the Class C Motorhome... this is the one usually built on a passenger van chassis.
When I'm discussing the motorhome chassis, I'm referring to the part of your motor coach that gets you down the road... engine, transmission, suspension, etc. This page will focus on the
three most popular chassis that make up today's market.
You Essentially Have Three Chassis Options When Choosing Your Class C Motorhome
When most people buy their new rigs, they will usually end up with a choice of three motorhome chassis manufacturers: Ford, Chevy Workhorse, or Chrysler. These RV manufacturers all have various products with strong points, as well as weaknesses.
Happily,
one vehicle's weak area may be another vehicle's strong point.
This makes the whole thing a very subjective topic... especially since each class c motor home chassis manufacturer is changing stuff like horsepower and engine torque every year. This is due, in large part, to changing emission standards and marketing goals. To keep up with this is a real challenge.
To give you an example, the 6.0L Chevy Workhorse seems to have a better ride than Ford's 450 E-series. But, it cannot carry as much cargo and pull as large of a vehicle as the Ford.
Ford has a rougher ride and a bit less room in the cab of its E-Series, but it can carry more and pull more than the Chevy. It's not a case of one's better than the other; it's a case of understanding exactly what you need in your motorhome's chassis.
---
The Vehicle Identification Number (VIN) Can Tell You All About Your New Motorcoach
When you buy new, the literature that comes with the unit should explain what the engine horsepower is, and what type of transmission you have. But to be safe, I feel you should learn how to read the
Vehicle Identification Number (VIN).
This is really the only way to truly know what you are getting.
If you are buying used, knowing how to read the VIN number becomes even more important.
You should be able to find this information on the WEB. Ford actually has a good site that enables you to decipher VIN numbers going back to the year 2000. Check out https://www.fleet.ford.com/ ... click on maintenance and then VIN Decoder.
---
Let's look at each rv manufacturer's motorhome chassis, and see if we can separate things out a bit
Ford
Ford's E-series, pre 1997 (the Econoline), represents well over 50 percent of the class c motor homes on the road. This Ford used the E-350 series chassis with the 7.5 L V8 (250 HP 410 lb-ft), and a 4-speed transmission.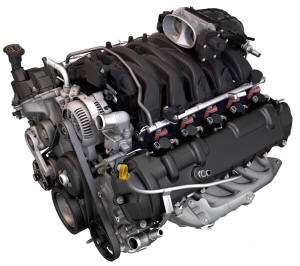 Post 1997, the E-series Ford went with an
E 450 chassis with the 6.8L Triton V10: 305@3250
for most Class C applications.
Ford Triton V10
It seems that you can get a 3-valve version of this Triton V10 for use in pickup trucks that has a max HP rating of 362hp. However, the E 450 cutaway motorhome chassis still remains at 305 HP.
---
Chevy
General Motors did some things back in the 1960's that control decisions being made today. As an example, have you ever wondered why General Motors/Chevy does not have a V10 in their lineup? Why did Ford and Chrysler go that route and Chevy didn't?
Well, not wanting to open a can of worms, let me see if I can shed some light on this subject. To take a complicated topic and boil it down to its essence, let's look at what gmhightechperformance.com has to say about this. Bear in mind that the following quote is about GM's 454 cubic inch big-block;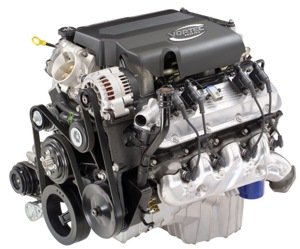 "GM's big-block, though it has been around since 1965, is still the big-block by which others are judged. It was good in '65 and it is still good in '02. At least one of the existing V-10s would fail to produce the results of Chevy's big-block V-8, if push came to shove."
8.1L Vortec V8
---
GM High Performance also claims that GM actually poured a couple V10 cast iron blocks and were very serious about producing this engine. Anyway, they did not follow through, and it seems that this is not something that is going to happen.
The bean counters finally came to the conclusion that their V8's were good enough.
Chevy's big-block V8 was carbureted up to 1996. At this time, it was updated with fuel-injection and was dubbed the 7400 Vortec.
In 2001 a stroked version (to stroke an engine is to increase engine displacement by increasing piston stroke into to cylinder bore) of the 454 realized a displacement of 8100cc (494 cubic inches). This is your 8.1L Vortec V8. You will find this big
block V8 in the Kodiak C4500/5500 motorcoach.
---
GM also makes a Vortec 6.0L gas engine.
This provides another choice for our Class C Motorhome chassis. This small-block V8 now puts out, for 2008, 323 H/P at 373 ft-lbs of torque. Now, check this out...
Chevy has a 5-year/100,000 mile warranty on this part of your motorhome chassis. They also offer Free 24/7 emergency
roadside assistance on this engine.

They even have a number to call so you can
find the nearest dealer;
1-877-4CHEVRV (1-877-424-3878)
---
Chrysler
Today when we are talking about Chrysler's motorhome chassis, we are usually referring to Mercedes-Benz/Chrysler. They use a small Turbo-Diesel (3.0L CDI 6-cylinder, 154-hp) in a
Dodge Sprinter Chassis.
The advantage is very good gas mileage.
There is a downside of this small displacement powerplant. It is the cumulative result of a motorhome chassis that mandates an overall smaller motorhome configuration... one that some may consider a step up from the Class B Motorcoach.
It has been appointed well, and would be a comfortable rig for a couple of people... if they did not need to bring a lot of stuff. I think the
CCC on this is less than 400 lbs.
---
However, there appears to be a new player on the block. I have only seen this product being used by one manufacturer.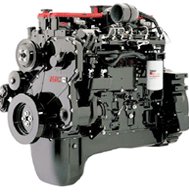 The new SuperMax is equipped with a 305-hp Cummins ISL engine and is available in 31- and 34-foot floor-plans with a $95,000 retail base price. It will have a 19,500-lb GVWR. The company estimates the new chassis will get the diesel SuperMax 14 mpg.
ISL Diesel In-Line 6 Cylinder


This is a brand new unit; I have not been able to look it over. But at a starting price of less than 100K, I think it could be competitive in today's market.

It seems, however, that Mercedes has discontinued truck production in the US. A quote from RV Business sums things up... "Based on what we can tell, a version will still be available from a plant in Mexico, but it won't have the Sterling nameplate," said Claude Donati, Gulf Stream's executive vice president for motorized. "But they are planning to make some specification changes for the 2010 model year so we are assessing the situation. We're good for 2009." So we will just have to wait and see.


---
There Is A New Tire On The Block
As a kind of heads up, Michelin Tire has introduced a new RV Tire. The Super Single X One XRV 445/50R22.5 is eliminating the
need for dual rear tires.
The X One is engineered to offer exceptional handling, improved maneuverability, and reduced maintenance with no inside dual to reach. There is a potential weight savings of about 200 pounds and a decrease in fuel consumption of up to 2%.
Some folks are saying that they have noticed an increase in their unit's stability and ride smoothness.
Some Additional Thoughts About Tires And Tire Issues
Here are a couple of things to consider... if you do not keep the proper air pressure in your RV tires,
and keep them well maintained... your motorhome chassis selection becomes a moot point!
Also, it may be that your
Class C Motorhome tires will simply reach an exporation date.
If this were to happen, could your tire have good tread and appear healthy... but still become unstable and cause an unexpected blow-out on the road?
---
Custom Search
---
Return To Top Of Page

Leave Your Motorhome Chassis Is The Foundation To Your Home On Wheels... What Are Your Choices? Page, And Return to Class C Motorhome, Info Made Simple Homepage.