There are multiple California attractions in all parts of this state. This is a large and diverse piece of ground that offers great destinations for a Class C Motorhome enthusiast. California has prime destinations from world-class cities with all of their cultural attractions to the mountains, forests, deserts, delta, and Pacific Ocean beaches with activities, such as hiking, fishing, sailing, rafting, kayaking, skiing, and surfing... to name just a few.

When you look at the big picture, the list of California attractions seems almost endless! It includes first-rate night life spots, great shopping, amusement parks, cultural affairs, concerts, festivals, wineries, museums, sporting events, historical landmarks, parks... the list goes on and on!


Custom Search
---
Desolation Wilderness Area


The Desolation Wilderness is a federally protected area in El Dorado County southwest of Lake Tahoe. It includes 63,690 acres along the crest of the Sierra Nevada mountains, and it is a very popular backpacking destination. In fact, it is one of the most heavily used protected areas in the United States.

I remember climbing over Rock Bound Pass back in the '80s. Other than the effort (this pass is 8500 feet), I remember how pristine this area is. The trick to exploring the Desolation Wilderness is to get past the day-packers. Most of them do not hike in any further than 3 or 4 miles because this will add up to 6 to 8 when they hike back out... That can be a lot of hiking for a day trip.

At 8500 feet, you are above the tree-line. You will see many alpine lakes and a lot of exposed rock left by receding glaciers. 
For those who like off-road activities, we have the Rubicon Trail northwest of Lake Tahoe. This trail has set the standard for off road performance. It is very technical... but a lot of fun if you are interested in this type of off road activity. You will spend the day climbing over and around rocks the size of a small house. 
The Rubicon is located just north of the Desolation Wilderness west of Lake Tahoe. For the off-road enthusiast, this
California attraction is a must.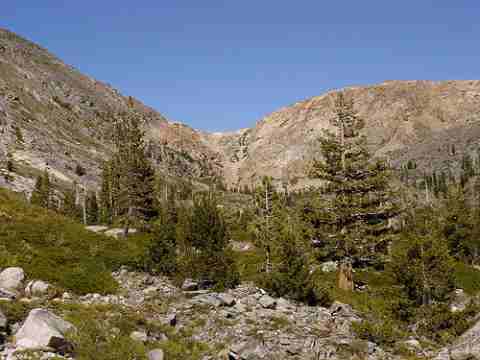 The 8500 feet high Rock Bound Pass
---
Ex-Military California Attractions
Many motorhome owners are ex-military and may have an interest in a few of California's attractions that saw service as far back as WW II. San Diego has made an excellent museum out of the USS Midway. She was launched in 1945 and was, at the time, the largest aircraft carrier in the world.
You will also find the Star Of India at anchor in San Diego. She is an iron-hulled square rigger that is considered "active". This means that she can still set sail using her 100 foot tall masts. This makes her the oldest ship still under sail in the world.
If you have ever read any of the "Master and Commander" novels by Patrick O'Brian, you may be interested in the HMS Surprise. This ship is also located in San Diego and is a replica of the Royal Navy's 18th century frigate.
In San Francisco, you will find the submarine, USS Pampanito. She was commissioned in 1943 and can now be visited in the Fisherman's Wharf area. Fisherman's Wharf is another California destination as are the cable cars that are still in operation in this city. You can catch the Powell-Hyde line within a couple blocks from Fisherman's Wharf.
---
Los Angeles is a Mecca for California Attractions

The Los Angeles basin is a mecca for fantastic California attractions. There are the standard bearers like Disneyland, Universal Studios, Hollywood, Magic Mountain, and the original theme park... Knott's Berry Farm. In today's fast-paced world, places like Knott's Berry Farm can easily slip through the cracks unnoticed. That could be a mistake… especially for the kids.

Another good California attraction that the kids like is the Rancho La Brea Tar Pits These tar pits have bones going back 40,000 years. Unfortunately for the kids, you won't find any dinosaur bones here. But they do have a skeleton of the Hairy Mammoth and the Saber-Tooth Cat!


The Sacramento-San Joaquin River Delta

This Sacramento-San Joaquin River Delta, also known as the Sacramento Delta, has extensive waterways that are suitable for kayaking, fishing, water skiing, or just renting a houseboat to relax and watch the sunset.

It is a great place to go for refreshing hikes, to take in some rowdy festivals, or just enjoy the quiet, isolated sloughs to restore your soul. Overall, most of the 1,000 miles of the Sacramento-San Joaquin River Delta can be summed up with the single word..."quaint". In fact, that area is almost Midwest in flavor.


---
Palm Springs Offers Attractions Like The Aerial-Trams That Will Take You From The Hot Desert To The Cool Pines

Going east out of L. A., you will find Palm Springs... a great winter golfing location. Palm Springs has the Palm Springs Tramway that will lift you up to the Mt. San Jacinto State Park.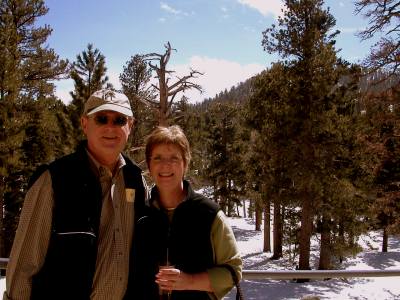 Jim & Lynn At The Top Of The Palm Springs Tram
The Tram, however, is a great California attraction for the kids and adults alike. In fact, the above graphic was taken in February 2006. It was a warm 80+ degrees F. day in Palm Springs, but the kids were using the tram to take their snowboards to the summit area. There was enough snow to allow them to experience some winter sports!
This tram is considered to be an engineering marvel due to the use of helicopters during construction. This thing rises up from the hot desert floor where it has been up to 123 degrees F. to an elevation of over 8,000 ft... As I write this on July 27th, it is 114 degrees F. in Palm Springs while it is only 75 degrees F. at the top of the tram! From hot rocks to cool Ponderosa Pines in 15 minutes… kids love this thing!
---
We Have Professional Sports Teams And
Various Museums

Depending on the season, California hosts a huge variety of sporting events. You can find basketball, baseball, football, soccer, lacrosse, etc. Just choose your sport, find your favorite team, and get ready for some action!

There are also world class museums all over California... whether you want to know way too much about too many movies or have an interest in the origins of life, you can definitely find a museum that will gain your interest and satisfy a thirst for knowledge.
We have a unique museum in Old Town Sacramento that I would consider to Smithsonian in quality.  The Sacramento Railroad Museum has many historical steam trains on display, and the opportunity to take a ride on a classic steam train along the Sacramento River.


---