The La Brea Tar Pits are located smack in the middle of the Los Angeles' financial district. With all the things to do in California this unusual sight could easily be overlooked.

There is also a bit of an irony here... executives running multi-national oil corporations who are bidding oil futures in modern office buildings have to go around oil seeping out of the ground... just to get to work!

This area used to be known as the Salt Creek Oil Fields. In 1910 these fields were considered to be 7 miles west of Los Angeles. It goes without saying, things have changed.


Custom Search
So, what makes the La Brea Tar Pit One Of The Attractions
In Los Angeles?
Well, paleontologists have extracted over 660 species of organisms to date, and are finding more all the time. Paleontologists have been excavating this site for roughly 100 years.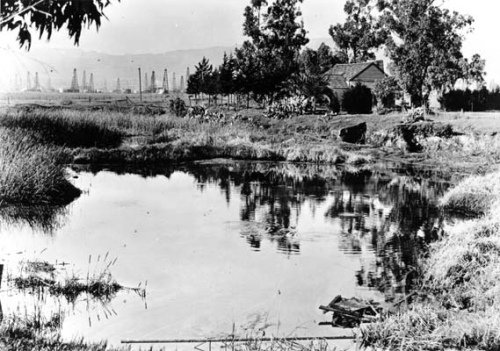 Los Angeles circa 1900 - 1910


Before our modern excavation efforts, it was thought that these bones were the bones of unlucky cattle. However, opinions changed when UC Berkeley began the first scientific excavations in 1901. This got peoples' attention back in the early 20th century.

A lot of what we consider settled science today was, in fact, not settled at all in the early 20th century. Basically, Plate Tectonics was still a debated theory in this country until after the 1960's. Remember, Darwin's Theory of Evolution was postulated around 1850. Paleontology as a science became established in the 18th century and developed rapidly in the 19th century. The point being, these tar pits were a big deal in the early to mid 20th century.

Los Angles has not changed all that much

Now, however, things have started to settle down just a bit. Science has begun extracting smaller micro-fossil remains of plants, including pollen, insects, etc. This gives a very good snapshot of life in the L.A. basin going back 40,000 years. It seems the plant life has changed very little in that time.


The area surrounding Los Angles has not changed all that much.
It was a little cooler and a little wetter some
40 thousand years ago.


The La Brea Tar Pits is a collection of small pools of tar, or a type of natural asphalt. The asphalt (la brea in Spanish) has been seeping up from below the surface for thousands of years. Actually, it is a crude oil that seeps into these pools.

However, after the light oils evaporate there is a more solid tar like substance that remains. Water, leaves, and possibly dirt partially covered these pools and offered enough camouflage to create a trap that allowed animals to become stuck in the goo.

These various animals would, over time, then sink into the tar and become preserved. Interestingly, it would take time for these animal to sink entirely... sometimes over a year. Because of this, the soft tissues were either consumed by other predators or several types of bacteria. This would include all the soft tissue stuff like hair, cartilage, feathers, etc.

If these trapped animals would have become immersed in this goo faster, we probably would have examples of completely preserved extinct specimens going back thousands of years... like the dire wolves or a saber-toothed cat.


This Is How The La Brea Tar Pit Looks Today
The Page Museum Is Where You Will
Find The Good Stuff

The 57,000 square foot Page Museum, located at the La Brea Tar Pit, is another of the many attractions in Los Angeles and surrounding areas. Named after philanthropist George C. Page this museum currently has more than one million bones categorized and labeled.

This represents 231 species of vertebrates, 159 kinds of plants, and 234 kinds of invertebrates. In total, it is estimated that this museum contains around three million items that were, and continue to be, excavated from the La Brea Tar Pits.


As a note, wheelchairs are available on a first come first served basis, and can be checked out by the Staff Entrance. This entrance is located on the north side of the building, which is
adjacent to the handicapped spaces.

Today, there are between 8 and 12 gallons (32 - 48 liters) of goo oozing and bubbling to the surface each day. This stuff still traps whatever happens to get caught... lots of insects, mice, rabbits, various birds, and an occasional dog.

People have also been known to get stuck in this muck, but I'm not sure how... I assume they pull them out! Another interesting bit of information is that it is estimated that only 10 animals were caught in this stuff every 30 years.


Why Aren't There Dinosaurs Stuck In The Tar?
One last comment... the Los Angeles basin and, therefore, the La Brea Tar Pits were underwater during the age of the dinosaur. This is why there are no dinosaur bones on display in the museum. These dinosaurs had been extinct for about 65 millions years by the time this "modern era" of entrapment began. So if dinosaurs are on you list of things to see... well, I guess you will need to go to the Natural History Museum (NHM). 

Actually, if you have visited the Page Museum, you have seen part of the LA County Natural History Museum. The NHM family consists of three separate museums in three locations: 

Natural History Museum of Los Angeles County (Exposition Park) 
Page Museum at the La Brea Tar Pits (Mid-Wilshire) 

William S. Hart Park and Museum (Newhall) 
Contact Number Phone: (213) 763-DINO


To Sum this up

Most of us would consider the La Brea Tar Pits, with a 40,000 year time capsule span to be a good tool to help understand this geological location.
But... to put this in perspective, if you used a 100' long time-line to represent the age or history of the Earth, the La Brea Tar Pits would have begun entrapping mammals and other stuff within 1/100th of an inch from the end of this time-line... this is the thickness of a hair! A LOT has gone on in our distant past... maybe this is why we have three separate museums to try and explain it all.

The The Rancho La Brea Tar Pits at the Corner of
Wilshire and S. Curson Ave


They do have a gift store on site. While you are not able to purchase any real artifacts, you are able to get realistic replicas of stuff like the large saber tooth of the Saber Tooth Cat, or event a replica of the whole skull! Kids love this place!


---