What is the attraction to California beaches? Why do Class C Motorhome owners drive hundreds, and sometime thousands of miles to see our long coastline? What is it about great bodies of water that attract people? I do not know, but most of us, if we had the time, could watch the tide come in and go out again, and again, and again... and find it very relaxing.

Custom Search
When You Experience Our Off Season Beach
Camping California Style, You Will Want To
Come Back Again And Again
Northern California beach camping offers great fall and spring weather. Summer months can bring a coastal fog or overcast conditions. The winter months of December through February are a gamble... they can be very nice (sunny but cold), or you can be hammered by a major winter storm (wet and cold)! 


It is an odd thing, but the hotter the inland valleys become during the summer months, the more fogged-in and less desirable our Northern California beaches will become.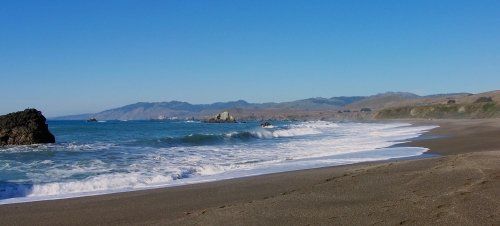 Another crisp clear Winter day At Wrights Beach! A lot of
winter days are clear but cold on our coast.

Referring to the above graphic taken at Wrights Beach, you can see how crisp and clear our winter weather patterns can sometimes be. These clear days attract lots of local visitors. Therefore, it is best to make reservations in advance if at all possible. You can usually find somewhere to stay in a pinch if you don't make any reservations, but it probably will not be at prime location.

You will Want To Check The Weather When
You Are Camping On The Beach
It's good to check the weather for the months you are interested in camping; however, it is just sometimes hard to predict when a winter storm is going to come through this area. It would be a bummer to spend a week or so on the beach, and not see the sun!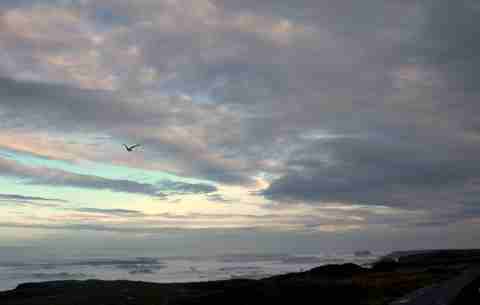 The Blue Is Poking Through After
A Rainy Day At Fort Bragg, CA!

With the above thoughts in mind, my goal for this page is to attempt to give good information about where to go to find the perfect California Beach. My goal is to show where you can enjoy camping on the beach and, more often than not, be able to view it from your Class C Motorhome windows.

Some Of My Favorite California Beaches

There are a LOT of California beaches to explore and this site will not list every RV park or campground located on these various California beaches. I am going to list what I consider to be my favorite destinations. And I'll tell up front, I find more all the time.
Another good source of information about these California beaches is Woodall's 2012 Northern American Campground Directory.  This directory will also give information about other campgrounds located throughout the Western United States.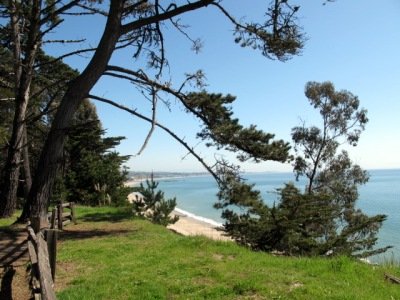 Looking down on Seacliff State Beach from
New Brighten State Beach

New Brighton State Beach has some electrical hookups, and the campsites, that have a maximum length of 36 feet, are set back up on a bluff away from the water. There is access to the shore, but it requires a small hike down a dirt path. This park has a picnic area that overlooks Seacliff State Beach. The campsites are paved and surrounded by various shrubs and trees.

While some people want to be right on the beach, others like to be just a bit away from the wind, surf, and sand. Therefore, another choice would be to choose a campground like New Brighten. It is up away from the elements... tucked away in and under the protection of Monterey Pine and Eucalyptus trees.
New Brighten has a more park-like environment.
Seacliff State Beach

Continuing south, the next beach worth a mention is Seacliff State Beach. This California State Beach is located about one half mile south of New Brighten. This beach is a good choice for people who want to be much closer to the sand and the surf. It also has larger campsites that will take a rig up to 40 feet.

Seacliff State Beach sits directly adjacent to the sandy beach with paved back-in RV sites. It is located just west of a sandstone bluff along Monterey Bay between Santa Cruz and Monterey, CA. This is a prime location because it is well situated between these popular vacation destinations.

Seacliff State Beach is one of the few campgrounds with electrical
power right next to a California beach.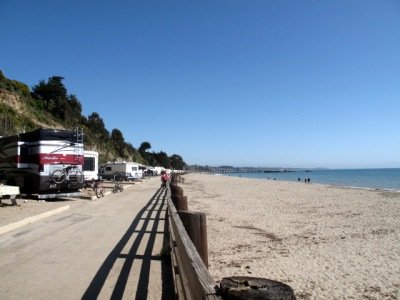 Seacliff's RV sites are separated from the sand by a
paved walkway running the length of the park.
Although, you are not in the sand, this location greatly enhances your ocean experience due to the ability to be up close and personal with very easy access to the water. This will also make the sounds of the wave action much more enjoyable.
---

Seacliff State Beach does have a unique landmark. In the early part of the last century, the San Francisco Ship Building Co. built the Palo Alto. She was a concrete ship built as a tanker at the end of World War I.

They made this ship out of concrete because of a shortage of steel during the war. However, the Palo Alta did not see service in the war and was later sold to the Seacliff Amusement Corp. in 1929.


The company sank the Palo Alto at the end of the Aptos pier in Aptos, CA, and opened it up as a restaurant and dance floor. Unfortunately they went bankrupt two years later resulting from a string of bad luck along with the occurrence of The Great Depression. 


It seems that just after spending a ton of money revamping the ship into a ballroom restaurant, a major winter storm came in and literally broke the ship in two.

Soon after, The Great Depression swept across the land. This dried up venture capital and there was no money, nor incentive, to repair it. The ship was then used as a fishing pier before it began breaking up.

It has now been condemned and abandoned for use by humans and is considered to be a fish sanctuary.


Another beautiful sunset with the SS Palo Alto in the foreground
---
Morro Bay State Park

Going south of San Luis Obispo is Morro Bay State Park. Morro Bay State Park features a lagoon and natural bay habitat. When you camp at this location, you have access to many small towns and the services they provide.

Morro Bay has a couple of things going for it that make it unique among California coast state campgrounds. There is one of only three golf courses in the California State Park System located here, and they also have a museum of natural history. This museum is the only one in any state park that was built specifically for that location's natural history. This site also features a WI FI system.

The number one attraction here, other than the views of the California coast, is the salt water estuary... considered one of the largest and best preserved on the west coast. There are over 250 species of birds having been recorded at this location. There are also canoe, kayak, and sailboat rentals available at the marina.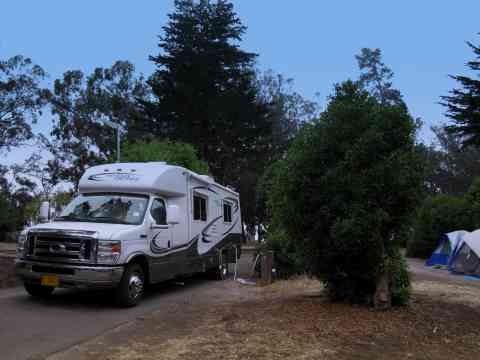 Morro Bay State Park

As is the case with most of these parks located along the ocean, you should make reservations in advance. Morrow Bay has 135 campsites that are hidden among a pine and eucalyptus forest. Not making reservations and just showing up will make it very hard to get in.


Beginning in March 2010, some camp sites will be closed based on camping demands. Campsites on reservation availability will be reduced roughly in half. (Campsites #87 through #117 will be closed which includes five accessible campsites and two restrooms. Campsites #118 through #139 will be closed which includes 2 accessible campsites and one restroom.)
---
Santa Barbara Camping At Its Best...
Jalama Beach

The next location in our list of California Beaches is Jalama Beach County Park. As the name implies, it is a county park instead of another state run location. This is a beautiful little park located on the coast of Santa Barbara in Southern CA. It is bracketed by two light houses.



This graphic was taken up on road coming into the park... it gives you a sense for how things are laid out.

Jalama Beach holds the honor of being the farthermost campground away from State Route 1 (Approximately 16 miles). Most of our California coastal campgrounds are located just off of Highway 1... sometimes you even have to cross this highway on foot to get to the ocean. So having this Santa Barbara camping park located miles to the west of this state route is very good... if you like a more remote location.

Six miles to the north is Point Arguello lighthouse; and if you want to see the Point Conception lighthouse, it is 5 miles to the south. This southern lighthouse is accessible using the De Anza Trail.

The De Anza Trail is considered to be one of the best beach hikes along the California coast. It is a 10 mile round trip event, so figure that you will need 4 or 5 hours or more of daylight to complete it. On the trail, you will have an opportunity to view a good selection of native animals including deer, sea lions, harbor seals, dolphins, coyotes, raccoons, birds of prey, and whales. There is no water along this stretch of beach, so bring your own.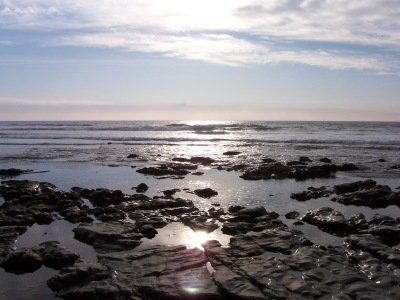 Tide pools at Jalama Beach County Park

At this campground you will find a small store that will keep in stock most of the day to day stuff that motorhome owners seem to find a need for when they are out and about camping. There is also a small restaurant that takes a lot of pride in their "World Famous Jalama Burger"... gotta get one!


For those with less mobility and want to go out to smell the salty air, there are beach wheelchairs available!

In fact, a lot of California beaches now have these beach wheelchairs. When visiting any of our beaches, if you have the need for one, just ask. As far as I know, they are free to use if you have special needs.


---

Jalama beach maintains 112 campsites using a terrace configuration. These sites range from bluff-top locations overlooking the ocean, down to sites positioned on the sandy beach... out among the dunes, as they say.

All of these sites have the standard stuff like a BBQ pit, table, etc. However, the 29 locations on the top of the bluff do have 20 Amp electrical service hookups, and all sites have water available. Jalama does not have individual site dumps, but there is a dump station available.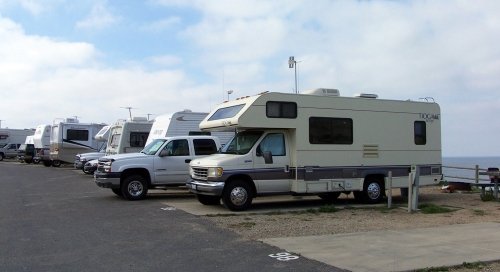 Having electrical power availability is not a normal feature for California beach campgrounds. Finding one with power that is way out in the middle on nowhere is considered to be a plus.

The downside to all of this is, all sites are first come first serve... no reservations are taken. This is a bit unusual for our beach campgrounds. In fact, this is the only California Beach campground I've seen that will not take reservations.

So, getting into this popular but most remote of all the California Beaches can be a bit of a bugger because you won't know if there is a vacant campsite available until you arrive. However, once your are there, you can stay for up to two weeks during the summer.

Rates and duration time differ in the winter season... roughly September through April. Jalama does have weekly rates. For more information on this, you can call 1-805-736-3504. Because Jalama is in Southern California, they do have good summer weather. However, all Southern California beaches can be overcast during the month of June.


---