The 2008 Ford E 450 Has A New Grill: What Else Has Changed?


The Ford E 450 has been the number one selling full sized van since 1980. Their latest redesign was in 2008. What have they changed, and what remains the same?


A Basic Overview Of The
E 450 Cutaway Van
First, a little background - the Ford Econoline series commercial van comes in 4 sizes ranging from the Ford E150 up to the Ford E450. Most RV manufacturers today design their class c motor homes around the the Ford E 450 chassis with the 6.8L Triton V10 (305HP 420 lb-ft @3250 RPM) supplying the horsepower.
Custom Search
Last year, Ford sold 63 percent of the cutaway segment of this motorcoach market. The cutaway is the segment version that is used to make the Class C Motorhome. Love em' or hate em', they sell the most.
So, if they are so successful, why the change? Well, there really isn't a single answer to that question. However, I can say that they seem to be addressing some issues that will make the E 450 a better platform for a Class C RV conversions.
Starting from the front and working back, let's look at the grill. It is bigger and is supposed to reflect a "tough" look. However, it does allow more airflow to the powertrain. All things being equal, this should allow for cooler operating temperatures.
The front suspension utilizes a new geometry. Also this E 450 uses a larger sway bar to enhance stance and help to firmly plant the front end to the road.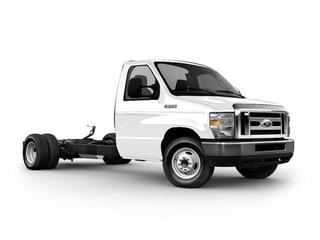 This latest version of the E 450 has also incorporated upgrades to the steering system with the goal of providing a better "center feel". They are also using new valve technology on the rear shock absorbers to help the E 450's ride and handling.

Last, but not least, the 2008 van has increased the GVWR up 450 lbs to 14,500 and extended their drive train warranty to 5 years/60,000 miles.

The 2009 GVWR, HP, and torque for the Ford E-450 remains the same.


---
Custom Search
---
Return To Top of Page

Leave The Ford E 450 Has A New Grill: What Else Has Changed? Page, And Go To Your Motorhome Chassis Is The Foundation To Your
Home On Wheels Page

Leave The Ford E 450 Has A New Grill... What Else Has Changed Page, And Go To Class C Motorhome: How To Achieve The Maximum RV Lifestyle!