Rocky Mountains National Park Is A Land of Majestic Views
Activities for Everyone and Abundant Wildlife

Rocky Mountains National Park (RMNP) in Colorado is now officially 100 years old.   On Jan 26, 1915,  RMNP was created by Congress.  Actually it has been here since the Pleistocene Epoch Ice Age (approximately 12000 years ago).  This was when the last great ice age retreated and gave us many "new" geological features such as Yosemite Valley and the Great Lakes. Things have warmed up a bit since this ice age era... and now we have roads that allow us to take our RV's into this park's many remote locations.

Custom Search
  Essentially, there are three ways to access rocky mountains national park.  On the eastern side of the Continental Divide, this park is easily entered from the town of Estes Park, CO.  Estes Park is located in Larimer County and is part of the Roosevelt National Forest at an elevation of 7,522 feet.  You can begin your journey by leaving this town and heading west on either Highway 34 or Highway 36.
Leaving the town of Estes Park and continuing on through the Rocky Mountains National Park using either highway 34 or 36 will eventually get you to the same place.  You see, these highways more or less parallel each other and eventually join together at Deer Ridge Junction (ALT 8705).
If when are enjoying your rocky mountain travels, and you choose to use Highway 36, you will reach the Beaver Meadow Entrance Station in just a few minutes from town.  About a mile and a half after reaching the park entrance is the turnoff for Bear Lake.  This road will take you south past two campgrounds (Moraine Campground and the Glacier Basin Campground) and ends at the Bear Lake Trailhead where there is a short, easy hike around Bear Lake Reservoir.  This is a good place to stretch your legs after a long drive.  
Actually, Rocky Mountains National Park has a total of three campgrounds that are suited for motorhomes.  There are the two mentioned above, plus a third campground located on the western side of this park.  That one is the Timbercreek campground.

---
Staying on the eastern side of the park, the other choice for gaining access to the Rocky Mountains National Park is Hwy. 34.  Just over 2 miles past the Fall River Entrance Station you will find a paved spur road that will take you to the Lawn Lake Trailhead and the Alluvial Fan. This Alluvial Fan was created in 1982 when the dam at Lawn Lake broke through to the valley floor.  
Lawn Lake had been in existence since the Pleistocene Epoch Ice Age mentioned above.  It is still a pristine and remote natural body of water.  Leaving the trailhead, you will find the hike is a little over 12 miles in and out with an elevation gain of almost 2,500 feet. Something to consider.  If I were to attempt this hike, I would definitely make it a two day trip.  I would want to take my time and enjoy the sites and sounds of the area... especially since I am 70+ years old.
This is a bit of an unusual hike for the Rocky Mountains National Park.  It will bring you up close and personal to the heavy flood damage caused by the dam failure on Lawn Lake.  Looking at the unnatural shoreline will give anyone a perspective on just how much water was released back in 1982.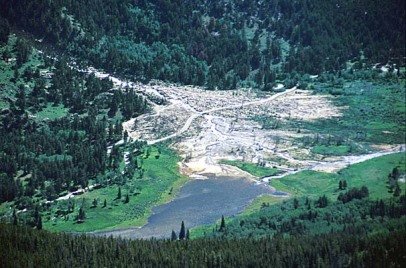 This Alluvial Fan Was Formed In 1982 When Lawn Lake broke Through Releasing 28 million Gallons Of Water

If you continue along the paved road past this washed out area of the Alluvial Fan for another mile or so, you will discover that the road splits.  Going to the left will take you to a day use area called  Endovalley.  On the right, the Old Fall River Road continues past a gate.  It is at this point that the  road becomes dirt.  This dirt road then continues eventually connecting to the Alpine Visitor Center.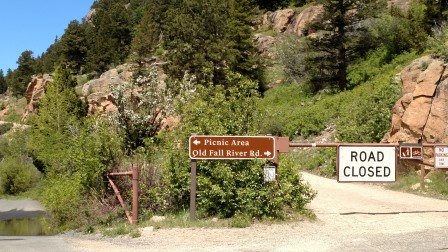 Continuing Past This Gate... if Weather Permits, will Take You To The Alpine Visitors Center.  Due To The Flooding That Occurred In September of 2013... This "Old Road" Was Closed To All Traffic Until July of 2015

This was the first road to access the Rocky Mountains National park, and it was constructed in 1920.  I would not take a motorhome on this old highway... it is a one-way road, (east to west) and has no guard rails.  The speed limit is 15 mph and can be narrow. This road is referred to as the "Old Road" by the locals.  When it was first constructed, this dirt road ran between Estes Park and Grand Lake.  The construction of the Trail Ridge Road utilized most of the Old Highway leaving this short 6 mile section of the Old Road somewhat abandoned. 
It is still maintained, but really hasn't changed much since its origin in 1920.  Therefore, this short  section between Endovalley to the Alpine Visitor Center is still used when weather permits... thus the need for the gate.

Unfortunately, we did not get to travel on the Old Road this trip.  Due to the heavy rains in 2013, it had been closed to traffic and didn't reopen until July, 2015.  We left the area on June 28th.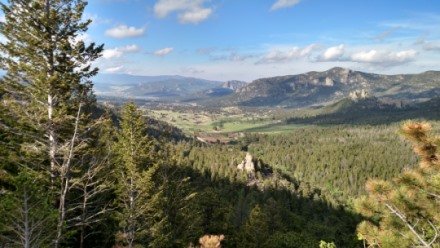 Looking North Down On Estes Park Valley from HWY 7

If chose not to use the Old Road, or if it is closed for the season, you will have to backtrack to highway 34.  Then continuing West along this highway for a couple of miles, you will find it will merge with highway 36 at Deer Ridge Junction.

At this point, Hwy 34 becomes the Trail Ridge Rd  and continues through the park eventually exiting near the small town of Grand Lake, CO.   It should be noted that both Hwys 34 & 36 can be closed during the winter.  This road closure is controlled by the weather... after all, they will take you above twelve thousand feet!  Therefore, some seasons they may not open until mid to late Spring.  After an especially heavy winter, these heavily used roads in the Rocky Mountains National park may not open until early summer.
---
As a side note, however, we did get to see some Long Horn Sheep at  the Long Lake Trail-head Area.  They were waaaay up on the side of the mountain. Using my binoculars I could see then fairly well.   However I really had to strain it to get picture.  Just too far away...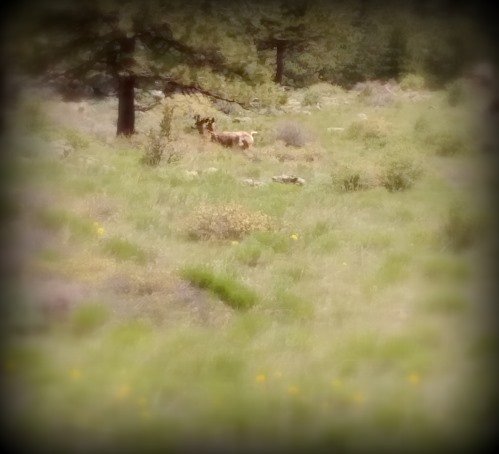 Looking Up At A Couple Of Long Horned Sheep... Really Too Far For My Camera Lens. 

Actually, there were four or five sheep altogether... The above graphic just does not pull them out.  This shot was taken in the parking lot of the Lawn Lake Trail-head.  There were a bunch of people looking up the mountain and it peaked our curiosity.  The sheep seemed to be unconcerned by our attention.
---
If you are approaching Rocky Mountains National Park from the West, and if you are looking for a camping destination that does not require reservations, you will find Willow Creek Campground  approximately 8.5 miles from the Kawuneeche Visitor Center.  This is a first-come, first-serve campground... so don't arrive late in the day. 
Continuing past Willow Creek Campground you will find several awe-inspiring vista points as the highway climbs up and over the summit at Alpine Meadows Visitors Center.  You will definitely want to allow plenty of time on your rocky mountain vacation to stop and enjoy the views.  There is a restaurant and gift shop at the Visitors Center so be sure to grab a drink and something to eat while you are there. Continuing on the road you will eventually join Hwy 36.  There is a divide here.  You can then use either highway to continue on into Estes Park if that is your destination.
---