The Chevy Kodiak: When You Want
To Bring Everything!


Between the years 2003 through 2009 the third generation of the Chevy Kodiak helped bridge the gap between the E-450s and the larger, more luxurious, Dynamax Grand Sport Ultra used in the classic Class-C Motorhomes.


This Kodiak Is A Motorcoach That Can
Pull More And Carry More
The Chevy Kodiak has a respectable:


GM Vortec 8.1L gasoline V8 that puts out 325HP @450LB-FT of torque


Allison 1000 (M74) 5-speed automatic


GVWR up to 19,500 lbs


GM Duramax 6.6L diesel V8 that puts out 300HP @520LB-FT of torque



after 2007 Duramax introduced a 330HP @620LB-FT of torque variant



Duramax 300 hp, offers the Allison 5-speed auto w/ overdrive



Duramax 330 hp, offer s the Allison 6-speed auto w/closer gear ratios that enable the Kodiak to carry larger loads



Duramax 300 hp, offers a GVWR up to 21,500 lbs



Duramax 330 hp, offers a GCWR up to 26,000 lbs






Custom Search




Storage space and CCC will always depend on the individual RV manufacturers and whatever options that would be selected at the time of purchase.

However, the larger carrying/pulling capacities offered by a Duramax diesel dramatically increases storage potential when compared to Ford's E-450 Series' at 14,500 GVWR. It's not hard to figure, the larger the truck, the more you can carry around.

Unfortunately, these Kodiak variants are no longer in production. There are still options available for this size of machine using the Ford F-550 chassis.

The Chevy Kodiak made a good motor coach platform for this Class C market segment. Although 8.1 V8 does not have the ride advantage of a coach with an air suspension, you can still get a smooth ride using the E-Z ride suspension system that comes on the larger Duramax diesel chassis.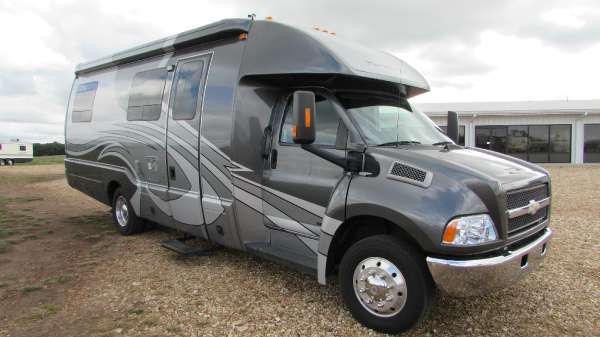 You can find the Kodiak coming in at just at 30' and going up to 40', so you should be able to find a floor plan that will fit your recreational needs.
GM Statement Regarding Wind Down Of Medium Duty Truck Production:

After four years of working with multiple potential buyers, General Motors has decided to wind-down its medium-duty truck operations. Production of the Chevy Kodiak and GMC Topkick medium duty trucks will cease by July 31, 2009.
---
For Those Who Want It All
As an aside, for those who REALLY want it all, there are other larger Class C Motor Homes out there, like the Dynamax Grand Sport Ultra. This thing uses the monster Mercedes Benz® MBE 4000. You will get a lot of rig for the money if you were to choose this route.
The running gear is truly professional grade, so it should give you somewhere around a million miles before wearing out. The ride will be as good, if not better, than any diesel pusher "bus". They are a safe and reliable rig.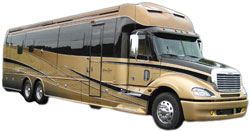 The downside would be the cost, obviously. Also, this is a big rig, and you will not be able to tuck it into the smaller, more remote sites, that a lot of Class C owners enjoy.

This Mercedes Benz® MBE 4000 diesel engine and drive-line has well over 20 tons of towing power due to:


450-hp @ 2000 RPM


1550 lb./ft. @ 1100 RPM


a GVWR up to 54,000 lb


a GCWR up to 80,000 lb


From another point of view, there are RV parks that will not allow ANY Class C Motor Homes the use of their service. Some of the elite parks cater to the Class A Motorcoach only. So, spending over $500,000 for a Motorhome and then have someone tell you "You're not welcome!"... well, that may be a little hard for some people to swallow.
---
Custom Search
---
Return To Top Of Page

Leave The Chevy Kodiak: When You Want To Bring Everything! And Return To Your Motohome Chassis Is The Foundation To Your Home On Wheels

Leave The Chevy Kodiak: When You Want To Bring Everything! And Return To The Class C Motorhome: How To Achieve The Maximum
RV Lifestyle! Page