A Simple Way To Put An Electrical Thermostat On A Small Space Heater In A Truck Camper

by Pierre Jacques
(St Félix de Valois Quebec Canada)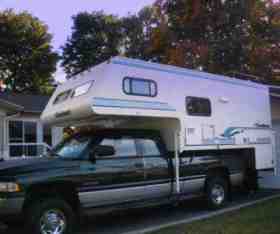 My 1996 Coachmen Campeur Sitting On A Dodge Ram
Hello,

I ended up on this web page because I also have a leak on the roof of my truck camper. After developing a roof leak on my camper, I set about to find some solutions to, or ideas about, a way to fix this leak and came across your site. It was a great find and has done wonders toward putting me in the right direction to repair my leaking camper. Because of the wet snowy weather in Québec, I have decided to put my rig in a covered storage building until the spring thaw.

I have decided to share an idea that may be of benefit to you and your site's readers. You have given me good information about leak repairs, so I want to give something back… Accordingly, I got one out so I will put one in.


---
So, How Did I Get This Electrical Thermostat To Work?
Last fall we used the truck camper up in the northern part of the Quebec province until the middle of November. Luckily we had a reliable 15 Amps /120 volts supply of electricity from a weighing station that was closed during the winter season.
The weather was fine, but it was below freezing more often than not. So the propane heater was having a good time burning away our gas supply and making a not so appreciated noise while running at night.
We got lucky, though, and found a little 1500 Watt forced space heater/fan in a cupboard at the weigh station. So we decided to bring it inside the camper to see how it would do.
Wonders of wonders, it kept the truck camper toasty while barely making a whisper. But it would not stop on its own and one night we woke up with an extra high 88 degrees!
So the next day I unloaded the camper from the truck and went to a village close by. I purchased an electrical thermostat, a connection box, some Marr connectors, and an electrical plug, along with some 14 gauge wire. When I got back to our camper, I assembled and installed everything so as to have the thermostat control the electrical plug outlet.
By picking up the current in one of the outside plug outlets that was already protected by a three ground fault circuit breaker and utilizing the electrical heater's incorporated thermal fuse and thermal cut-off switch, we felt that everything was safe and could not be overloaded.
Finally, on the 17th of November we had a comfortable nights sleep. It was 11 degrees F. outside the camper and we set the thermostat for a constant 75 degrees F. on the inside.
---
I think this is a very inexpensive, enjoyable, and an environmentally respectful addition to my truck camper. It will be part of our next year's hunting trip!
By the way we did take note of the model number (Airworks Super Electric FH 1500) and bought our own and put their heater back in the cupboard before leaving.
Thanks for reading my two cents worth,
Pierre