Motorhome Driving Safety Tips: Being Safe On The Road Requires A Plan


There Are Many Driving Safety Tips... Slowing Down And Having A Plan Will Cover Most Of Them!
Custom Search
Whether we are new to the RV lifestyle, or have many miles under our belt, being safe on the road requires a plan. When things go downhill, they will go downhill fast. How we react to an emergency situation may determine whether we spend our vacation at our favorite campsite, or at our not so favorite hospital.
Our Class C Motorhome's are larger, taller, and heavier than the average vehicle. While we do not have to have a special license to drive one, it does require a different skill set than the operation of our family car.
Simply put, you need to be very proactive while driving one of these machines. There are many driver and driving safety tips that
apply to this unique vehicle.
Driving Safety Tips Are Needed To Help You
Have The Correct Mindset
My day to day drive is in a small Mazda Miata... talk about a diametrically opposed driving situation! I go from one of the quickest responsive machines on the road to one the least responsive vehicle that I can think of; and believe it or not, operating the motorhome has made me a better driver when I'm in the Miata.
This is because, to be safe on the road, you need to have the correct mindset. It seems that I have been able to cross-over some of the driving safety tips that have kept me out of harms way in my motorhome.
I used to think that I had to be the quickest car out there when I was driving the Miata. Driving the motorhome brought home the fact that it is better to slow down and smell the roses. If I drive fast, I can never take my eyes off of the road. If I drive slow, I can enjoy the view... pretty simple really.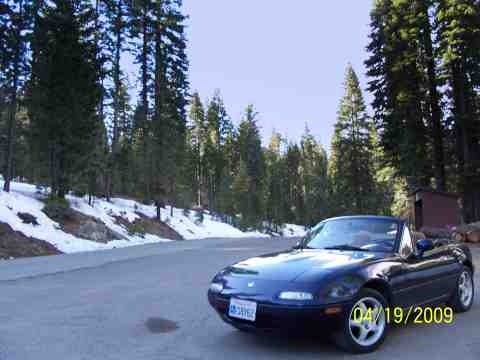 Bear Lake California In April... Still A Lot Of Snow At 6,000 ft.
At The End Of The Road... I Don't Do Dirt... Or Snow... In The Miata!
Here are Some Driving Safety Tips That Will
Help Keep You Focused
There are some things
that you can do before getting on the road
that will help keep you focused on where you are. How many of us have got into our rigs and began a mental checklist of all the things that we may have forgotten to do. This is pretty much an exercise in futility.
Doesn't it make sense to refer to some type of driver safety tip list and/or
a good checklist before leaving camp?
Does this not make it easier to focus on getting down the road safely?
When you put your mind to it, there are lots of things to be aware of while driving down the highway. You should consider various reaction time scenarios... such as how to best deal with stop lights.
Do you always want to be safe and brake for them? Or is it better to plow on through and hope you make it before they turn RED. I find it is best to look way down the road and kind of keep track of the upcoming lights. I then have a better feel for what they are going to be doing before I have to potentially slam the brakes on at the last moment.
Weather Alerts Keep You Ahead Of
Unexpected Surprises
What type of issues can the elements throw at you? Have you changed out your wiper blades this season? Do you have weather alerts available? Are you going to drive into a major summer thunderstorm or a possible tornado?
It may be that hot weather is in the forecast. Have you had your coolant checked lately? What about your transmission fluid?
These types of things can be included in a checklist that contains some driving safety tips. Bottom line, this is a safety issue because you could be distracted by these thoughts/problems and not have your focus on the highway.
A good weather radio like the reasonably priced
Midland WR120B Weather Alert Radio
has some excellent features.
In addition to important weather announcements, the Midland WR120B All Hazard Alert Weather Radio will also receive other emergency announcements, such as a Child Abduction Emergencies, Nuclear Power Plant Warnings, Biological Hazard Warnings, Civil Emergency Messages, and Fire and Landslide Warnings. However, depending on where you are, you probably just want to hear about the impending tornado that may be coming your way!
Some motorhome safety tips will help you before you get on the road and others
will help when you are on the highway.
As an example, are there going to be convenient rest stops available for you, or do you want to use other stopover locations, such as service stations or restaurants? It seems that there are always things to consider. Overall, our Class C Motorhomes are so much more enjoyable when they are parked at our favorite destination.


Return To Top Of Page

Leave These Motorhome Driving Safety Tips Will Keep You Safe On The Highway And Return To The Class C Motorhome: How To
Achieve The Maximum RV Lifestyle!