Mt San Jacinto State Park


Mt San Jacinto State Park is only 2 hours from either Los Angeles or San Diego. The entrance is located just outside of the town of Idyllwild, CA. There are two drive-in campgrounds located near this town. The California State Park System claims that these campgrounds will only accommodate RVs that are 25 feet or less in length.


Mount San Jacinto State Park is in
a remote and rugged area
A large part of this park is designated wilderness area. It is a favorite spot for backpackers and the more adventurous hikers.
Custom Search
This Park is made up of magnificent granite peaks with fern bordered meadows breaking up sub-alpine forests.
This is a great place to view a scenic high country wilderness area. The temperature up here can be at least 30 degrees cooler than the hot Los Angeles basins in mid summer.
On A Clear Day You Can See
Santa Catalina Island
Mt San Jacinto has a 10,834 feet tall peak. This is the second largest mountain in Southern California. The tallest mountain is Mt San Gorgonio (Old Greyback) ... it has a weathered summit of 11,499 feet above sea level. It has been said that you can see Santa Catalina from this vista point.
I know for sure that Old Greyback can stand out. I have seen it from as far away as the San Fernando Valley just North of L.A. (That's like 122 miles!) Needless to say, it was one of those clear days that Los Angeles gets just after a good (but rare) rain... blue skies and white puffy clouds.
Mount San Jacinto State Park Has Many Hiking
And Backpacking Trails
You can also find the 2,650 mile long Pacific Trail running through Mt San Jacinto State Park. The Pacific Trail is considered to be the crown jewel in America's scenic trails system... it covers our three western coastal states between Mexico and Canada.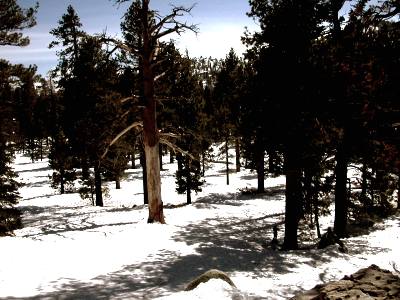 There can be a lot of snow up here in February
The Pacific Trail also passes through four other California State Parks... Castle Crags, McArther-Burney Falls, Silverwood Lake, and Anza Borrego Desert State Parks. Altogether, there are over 54 miles of hiking trails in this park and wilderness area.
From Chino Canyon near Palm Springs, take the Palm Springs Tram up to the top. This is a good place hang around and enjoy the cool air, take in the views and get a bite to eat. This is where you will also find a hike that takes you to the peak of Mt San Jacinto
The list of hikes from the top of the tram are:
Long Valley Discovery Trail: This is an easy 3/4 mile loop that offers an excellent introduction to this areas plants and animals.


Desert View Trail: This short 1.5 miles climb is considered to be moderately to strenuous. It offers a scenic overlooks and various forest views.


Round Valley: Another moderately strenuous hike that is 2.5 miles in length. This trail offers fairly level trails and some short climbs that will present you with some picturesque views of Round Valley.



The Round Valley Trail hike is comparable to hiking the alps and looking down on the Sahara!




Wellmans Divide: This trail will give you a 600 feet elevation gain during its 1-mile length. Although this is considered to be a strenuous hike, on a clear day, the view is worth the effort. Looking west you can see the Mt. Palomar Dome and Observatory. Facing southwest is the Tahquitz Peak Lookout. If you choose to continue, you can continue and go down to the town of Idyllwild.


San Jacinto Peak: This is a serious three to four hour hike that will allow you to access Mt San Jacinto's peak. From this vantage point, you can potentially see Santa Catalina Island, and if you happen to be up there after dark it is claimed that you can see the lights, or glow, of las Vegas.


Cactus to Clouds: If, however, you REALLY want to stretch your legs... there is the Cactus to Clouds Trail that has a 10,400 feet of elevation gain. This is something I would have tried... 30 years ago!



---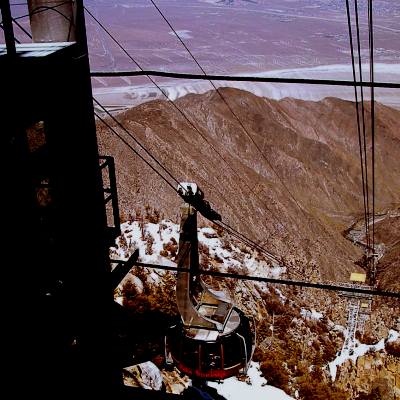 Looking down 5,000 ft onto Chino Canyon near Palm Springs
We were here in February, and there was too much snow to do any hiking. But the view from the tram was spectacular. Oh, yeah... the tram does close in August for repairs.
---
---
Return To Top Of Page

Leave Mt San Jacinto State Park And Return to California Attractions: So Now That We Are Here, What Are We Going To Do? Page

Leave Mt San Jacinto State Park And Return to The Class C Motorhome: How To Achieve The Maximum RV Lifestyle!