Motorhome Dinghy Towing


Here Are The Benefits Of Using A
Good Dinghy Towing System
Our modern Class C Motorhomes have put a whole new light on the word "camping". I think we are all in agreement that when our rigs are parked and set up at our favorite campsite it doesn't get any better.
Custom Search
However, when it comes to going after supplies or sightseeing activities, it becomes apparent very quickly why we like to have another smaller vehicle handy.
Therein lies the problem. How do we get the second vehicle to our campsite without having to drive it there?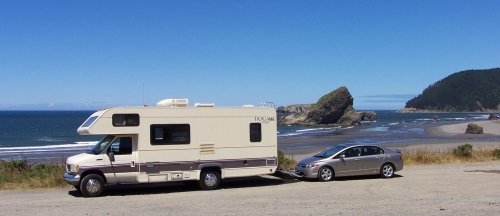 On The Beach In Northern California
This is where the modern dinghy towing options come into play. Although there is a significant portion of Class C Motorhome owners that will use a tow dolly, dinghy towing, sometimes called flat towing (all four wheels on the pavement), seems to be a choice that most motor-coach owners prefer. This page is going to discuss the flat dinghy towing options and the assorted paraphernalia that allows us to bring a separate vehicle.
---
When we use a dinghy, we can greatly simplify our outdoor experiences in many ways. To begin with, it will allow us to leave our motorhomes parked for longer periods of time and lesson our fuel cost.
It is not hard to do the math. As an example, my Class C Motorhome gets around 10 mpg. My dinghy, a 2006 Honda Civic gets around 40 mpg on the Hwy.
This is an advantage of 30 miles per gallon of gas consumed
. At $4.00 a gallon for fuel, the advantage is real.
There Are Reasons To Be Wary Of
Pulling Another Vehicle
Of course, there are some consequences to dinghy towing that, if ignored, could have a negative impact. Acceleration and braking are adversely affected. This makes it potentially more stressful pulling out in front of oncoming traffic; and after you get up to speed, you will have farther to travel when coming to an emergency stop.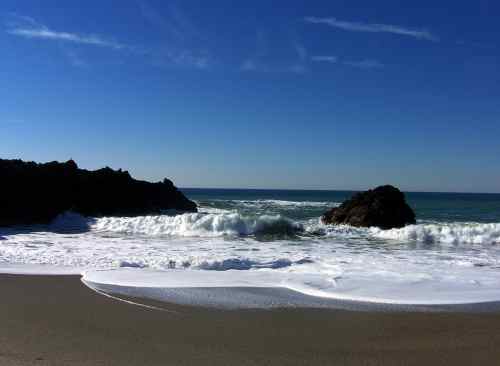 Large Surf Coming In At Wright's Beach... Sonoma Coast
State Beach, CA
Your motorhome's gas mileage will suffer to some extent when you are pulling a dinghy. The trick is to keep the speed down; use the normal common sense techniques of slow acceleration; and when possible, coast a lot.
Don't wait until the last minute to brake when approaching a stop light... high traffic areas also make a strong case for
a dinghy towing braking system.
Let's Discuss The Mechanics Of Your Motorhome's Connection To The Dinghy That Is Being Flat Pulled
It is of great importance that you properly select towing equipment that matches your dinghy. Whatever type of vehicle you choose, whether it's a large, high ground clearance vehicle designed for off-road use or a small, subcompact car that gets great gas mileage, there are
towing hitches and receivers
specifically designed to pull it.
It is imperative that when you want to set up your Class C Motorhome for dinghy towing, you need to use well designed towing hitches, receivers, tow bars, along with appropriate
automotive base plates.
As a legal matter... and as common sense dictates, all of the assorted towing paraphernalia must be in good working order, and
rated for the weight you intend to pull.
There is a lot of used equipment floating around out there and could possibly be purchased for a good price. This may be a good way of saving some dollars, and it is always tempting to look for a deal on used stuff.
The problem is, some of the equipment involved with towing can suffer from performance depreciation. This depreciation can be the result of potential abuse or just be the consequence of many, many miles of pulling.
Simply put, "used" stuff could break. I feel that it is best to purchase new equipment designed for your specific application.
Motorhome dinghy towing is a good option for a lot of folks that want to see this beautiful country. Towing a dinghy will involve various sub-components affecting both your Class C Motorhome and whatever dinghy you decided to pull. These sub-components will include:
hitch receiver systems


tow bars


auxiliary braking systems


rock guard


dingy base plates


Some Of The Things To Consider
When Towing A Dinghy
The modern selection of towing hitches and their related components that make this possible can be a bit complex. So let's take a look at what you need to consider if you want to tow a dinghy.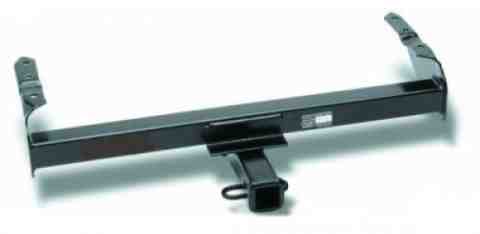 A Basic Hitch Receiver... Notice That This Hitch Was
Designed To Bolt To A Specific Frame
Most of the newer motorhomes have trailer hitches put in place during assembly. If you are faced with a situation where you do not have any type of towing hitch, you may want to install one by yourself. This is not hard to do.
I installed a Reese Hitch on my Class C Motorhome
in April 2006. It was a simple matter really. However, there is a story involved. Towing hitch receivers are recommended to be bolted using a Number 5 Graded bolt with appropriate lock washers, nuts, and a thread locking sealer.
As a general rule, the riding height of most Class C Motorhomes will rarely match the lower riding height of a towed dinghy. Therefore, an adjustment must be made. This can be accomplished using something like a
five-inch adjustable drop towing hitch.
Most of us, however, will not require the expense of this type of adjustable towing hitch. A simple 2", 3", or 4" drop hitch will work just fine. However, since it is hard to predict this height variable, you will just have to measure the height difference between your large Motorhome and the potentially smaller dinghy vehicle. Therefore, I would caution you to make this the final piece of towing equipment you purchase.
Hitch Ball Kit, 4" drop
Some Automobile Manufacturers
Design Their Vehicles To Be Pulled Behind
A Motorhome... And Some Do Not
Therefore, it matters what you are pulling. There are lots of cars and trucks that everyone thinks are nice. However, simply put, some automobile manufacturers design their vehicles to be pulled behind a Motorhome, and some do not.
Motorhome Magazine comes out each year with a list of recommended vehicles that can be pulled. However,
in the end, you must check with the manufacturer to confirm whether or not your vehicle is a solid candidate for dinghy towing.
This is an important decision because the choice of vehicle you decide to pull will determine just about everything else that must be put in place. As an example, base plates are probably the most essential link in this chain of events.
Your base plate will be designed for a specific vehicle.
Different brands, years, and model numbers will require separately designed base plates, and it will be the same for the installation procedures. Overall, the details determine the very exacting process for each car sold.
This will not be the case for the hitch and hitch receivers. Along with tow bars, mass fitment will work just fine. You just have to stay in
your proper hitch class.
Another thing to pay attention to is towing safety. All fifty states require either safety chains or cables to be in place when pulling a dinghy. This is a safety issue put in place in case of failure of the tow bar or receiver ball. It is also important to use one of the many
aftermarket RV braking systems
Not all states will require an RV braking system to be installed on your pulled vehicle. But if you are going to be driving around this great nation, it is just a matter of time before you will end up in some location where a dinghy towing braking system is going to be mandated.
Some Final Thoughts On Flat Towing...
Or As I like To Say, "Dinghy Towing"



Already Have A Dinghy?

Here is an additional thought. Even if it is not specifically against the law to be without an RV braking system on your currently towed dinghy, it is possible that you could be held responsible for the damages incurred in an accident. For example, you could be in jeopardy if it is determined that you could have avoided an accident if you were not pulling a dinghy... or if an RV braking system on your dinghy could have enabled you to stop in a shorter distance. Therefore, an RV braking system may be the safest and less costly way to go.



Return To Top Of Page

Leave Motorhome Dinghy Towing And Return To The Class C Motorhome: How To Achieve The Maximum RV Lifestyle