Without Understanding the VIN Number On Your Motorhome, You Won't Really Know
What You Have


Every modern Class C Motorhome will have a 17 digit VIN Number. The VIN (Vehicle Identification Number) assigned to it will allow you to check the history of any vehicle purchased after 1981.


There Are Fundamental Reasons To Decode VIN Numbers
Custom Search
This vehicle identification number is kind of like having a cross between DNA and fingerprints for your Class C Motorhome.
Doing a VIN search on the World Wide Web (WWW) will allow you to find great locations that will tell you things like how many times a vehicle was sold, and when and where it was sold.
A VIN query can also be used to find reports on warranty claims and various types of registration titles such as salvage or lemon law enforcement, any accidents, and/or possible incidents of theft and recovery. It also will show manufacturer's recall actions.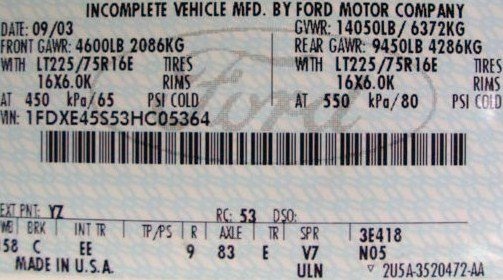 VIN Number Plate Driver's Side Door Frame
The VIN Is Located Throughout The Vehicle
The most often used location for this number is just above the bottom edge of the drivers side of the windshield.
These numbers are also located throughout the vehicle. You will find some variance, but the following places are common locations:
Firewall of the vehicle


Radiator support bracket


Dash by windshield


Left hand inner wheel arch


Steering column


Guarantee & Maintenance Book


Machined pad on front of engine


Driver's door or post on passenger side


Component parts; such as engine, frame, etc.


Later model years' most common locations of the VIN number:
Left instrumentation panel


Dash plate by window


Driver's door or post


Firewall
---
It should be noted that a VIN number will not contain the letter o or the letter i. This is to prevent potential confusion with the numbers 0 and 1. Numbers 1 through 11 are shared numbers with like kind vehicles. The sequence numbers (12 through 17) are specific to each vehicle and are used by the manufacturer.

Duplicate VIN Number Plate:
Driver's Side Door Frame... probably theft recovery
The above graphic is an '85 Corvette. This VIN number was issued by the State of Arizona. This can happen if an auto has been stolen and the original numbers on the VIN are removed or tampered with.
---
You Should Understand how To Decode VIN Numbers
The following is a partial description on just how the numbers on the VIN relate to various elements pertaining to your vehicle.


Digit Description




1st Digit - Country of Origin


2nd Digit - Manufacturer


3rd Digit - Make


4th Digit - Line


5th & 6th Digits - Body Style


7th Digit - Restraint System


8th Digit - Engine


9th Digit - Check Digit


10th Digit - Year



The years post 2000 show numerical designations. For example, 2001=1, 2002=2, etc. The years previous to 2001 show alpha designations; for example X=1999, and Y=2000. After 2009 the tenth character will revert back to Alpa: 2010=A



11th Digit - Assembly Plant


12th to 17th Digits - Sequence Number

---
CarFax Is A Great Way To Gain All Kinds Of
Information about Your Vehicle
So, how do you find out about what the VIN number on your
Class C Motorhome & TOAD mean to you? (TOAD is a common word for "towed vehicle".) There are many sources available on the web that will give you a good rundown and provide you with valuable information. Some of these will give you a limited free VIN search.
However, if you want a complete history of your RV, you can use the company that started this computerized data search... Carfax. According to their Vice President of Marketing, Scott Fredericks, "We literally have every car on the road in our database back to 1981".
When you order a VIN search and report from Carfax, it is broken down into nine categories:
Report Summary


Vehicle Specifications


Accident Check


Mileage Accuracy Check


Lemon Check


Ownership Check


Recall Check


Warranty Check


Vehicle History Details



For example, if an auto/RV shows up with X amount of miles on it, and previous smog check mileage numbers show that its mileage adds up to Y, this could indicate a problem like spinning having taken place.
---
Spinning is a term used to describe the action of turning the odometer back to a smaller number.
There are legitimate reasons for doing this, such as an engine rebuild. However, it seems that a lot of people will use spinning as a way to defraud others.
Some studies have shown that up to 40% of lease cars may have been subject to a spinning mileage fraud.
It's really not that hard to do if you have the proper equipment. All you need is a laptop computer with an appropriate software package and you are good to go... if you know where to plug in under the hood.
---
A Carfax report detects another area for potential fraud called Title Washing.
This is simply someone wanting to sell a vehicle where it shouldn't be sold, such as when people cross state lines to sell cars.
Sometimes this is OK, and sometimes it is against the law. If State A does not recognize a title from State B, you could have a problem. If you live in State B and purchase a car from State A without knowing it came from State A, you might be buying something that you may not want.
If they mess with the title (pink slip), a VIN number check should discover it. You will find stolen cars being sanitized in this manner, or salvaged (think hurricane) cars/RVs being unloaded on unsuspecting victims... um, customers.
As a matter of fact, this is a good time to mention the need to check the various numbers on the VIN number plate of any vehicle you purchase to see if they all match. Among other things, a simple typographical error by a clerk typist in the DMV may cause you a headache down the path. It is a long number to type, and if that is all you do all day long, well...
Curb Stoning is another term to describe fraud.
Sometimes, a dealer will have a unit on his lot that will not move. He can't sell it, so he will give the car/RV to a salesperson and let them put it online using a classified site, such as a local paper or even craigslist.
The goal is to attempt to sell this vehicle as a private party sale. Carfax will catch these title transfers and give you reason to be suspicious, especially if the seller's name is different from the name on the pink slip.
You Can Use Your VIN To Help Deter
Theft Of Your Vehicle
So, what is the best way to protect yourself against car theft? Can you use the VIN number?
Well, most car thefts are accomplished today using your own set of keys, or just a plain screw driver.
As odd as it may sound, if you make a habit of leaving your car keys laying around in plain site, there is a good chance someone will take them and steal your car.

It is actually a common method of operation to break into a home (or home on wheels) just to get the keys to your car. So just get into the habit of putting them away and out of site.

As a matter of fact, it is a bad idea to leave anything in your vehicle in plain site, whether it is your Class C Motorhome or TOAD. If you get into the habit of not leaving exposed valuables laying around, thieves will go to other places to break in and steal stuff.

A casual thief will not break into your Motorhome or TOAD unless he thinks there is something in there that would make it worth his time.


---
Bottom line, if a professional car thief wants to steal your car, he will steal your car. The trick is to make a car thief not want to steal your car!
So, how do we do this? Simply put, you want to take away the financial benefit. This is best done by making your car "not profitable".
However, you will want to do this in such a way as to not depreciate the value of your car. Sounds contradicting, doesn't it?
Well, it's not. It is a simple thing, really. The thing to understand is, why does a person steal cars? Other than for joy rides, it is an easy way for some people to make a buck.
When they steal your car, they are going to take it to a chop shop and attempt to either "legalize it", or strip it down and sell the parts. So with this in mind, you simply want to make the car hard to legalize, and/or hard to strip and sell.
---
The best way to do this is to etch your VIN number on your windows.
This is a simple thing that would cost less than $25. It is something you would not even notice... unless you were a professional thief, because he does not want to steal this type of modified vehicle.
From a car thief's standpoint, it makes no sense to take a risk and steal a car that will do him no good. This is because it would cost too much to replace all the windows... there goes the profit.
Also, he does not want to have a bunch of VIN-etched glass laying around his shop. It pretty much proves that he is running a chop shop and not just another auto body shop.

is a company on the Internet that sells a product called the VINshield Auto Theft Deterrent System Kit. They claim that it protects your vehicle from theft silently and permanently 24/7. VINshield VIN number etching is a highly effective and proven theft deterrent, making your car easily traceable if stolen.

Their system is easy to install and includes everything you need to safely and permanently etch the VIN of your vehicle on the windshield, back window and four side windows.

For us who use TOADs, it is also a good idea to mark these windows. It just makes sense.


---
Custom Search



---
Return To Top Of Page

Leave Without Understanding the VIN Number On Your Motorhome, You Won't Really Know What Have. Page, And Return to Your Motorhome Chassis Is The Foundation To Your Home On Wheels Page

Leave Without Understanding the VIN Number On Your Motorhome, You Won't Really Know What Have. Page, And Return to Class C Motorhome: How To Achieve The Maximum RV Lifestyle!