RV Repair:
Sooner Or Later, Something Is
Going To Need Fixing!


Not All Of Us Want To Perform RV Repairs On
Our Rigs... But, It Is A Good Idea To Be On The
Lookout For Potential Problems
Motorhome repair is something most of us do not want to become involved in. However, stuff happens. Even if you never pick up a screwdriver or a pair of pliers, wouldn't it be a good idea to understand some of the mechanics behind such an endeavor?
Custom Search
In addition, understanding motorhome repair issues will better qualify you to give accurate information to professional technicians if and when the need arises.
While some of us are never inclined to do our own motorhome repairs,
other people want to be totally self-contained
and not use any outside source for repairs.
I once read about a man in Alaska that bought a D9 Caterpillar to dig out an area and divert a river so he could dredge it.
Because he was out in the middle of nowhere in Alaska, he had to have the tractor delivered in pieces that he assembled on site. That would be what I would call an "over the top" project.
I've got a 20-year background dealing with various types of reverse engineering projects working for the Department of Defense. Therefore, I'm inclined to do things myself.
Sometimes this works out well, and sometimes not. But it is always interesting. I'm not as young as I used to be, so I think about stuff much more than I used to. I find more often than not, I'm better off thinking things through before jumping in with both feet.

Over a period of time, I'm going to write some pages on RV repairs that I've performed on my 25' Class C. This is my first motorhome, and I bought it so I could learn all that I could about RVs in general... and motorhomes in particular. I plan to keep this unit for another 2 or 3 years, and then I will upgrade into a newer unit.


---
An RV Roof Repair Should Be Completed
Sooner Rather Than Later
Recently my friend and I
performed an RV roof repair on a water damaged cabover.
We performed this repair successfully in June 2008.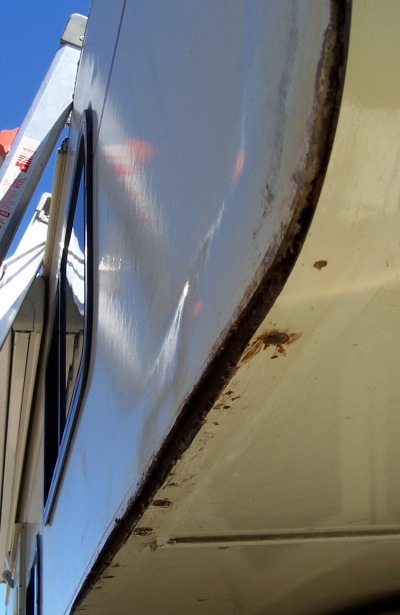 The Above Graphic Shows A Fair Amount Of Separation
I've also had issues with a leak over my shower area that I completed a repair
on in September of 2008. I may have been about to have prevented these various leaks.
This site does not attempt to suggest that you should
do your own repairs. Many of the electrical/mechanical systems in a Class C Motorhome should be worked on by a qualified RV technician. A person can get hurt attempting to repair something if he/she does not understand some basic principles.


While I was looking for this leak, I decided to
deal with an apparent problem with my ladder foundation.
The ladder brackets on the roof appeared to be loosening up. This could potentially allow movement of the self-leveling caulk. If this were to happen, a leak could occur.
If I had taken the time to actually
go up on the roof and clean the thing,
I would have, in all likelihood, prevented having to perform these RV repairs. It is amazing what you will find when you start removing dirt and gunk.
---
Not All Water Repairs Are Going To Be On The Roof
This last winter, I pulled up the flooring in my
basement storage area under the bed and found dry rot.
It appears that there was a water leak back there for a period of time. I've got some ideas on how to deal with this... I'll be putting this on paper soon. As I continue to fiddle around with this motorhome, I will make an attempt to document whatever RV repairs that I do. Some of you may find these accounts entertaining, but others may find specific information that could prove valuable. However, this site is not meant to be a "how to" site. My goal is simply to document some things I've done that I have found interesting.
---
If you have completed RV Repairs and would like to share them, use the
Water Damage Repair
page. Use the form at the bottom of the page to send a link that will let you share your experiences. As a rule of thumb... If you find it interesting, someone else will too!
---
Custom Search



---
Return To Top Of Page

Leave RV Repair: Sooner Or Later, Something Is Going To Need Fixing! And Return To The Class C Motorhome: How To Achieve The
Maximum RV Lifestyle! Page