Just say the words, "dry rot" to a Class C Motorhome owner, and you will send chills up their spine. Very seldom will you see this descriptive phrase and the phrase, "low cost" in the same sentence. Almost always if there is wood rot in a motorhome's sub frame, it will put you back at least a couple thousand dollars... if you are lucky.


Custom Search
However, this need not be so. Recently, I performed some
wood repair caused by water damage on my Class C Motorhome.
After completing this wood repair, I got some feedback about the subject of dry rot. It seems that there are various opinions and misconceptions out there on this topic.
Some people are thinking that once this classical rotting condition occurs, it is just a matter of time before all the wood is consumed... supposedly, it will become brittle and turn to dust. Well, this is a yes and no situation and deserves a little bit of discussion.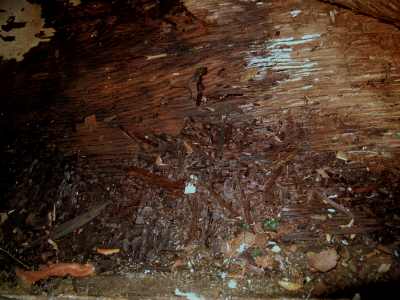 Here is a future project, this is what is
left of my basement... hmmm!
A Classical Dry Rot Scenario
The classical dry rot is a condition that is caused by wood becoming wet, and then drying out... repeatably. This wet/dry syndrome will give you problems by becoming a home to fungus. Once this wood rotting pattern starts, each time the wood gets wet, the fungus grows further into clean wood, causing more damage. This damage may, or may not be repairable. It just depends where it is located, and to what extent it has degraded the original wood's integrity.
In many dry rot situations wood repair or replacement is necessary. However, if you are able to locate the defective water barrier that is letting in moisture and you do this at an early stage, you can probably prevent further rotting of your wood subframe. This is because, when the wood dries out, the fungus will stop growing and go dormant. This means there will be no further damage.
---
Let's throw in a little background to this subject. First of all, as the discussion above points out, the word "dry" is not a true identifier of this condition.
You cannot have rotten wood if it is kept dry. It must be wet... or has been wet for an extended period some time in the past. Rotten wood issues will appear only when moisture content in the wood reaches 20 percent or more. Also, as an aside, this rotting will not occur in salt water. Our friendly fungus likes fresh water and temperatures between 75°F and 85°F. But, it will grow in temperatures as low as 40°F and as high as 100°F.
It is only when the wood has a wet/dry cycle that a
rotting condition occurs. The end result is that the fungus will
eat all of the nutriments (cellulose)... this leaves it in a
dried out condition... thus the term dry rot.
Epoxy And Boric Acid May Be All You Need To
Stop This Wood Rot
Class C Motorhome owners can repair a dry rot situation using epoxy... if they catch it at an early stage of growth. If at all possible, boric acid should be used to kill any fungus.
This is kind of a subjective decision, because all fungi need air, moisture, and certain temperature parameters to do their thing. So if you eliminate any one or more of these three requirements, you will stop the growth. Therefore, boric acid really may not be
necessary in the majority of cases.


My way of thinking is that this epoxy solution is worth a try. If epoxy works, you can save yourself a ton of money... and we all like that idea! If it turns out not to be a successful attempt at dry rot control, you will then have to go back to square one... of having to tear out the old damaged wood and replace it with new.
However, you have the added reassurance, or piece of mind,
that you are not spending dollars on an unnecessary expense.
---
As I mentioned above, another way to help control this problem is to use boric acid. If you can get to the wood, boric acid works as an ideal fungicide against dry rot fungus.
If you do use a boric acid, it is water soluble and will need to be reapplied if it gets wet. So, bottom line, keep your Class C Motorhome dry.
---
Custom Search



---
Return To Top Of Page

Leave Dry Rot: What Is It, And How Can It Harm Our Class C Motorhomes? And Return To Sooner Or Later, Something Is Going To Need Fixing! Page

Leave Dry Rot: What Is It, And How Can It Harm Our Class C Motorhomes? And Return To The "How & Why Information" Getting the Most out of your Motorhome.