An RV Adventure:
Here Are Some Things To Do
That Are A Bit Out Of The Ordinary


What kind of an RV adventure were we looking for when we purchased our Class C Motorhomes? What kinds of activities can we partake in after we get tired of sitting around watching the grass grow?


Custom Search
There Are Other RV Adventures That
We May Be Overlooking... Like Natural Hot Springs
Are there some things to do that may be a bit out of the ordinary? Let's see... what else is there to do when we get tired of watching the sun come up, and the sun go down.
In most of These United States, you will find a naturally occurring phenomenon called hot springs. There are over 1,700 hot springs in the western United States alone, and 304 hot springs in California... somehow, I smell an RV adventure here. A great many of these hot springs are naturally occuring and located in remote locations. But, some are easy to access... if you know where to look.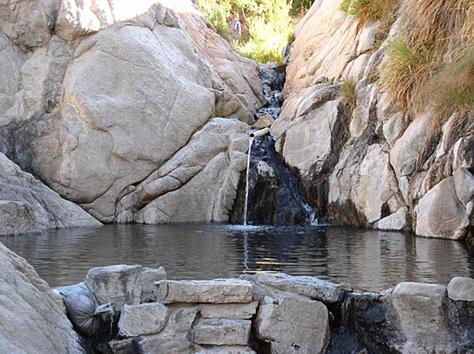 Deep Creek Hot Springs Is Tucked Up Into Southeast Of
The High Desert Town Of Hesperia, CA
There are many good sites on the web that will give much detail on where and how to locate thse various wild hot springs.
A word of caution here. If you do decide to immerse your body into one of these things, just remember that there are no temperature adjustments. Some springs can get very hot very quickly.
So, do your research. Although most wild hot springs offer a steady temperature... there are those that do not.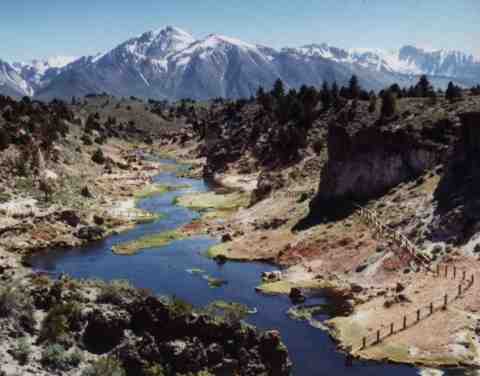 Hot Creek Hot Springs On The Eastern Side Of
The Sierra Nevada Mountains
Some like the Hot Creek hot springs just off of Hwy 395 in the Mammoth Lakes, CA area, has been fenced off and signs indicate that it is not a good idea to get in the thing.
You shouldn't necessarily be afraid of a hot spring RV adventure. It is a simple matter of checking out all potential hot springs before tipping your toes in any one of them... do your research and you will be fine!
The reality with these things is, you must keep an open mind when exploring. There is an old saying out that "one mans meat is another mans poison". Essentially what this relates to with a hot spring RV adventure is you have to decide what is suitable to you.
Just because other people may be soaking in a spring, that does not mean you have to... as an example, some springs seem to encourage the lack of clothes. You may want to participate with this, or just take a pass. There again, clothing optional is usually indicated on the web. Just another reason to do research.
It is possible to arrive at a remote hot spring and find it to be unappealing to you for a variety of reasons. You will sometimes not be able to find a spring... it may have dried up. It may be a site with beautiful clear water, or it may be a simple small stinky mud hole. This makes it an RV adventure because of the unknown aspect. Worse case scenario, when you are exploring for new hot springs, you will have a nice hike!
There Are Many Benefits From Sitting In A Hot Spring
This begs the question, why would a normal sane person want to go sit in a pool of hot water that is bubbling up from some type volcanic action far below the surface? Well, all I can say is people have been doing this for thousands of years... the result is a relaxing experience and a potentially healthy one.
The official word for this
type of activity is Balneology.
Balneology is the scientific study of the therapeutic benefits of naturally occurring mineral waters. The Europeans, and the Japanese have studied the
benefits of using naturally occuring mineral waters
for a variety of therapeutic treatments for many hundreds of years. For the most part, the US has lagged behind a lot of the rest of the world in this area. However, there is a small, but very dedicated minority population that seeks out these naturally occurring events.
If you are not the adventurous type, there are many professional health spas, and managed hot springs for the RV enthusiast that likes a more structured environment. Many of these health spas are associated with RV parks and give you a complete RV adventure... room and board, with a hot soak. Some simply have RV camping near by. This makes for an RV adventure that could be a great destination for the road weary traveler.
Another RV Adventure along these same lines, is to find a good mud bath. There again, mud baths have been around for many hundreds, if not thousands of years. The drying mud has a natural tendency to soak and draw out toxins from our body. It also seems to stretch the skin and help remove wrinkles.
Mushroom Hunting And Gathering Is Another RV Adventure... After All, You Are Already
Sitting In The Middle Of Nowhere
A different type of an RV adventure that may be fun... if you take this sport VERY seriously.
Is the hunt for mushrooms.
This hobby has a small but dedicated core of enthusiasts located throughout this country and all over the world.
There are something like 12,0000 different varieties of edible mushrooms growing here and there, pretty much everywhere. The dangerous, or poisonous, mushrooms that have a tendency to discourage many people from this hobby are limited to less that a couple of dozen varieties.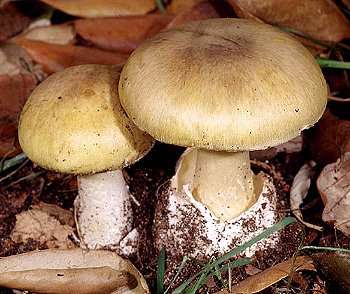 Courtesy of http://americanmushrooms.com/deathcap.htm
Deathcap Mushroom
As you can see from the above graphic, these things can look harmless enough. But, like everything out there worth doing, if you study it enough it becomes clear.
To be a successful mushroom gatherer you do not have to have a degree in mycological studies.
You will need a good mushroom field guide like David Fisher's book, American Mushrooms. Plus, it would be a very good idea to join a local club like our Sacramento Area Mushroomers. You should be able to find a club in your town or city.
Simply put, hunting mushrooms does incur some risk. This risk is manageable though.
You do not want to just hike out and start gathering these things.
It is essential that you gain the information necessary to allow you to achieve a comfort level that enables you to maintain a safe hunt.
The trick is to learn a single variety of mushroom that you want to gather. Go with someone who has a known success pattern with your chosen mushroom (use a club member... they are friendly) and learn the skill set.
Bottom line, if you can learn to find one variety of mushroom, you can learn to find another. These things really do have unique taste qualities that make the effort worthwhile.


Text Link Return To Top Of Page

Leave RV Adventure: Here Are Some Things To Do That Are A Bit Out Of The Ordinary And Return To Class C Motorhome: How To Achieve The Maximum RV Lifestyle!