Gross Vehicle Weight Rating:
How It Applies To Our Need For Aftermarket Accessories


So what is a Motorhome Gross Vehicle Weight Rating (GVWR), and how does this term affect your Class C Motorhome? This subject of vehicle weights is fairly simple in concept, but it gets technical in description. Simply put, all vehicles have a maximum gross vehicle weight limitation that can be put on its drive train/chassis.


Whether You Are Putting Stuff Into Your Rig, Or Pulling A Toad... You Need To Keep Track Of Your Truck Weight
Custom Search
Whether you are concerned with how much to lug around or what the vehicle towing capacity is, you need to be able to locate, read, and understand your GVWR label.
This label describes the various vehicle weights, and how they pertain to your specific motorhome. You can usually find your motorhome Gross Vehicle Weight Rating label listed on the front door driver side along with the following information:


GAWR (Gross Axel Weight Restriction)


rim size front and rear


tire size, along with tire pressure specifications front and rear
Under-inflated Or Too Much Weight On A Tire
Will Cause Lots Of Problems
Having your tire inflation numbers posted on the inside of the driver side door, and on the tires is a clue...they are put there for a reason; it is a safety issue.
You do not want to guess tire pressure and weight restrictions. If you have upgraded your tires, and and are not running stock tires any longer, you will want to look on the new tire for proper inflation specs. Inflation requirements may not be the same. Don't assume anything.
You do not want to be driving 60+ mph and have tire failure due to over/under inflated tires. Nor do you want to go over your motorhome Gross Vehicle Weight Rating restrictions for the same reason. This overview will hopefully keep this type of trouble from happening!
Tire size and pressure requirements came to my attention a few years ago. It seems that the previous owner of my rig had installed new tires that were underrated for this motorhome class.
This, in effect, lowered my motorhome's GVWR number. It also caused the tire to distort into a pear shape and grow a bulge about the size of a golf ball on the inside sidewall of my passenger front tire. Basically it was about to blow when I discovered the problem.
---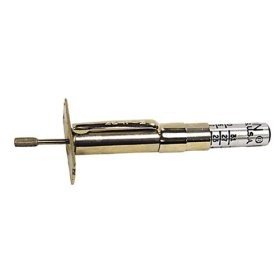 A good idea is to purchase a tire tread gauge that keeps track of uneven tread wear. This will give you a quick overview of the status of alignment and shock absorber issues before they destroy a good set of tires, and it also gets you down looking at the tires.


You will be surprised at what you can find stuck in the treads just waiting to cause a flat.




---
There Is A Proper Way To Weigh Your
Class C Motorhome
So how do you
weigh your motorhome to determine if it is properly loaded?".
It does not matter if you are buying a brand new unit or a not-so-new unit, you must correctly weigh your rig to determine if you are close to, or even possibly over, your motorhome's Gross Vehicle Weight Rating number.
Before you weigh your vehicle and determine your weight restrictions, there are a couple of things that need to be done:
You need to put stuff into the motorhome. Pack the sucker up just like you are going to travel.


Make sure you have your water and gas tanks full and your fridge is filled with food.


If you do this and all the weight is below your motorhome GVWR and GCWR numbers, you are home free. If you are over these limits, then you need to read on and find out how to most effectively trim your extra pounds.
A a note, if you are going to use a TOAD, you will need to understand your motorhome's vehicle towing capacity. This capacity is called the GCWR. It is a measurement by which you can determine if your TOAD weight, combined with the motorhome weight, exceeds the specific weight limitations for your rig. The Gross Combination Weight Rating (GCWR)will tell you how much your TOAD and motorhome can weigh in total.
---
As I said earlier, you will find a label with various bits of information including the Gross Axel Weight Restriction on the driver's side door. A quick overview of this number will tell you, among other things, just how much weight you can put on your front and rear axles.
These two axle ratings will add up to the motorhome Gross Vehicle Weight Rating number. This information is useful because not only are you concerned with how much your rig weighs,
you will also need to determine where the weight on the rig is located
.
In addition to the front/back weight distribution, you need to know the side by side weight totals. For example, if your front axle has a 5,000 lb. GAWR, then you would simple divide that number by 2. The result would be a maximum weight restriction for each front wheel of 2,500 lbs.
One way to determine your side by side weight totals is to weigh each corner of the vehicle separately. Unfortunately this is not easy to accomplish.
It is important to keep your rig level when weighing. This means you have to use a scale that has a large level pad that is flush with the surrounding area. An uneven weight shift will give you inaccurate results.
Some scales are installed higher than the surrounding area so water will run off. If you use this raised scale, it means you are attempting to determine the weight of your vehicle while it is leaning to one side. This will guarantee bad results.
This matters because if your rig is not level when weighing, it will cause a shift in weight, and thus, an inaccurate result. If you find a level scale, simply weigh each corner of the motorhome separately.
It's a real pain, but if you want good information about how your rig's weight is distributed, you need to do this.
The good news is that you only need to do this once. After weighing each corner you will know how much and where you can put your stuff.
---
Do Not Assume That The Manufacturer Put
A Priority On Weight Distribution
You cannot assume that the manufacturer had an overreaching plan with a proper distribution of vehicle weights that would result in a balanced and tidy package. This is because the floor plan was designed for human comfort. It may not allow for the even distribution of your truck weight. The motorhome Gross Vehicle Weight Rating number is sometimes simply not high on the list of priorities with some manufacturers.
In most cases, the manufacturers do attempt to do a good job when building their coaches. But you will still need to know just where your weight is so that when you add more weight, you can put it where it will keep the rig in proper balance.
---
To determine front/back weight totals with a level scale:
drive the front axle onto the scale


weigh it


drive completely onto the scale


weight it again


drive the front axle off the scale


weigh it again
This will give you a good overview look at how your rig is balanced front to back.
---
There Are Professionals That Can Help
For a more complete definition of your Motorhome Gross Vehicle Weight Rating, you may want to go to
http://www.rvsafety.org, the Recreation Vehicle Safety Education Foundation.
They use sophisticated portable scales to determine individual wheel loading.
They also conduct RV Weight seminars throughout the country. Just check their schedule and see when they will be near you... or you will be near them. They have a good site with a ton of information that will give you more details about GVWR and how it relates to your motorhome.
---
Custom Search



---
Return To Top Of Page

Leave Gross Vehicle Weight Rating: How It Applies To Our Need For Aftermarket Accessories And Return RV Tips: Some Thoughts On Bringing Out The Best In Your Class C Motorhome

Leave Gross Vehicle Weight Rating: How It Applies To Our Need For Aftermarket Accessories And Return To The, Class C Motorhome Info
Made Simple Homepage