What Is GVWR? Why Does It
Matter To You?


If You Do Not Understand Your GVWR System Of Numbers, Your Class C Motorhome May Not Have Its Weight Distributed Evenly



As an example, how does your CCC (cargo carrying capacity) figure into your vehicle's GVWR (Gross Vehicle Weight Rating)? You cannot assume that the designers of your coach fully considered all the ramifications of the potential aftermarket vehicle weight that accumulates over a period of time.



Custom Search




Vehicle balance and overall aftermarket location of our valued accessories result in potential vehicle weight issues. This is why we need to understand the GVWRs and how it these numbers will relate to our Class C Motorhome.

We have all seen a motorhome lugging itself up a hill doing about 20 to 25 mph. If may even be lower on one side or the other. This is probably due to an overloading condition. They have surpassed their cargo carrying capacity.

This is easy to do, and I'm thinking that we have all done it at one time or another. We may not have abused our motorhome in such a way, but I'll bet in the past, when we were in our formative years, we probably overloaded a pickup truck or even an automobile when moving to a new house or an apartment. It is easy to do. We just don't think about it.

Well, then was then, and now is now. If you have a motorhome, you probably have a significant amount of money tied up into it.

That being the case, it makes sense to not abuse the it. And, if you overload your rig, you are abusing your rig. To keep matters under control, a simple understanding of a few definitions will go a long way to keeping you out of trouble.

If we understand that the GVWR is the maximum weight we can put on our motorhome chassis, then how do we determine the maximum weight limit of our personal stuff... the CCC (cargo carrying capacity) of our motorhome before we exceed this gross weight number?



---




You Will Need To Determine Your
Combined Cargo Capacity





It is really pretty simple. You are able to determine your cargo carrying capacity by adding:



the UVW (Unloaded Vehicle Weight),


the weight of a full fresh water tank (including the water heater),


a full LP gas tank, and


the SCWR (Sleeping Capacity Weight Restriction).



Then subtract the above total from your GVWR number.




---




You Will Need To Determine Your
Unloaded Vehicle Weight



In the above formula, the UVW is the definition that may not be simple to calculate:



A full description of the UVW would be:




The WEIGHT of a vehicle as built at the factory with full fuel, engine (generator) oil and coolants. It does not include cargo, fresh water, LP gas, occupants, or dealer installed accessories.


It is the dealer installed accessories that will add an unknown amount of weight that can hurt you.


Instead of attempting to list and weigh these things, you should simply fill up the:



fresh water,


LP gas, and


fuel tank, just like you would if you were going on a trip.



Then weigh the rig to see just what your total weight would be.




If you were to do this, it would be a simple matter of subtracting this figure from the GVWR. You would then, in reality, have determined your true cargo capacity number.

From now on, all you would have to do is keep track of the amount of weight you store on the unit and keep your cargo carrying capacity under the GVWR.



---




The Four Winds 5000 Has A Good Amount Of Basement Storage!





What are Weight Ratings Based On?



Here are some rating (limits) and definitions that are established by the manufacturer, which are not to be exceeded.



Ratings are based on




structural strength


drive train strength


braking power


stability


controllability


performance



---




Exceeding a rating invites unsafe conditions, potential damage, may void a warranty, may complicate an insurance claim, and in some cases, may violate a law.




---




A List Of Ratings Definitions





Ratings Definitions:



GVWR:



Gross Vehicle Weight Rating



GAWR:



GCWR:



Gross Combination Weight Rating*



GTWR:



Gross Trailer Weight Rating



UVW:



Unloaded Vehicle Weight (1996 RVIA Definition)



NCC:

SCWR:



Sleeping Capacity Weight Rating



CCC:


*We also have to take RV towing into consideration. The classic sense of this RV towing issue is a truck and trailer configuration. All of us understand the need to match a tow truck with the weight of the vehicle we plan to pull.

If we want to pull a TOAD with our Class C Motorhome, we also need to understand the ramifications of RV towing in relation to a motorhome and its towed vehicle.

The GCWR is the number we use to keep the total weight of our Class C Motorhome and the towed vehicle (TOAD) of our choice within specific weight safety parameters.


---



---
YOUR STORIES

1995 Tioga Montara
Had a Leak - Ouch!

A Simple Way To Put An Electrical Thermostat On A Small Space Heater
In A Truck Camper!

A Great Destinaton, With An Unexpected Outcome!

---
Test Link
Below: For An Alternative Destination... A Four Mile Hike Around Sugar Pine Reservoir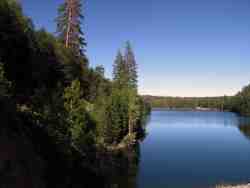 A Good Place To Begin The Joshua M. Hardt Memorial Trail Is At The Dam. This 3.5 Mile Trail Is Good For Foot Traffic And Bicycles... No Motorized stuff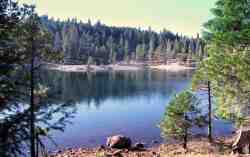 The Manzanita Day Use Area Is A Good Place To Sit And Watch The Wind
Play With The Water!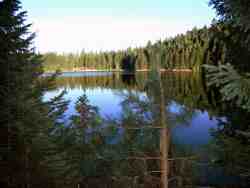 Another View From The Joshua M. Hardt Memorial Trail... Morning and Evening Are The Best Times To Hike This Trail. The Still Reflections Will Capture Your Attention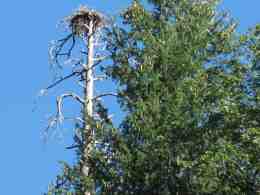 You May Want To Bring A Camera... There Are Large Birds Of Prey High In The Ski