Custom Search
There are multiple professional guides available to take the mystery out of these diverse American River white water rafting destinations.


The South Fork American River...
Good For Beginners

As a wonderful introduction to the American River rafting experience, the South Fork of this river is ideal for the first-timer as well as the seasoned American River rafting veteran. There is more than enough variety in action along this section of river to fulfill the needs of everyone.

A South Fork American River rafting adventure will take in a twenty-one mile section of this river between Chili Bar Reservoir, just off of State Hwy 193, to the entrance to Folsom Lake. Here you will find 50 major rapids.

It has a mix of moderate class III rapids and relaxing water surrounded by stunning wilderness scenery and wildlife.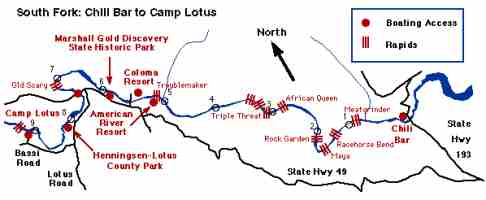 Rafting The South Fork American River
This California White Water Rafting Adventure Will
Take You Through Coloma State Park


Depending on where you put in on the South Fork American River, you may glide by Coloma State Park. This is where gold was originally discovered by James Marshall on January 24, 1848.


There are many points of interest to attract the visitor, including:


Sutter's Mill Replica and Original Site


Coloma School House


Sanit John's Catholic church, 1858, and Emmanuel Church, 1855


El Dorado County Jail


The replica of James Marshall's Cabin


The list goes on and on. There are hikes, museums, and a self-guided town tour to keep you busy.
Coloma State Park Is Designed To Allow You To Wander Around
At Your Own Pace... It Can Become Busy During
the Peak Season When School Is Out.

Today, the South Fork American River is not only the most popular American River rafting run, but is also the most popular whitewater run in all of California.

You will find many fun sections of white water rapids with colorful names like Meatgrinder, Rock Garden, Triple Threat, and Troublemaker!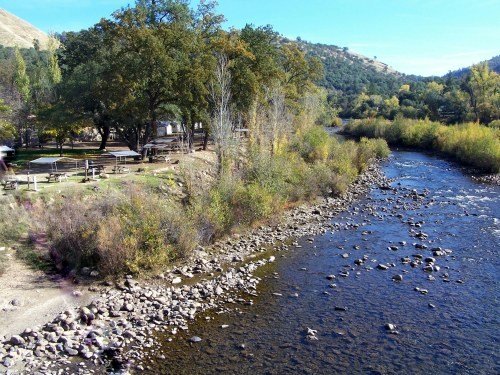 This Graphic Taken In Late Fall Shows The Coloma Resort sitting
Along the South Fork American River.

The Coloma Resort Is Perfectly Situated As A Base Camp For Your California White Water Rafting Experience



There are may RV Campgrounds and resorts in the area. The Coloma Resort, however, seems to be placed at a very good location. It has good access to the water for any American River rafting enthusiast. Their contact information is:


Reservations: (800) 238-2298    
Phone: (530) 621-2267


They offer a round trip white water rafting shuttle service to and from the resort so you can just park your rig and not have to worry about the logistics when visiting the area.

Being able to take advantage of the American River rafting opportunities is one thing, but if you just want to take it easy, you only have to walk across the bridge and enjoy the State Park.

There is a lot to see and plenty of picnic tables available in the grassy shaded areas... or you may just want to kick back awhile and read a book or people watch.

There Are Hiking Opportunities



There is a hike going up into the hills just west of Coloma State Park. Coloma Resort also has some trails paralleling the river, and just south of the resort is the Troublemaker Rapid. This might be a good place to watch people get wet on a Saturday afternoon!

There are restaurants scattered throughout this area. Just a couple of miles north you will find a hamburger stand, a pizza parlor, etc. Of course, Placerville is roughly 8 miles to the south on Hwy 49... you will find a variety of food there.


---
The Middle Fork Of The American River
Offers A Surprise Tunnel!
Traveling North East are the Middle and North Forks of the American River. All of these river forks eventually feed Folsom Lake.


There is an 18 mile section of the Middle Fork American River which has the usual impressive rapids that attract folks from all over the country. However, this river rafting adventure will also give you a bit of an unusual experience.


After going through a narrow 80 foot long, eighteen foot wide chute called "Tunnel Chute Rapid", you will suddenly
find yourself underground!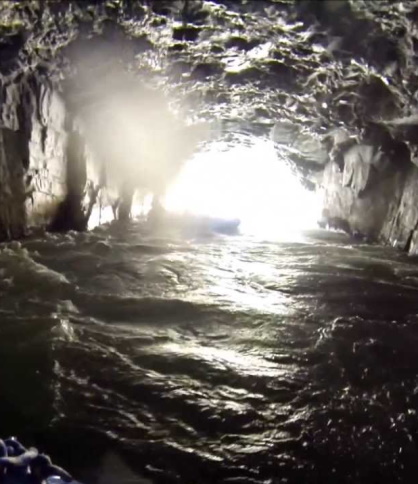 How cool is that! Here you are ripping down between these high canyon walls and you find yourself being directed into this narrow chute. This chute flows for approximately 80 feet before entering a 90 foot tunnel that was dug out by the early Argonauts looking for gold. Now that is an American River rafting experience!

Depending on the time of year and variables like the past winter's snowfall, you will find multiple class III and IV rapids along this section of the river. However, there is on obstacle that must be portaged around by all commercial rafts. 

The Ruck-A-Chucky Falls is a 25' drop that is surrounded by some seriously large granite boulders. It just takes about 15 minutes to accomplish this portage, and then you are on your way. 

---
The North Fork Of The American River Is A Great
Destination For the Seasoned Rafter


Last but not least, is the North Fork American River. This section of river is a bit more technical than it's southern counterparts. This is a river that should be run by the experienced. If you have become a South and Middle Fork veteran, and if you think it is time to stretch your skills a bit... you may want to give the North Fork American River a try.


The phrase, "continuous technical whitewater rapids",
clearly describes this American River rafting experience.
In other words, you need to be on top of your game.
A High Flowing White Water Rafting Experience!

There are multiple challenging rapids like the Chamberlain Falls, Bogus Thunder, Staircase, and more. This is considered to be one of the most beautiful, yet challenging, runs along the American River.

I remember years ago, I hiked into this river. It was insane... a 2,000 ft drop in something like 2 miles! How do you spell remote?

This relatively short American River rafting adventure is only 9 miles long. Most of it is over large boulders and through rugged canyon walls.

The run can only be made in the Spring and early Summer... depending on snow pack and weather conditions. One final note, wet suits are recommended, and you need to be in good condition.


---
White Water Rafting Classification System


So, how do we classify our rivers? This is the International Rapid Rating Scale.


Whitewater Rafting Classes
River Ratings


Class I: Easy... few obstructions with fast moving water leaving riffles and small waves. Minimum training required to be able to miss all obstacles and hazards.


Class II: Novice... wide clean channels make easy maneuvering. Very straightforward path, passage possible without scouting. Ability to easily maneuver around and through medium sized rocks and waves may be required.

Class III: Intermediate... possible difficult rapids with a moderate and irregular wave action. Good boat control is required to perform complex maneuvers in fast current. Ability to avoid large waves. Potentially powerful current with strong eddies may be present on large volume rivers.


Class IV: Advanced... predictable but powerful and intense rapids requiring full command and precise boat handling through turbulent water. May have, on occasion, large unavoidable waves and holes among rocks that can constrict passage. Demands an ability to make fast maneuvers under pressure.


Class V: Expert... violent rapids forming extremely long and obstructed runs. A level of fitness required to maneuver large drops, unavoidable holes or steep congested chutes with complex wave patterns and demanding routes involved with long distances. Eddies may be small, turbulent and far apart making it difficult to reach. Potential combination of multiple factors may be combined to reach high end of scale


Class VI: Team Effort... the most extreme of difficulty with unpredictable results and danger. Very severe consequences for errors... rescue may be impossible. Requires team effort and good judgment after personal inspection.


---

Do YOU have A great white water rafting adventure story… or a unique experience you would like to share?

What kind of adventure did you have? Are you a seasoned white water rafter, or have simply run a few to see how it feels? Have you found yourself upside down in the water?

Whether you have rafted our American River, or a river that is local to your hometown…or somewhere exotic. Wherever it is, why not tell us about it and share your white water rafting stories with fellow adventurous travelers?

All you need to do, if you want to share your one-of-a-kind rafting experience is to use the form below... be sure to include your name, city, country and e-mail address. We can then turn your great stories into a Web page with a link from the bottom of this page!

If you want to send a graphic, give a brief explanation of why this photo is special to you... also, If possible, it should be around 25 KB in size. The trick is to include lots of details about your travel experiences... this will make your story REALLY interesting!

<!Below is the Tracking Script For Google Analytics>
Return To Top Of Page


Leave An American River Rafting Experience Will Fulfill Your Rafting And Kayaking Adventure Needs And Return To California Hiking Is The Best Way To See The Wonders That This Diverse State Offers! Page


Leave An American River Rafting Experience Will Fulfill Your Rafting And Kayaking Adventure Needs And Return To The Class C Motorhome: How To Achieve The Maximum RV Lifestyle! Page