A Washer Dryer Combo: Could This Be A Benefit In Your Class C Motorhome?


A Washer Dryer Combo Or Some Type Of Portable Washer May Be A Good Idea For Your RV Lifestyle
A washer dryer combo and the Class C Motorhome travel lifestyle... for a lot of people, this sounds like an odd combination. However, maybe this setup, or even some type of portable washing machine, could be something that would suit your needs.
Custom Search
If you have room, it will do the job for the clothes that are soiled during the week's activities... stuff like underwear, socks, t-shirts, etc.
Also, depending on the size of your washer dryer combo, you may be able to wash sheets, towels, or even denim pants.
It isn't a perfect world, though; and most Class C Motorhome owners will have to do their laundry by other methods because of the lack of space for one of these compact washers.
Having A Compact Washer Will Not Solve
All Your Laundry Needs
Even if you have the room in your Class C Motorhome, there are still challenges with this type of laundry system. They will not dry the clothes completely. All of these small washer dryer combos only take the bulk of the wash/rinse water away.
This is not as bad as it sounds, and some fabrics are better off to be a little damp when you take them out of the dryer. It just depends. Also, when it comes to the "dry cycle", it will only dry half a load.
---
In other words, if you were to wash, say, fifteen pounds of clothes, you could only dry 7.5 lbs. Therefore, you would have to separate a 15 lb. load and do two 7.5 lb. dry cycles.
On the other hand, you could simply wash 7.5 lbs. of clothes and dry these without concern.

However, this would make a small load that would limit what you would be able to wash. Therefore, it seems that these units will take twice as long to do half as much laundry, and your clothes will be somewhat damp at the end of the drying cycle.
It doesn't sound like a good deal when I say it like that, but... there may be other considerations for using this washer dryer combo.
---
Special Circumstances May Make One Of These
Laundry Systems A Very Good Idea
As an example, my wife and I wear support stockings. I have lymphedema of the right leg, and Lynn has had melanoma on the bottom of her left foot. She has been cancer free for over 7 years, but the treatments left her with a slight swelling in her leg.
At any rate, we both have several support stockings that require a gentle wash.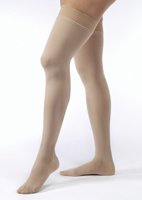 Since the stocking fabric may be damaged by the excessive heat in a standard dryer, we do not normally put them in one.

These units work well for our needs because they do not use a heating element. Therefore, it is a more gentle process. Granted, our situation may be unique, but many people are faced with a myriad of medical issues that are forcing lifestyle changes.







---
Front loaders work well because they use a horizontal axis drum... which eliminates the agitator motion that is so hard on delicate fabrics.
Front loaders seem to mimic the motion of an old washboard in that it moves the clothes into and out of soapy water. This gives you a much better washing action that cleans deeper with less soap. It also provides a better protection for people with sensitive skin and/or allergies to laundry soap.
---
A Good Reason To Use A Small Portable Washer Is The Simply Fact... It Conserves Water
I'm also thinking that, in the not too distant future, water usage may be an issue. These types of units use less water and may well become much more common in the United States.
Many utility companies offer rebates for purchases of these types of energy efficient appliances. You may want to check with your local utility company for potential eligibility. In some states, you may even find tax credit incentives.
I only bring this up because some people outside of the Class C Motorhome lifestyle have the misconception that we are not energy efficient. Using this type of laundry system in our Class C Motorhomes will help to dispel inaccurate stereotyping.
---
These units are already used extensively in Europe. The Europeans have developed a superior technology for them. This results in a higher standard than the ones that are available in this country. They have some very nice portable washers that are simply not offered in the United States.
There is a lot to think about here. It seems to be a broader subject than deciding whether or not we want to do our laundry in the comfort of our Class C Motorhome.
---
Custom Search



---
Return To Top Of Page

A Washer Dryer Combo page, And Return Class C Motorhomes And Housekeeping: Can We Make It Simple?

A Washer Dryer Combo Page, And Return To The Class C Motorhome Info Made Simple Homepage