Snow Canyon State Park Is
Zion's Little Sister... With Lava


Snow Canyon State Park is a Southern Utah destination that can be easily overlooked. It seems that most folks will want to make a bee line to Zion National Park... with good reason.


Snow Canyon State Park Is Only Eleven Miles
North West Of St George, UT
However, if you want to slow things down a bit and enjoy this part of the country from a different perspective, Snow Canyon might just be your ticket. There is plenty of hiking, biking, and photography within the 5,000 plus acres of this state park.
Just Eleven Miles Outside Of St George, UT, Snow Canyon Offers A Great Wilderness Desert Experience
Where Zion has splendid red bluffs that can take your breath away, Snow Canyon has multiple panoramic vistas. Both parks have the same types of red Navajo sandstone rock formations... but Snow Canyon has a twist. Here you will find an overlay of black lava rock! This is a photographer's landscape.
With A History Of Volcanic Activity, You Will Find Patches Of
Black Lava... Makes For Great Photographs!
With an altitude of over 3,500 feet, you would expect Snow Canyon to be named after all the snow that accumulated during the winter season. This is not the case, however. It seems that this high desert park was discovered by, and bears the name of, a couple of early Utah settlers with the name of Lorenzo and Erastus Snow.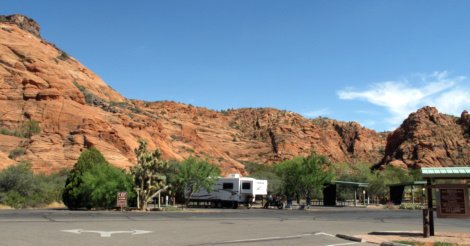 Snow Canyon State Park Has A Nice 35 Unit
Paved Campground... With Power!
Mild Winters Make For Good Camping During The Winter Months... When You Have Power!
Southern Utah has a surprising mild winter climate, and this is good news to Class C Motorhome enthusiasts because Snow Canyon State Park has a very nice little 35 unit campground with electrical hookups.
This is a good thing, because a "mild winter climate" in Southern Utah means temperatures are going to have a low of something like 20-30°F in the early morning hours.
I'm not sure about you, but when I hear high twenties for the low, I also want to hear "electric heater" in the same sentence.
So, to round this out, Snow Canyon State Park has year round camping at a 35 unit campground (max RV length of 35ft). This is with power, good modern restrooms, showers with hot water, and a dump station on site. All of this is available for a moderate fee... day use is even less!
Great Panoramic Views Will Stop You In Your Tracks...
Bring A Camera!
To Sum It Up... Bring A Camera And Enjoy
The Panoramic Views
There is something like 16 miles of hiking trails, rock climbing, nature studies, and wildlife viewing along with photographic opportunities aplenty.
This is all set against a red sandstone and lava backdrop consisting of towering cliffs showing red and white peaks. The valleys are a series of serpentine, white sandy washes separating a jumble of black lava rock. You can even find a couple of volcanic cones at the head of the canyon. Rumor has it, lava tubes are also available for exploring.


Return To Top Of Page

Leave Snow Canyon State Park Is Zion's Little Sister... With Lava And Return To Utah National Park

Leave Snow Canyon State Park Is Zion's Little Sister... With Lava And Return To The Class C Motorhome: How To Achieve The Maximum RV Lifestyle!