As we go farther down the coast, our Southern California Beaches begin to change. We are leaving the more rugged coastline and starting to get into the "classical" California beach scene.


Custom Search
Dockweiler State Beach located in Santa Monica is a good example of this type of beach. It also has a very nice RV park that can accommodate just about anything on wheels. Dockweiler is part of the State Park system, but it is operated by the county of Los Angeles.

This is a full service year round park that features hot showers and a laundromat. Each campsite has a picnic table and barbecue. Like many of of our Southern California beaches, the ocean is just outside your door... and a few steps away.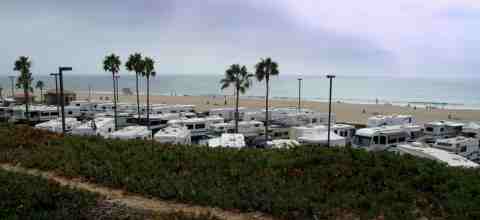 Dockweiler RV Park In Southern California
There are nearby volleyball courts; and the 22 mile Marvin Braude Bicycle Trail connects this park with nearby attractions like the Redondo Beach Pier, Venice, Marina del Rey, and other Santa Monica beaches. This is where you will see roller blades, bicycles, surf boards, body builders at Muscle Beach, and terrific sunsets. Beach Camping in Southern California will bring a lifetime of memories!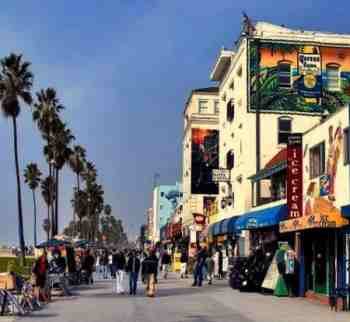 Venice Beach


The Graphic on the right shows Venice Beach. This small town is located just north of Dockweiler and just across Marina del Ray. The beach area itself is three miles long, and during the summer months this small town puts on a display of street entertainment consisting of performers who do everything from playing musical instruments to singing & juggling. You will see mimes, comics, acrobats, prophets, fortune tellers... and a lot of people with tricolor hair, tattoos, etc. Bring a camera. Beach camping in Southern California can put you next to some very interesting people!
Bolsa Chica State Park


Thirty two miles south of Dockweiler is another one of our special Southern California Beaches. Like Dockweiler, Bolsa Chica State Park is one of the few parks in our state system that has electrical power hookups. This park is just west of Hwy 1 and located next to a 25 mile long bike trail that links to Huntington Beach and Newport.
View Southern California Beaches in a larger map


I have to make a note here... when I was a kid, we used to visit this park before it entered into the California Park System in 1961. We used to called it "Tin Can Beach" because it was sort of a no man's land. You could drive out and camp on the beach back then. Of course, we ALWAYS wore tennis shoes because of broken glass and stuff buried in the sand. It is cleaned up now, and a great beach! See, things got better.
This is a good beach campground in that you are, again, right on the water. It has a summer sport called "bare-handed fishing"... or fishing for the California grunion. This is a species that only spawns on sandy Southern California Beaches during a full moon cycle. You will need a fishing license, and you must use your hands if you want to go "grunion fishing".
Bolsa Chica is a popular surf fishing location. You can catch perch, corbina, croaker, cabezon, and the sand shark.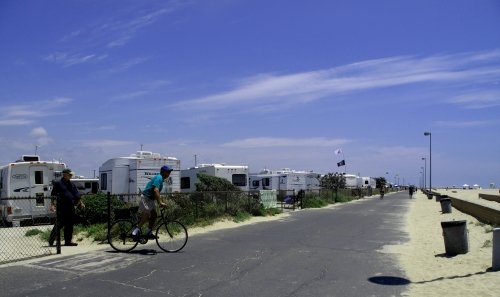 Going Biking Along The Huntington Beach Bike Trail
Next To Bolsa Chica State Beach
Wildlife and bird watching are also popular here. In fact, across the road from the beach is the Bolsa Chica Ecological Reserve operated by the California Department of Fish and Game. Just north up Hwy 1 is the Anaheim National Wildlife Reserve, which is part of the Seal Beach Navel Base. Access to the refuge is limited, but you can call the Seal Beach Visitor Center at 562-598-1024 for more information.
Bolsa Chica or Dockweiler are both good parks that make long term stay a possibility. They are both on the coast and both have easy access to good tourist locations like the Queen Mary, which is located in Long Beach, and of course, Disneyland. With destinations like Disneyland, beach camping California style will give you memories of a lifetime!
---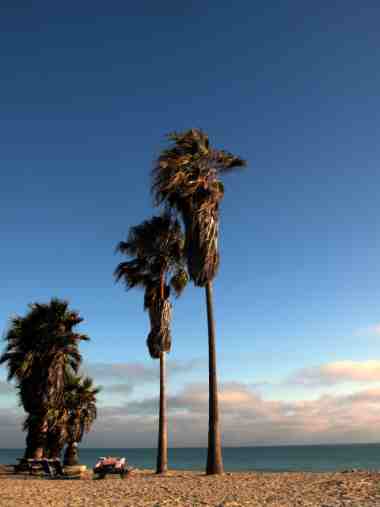 Doheny Beach


Another 28 miles south of Bolsa Chica State Beach you will find Doheny Beach. This was the first of our Southern California Beaches to become a state park. It joined the park system in 1931. Doheny has over a mile of beach with fire rings and picnic tables. Hot showers are also available.
Warm Weather, Sand and Palm Trees... It Doesn't Get Any Better Than This!
For those who like to fish, the western end of this park attracts anglers. In addition, divers choose this area for their sport. This is also where, at low tide, you can explore the tide pools. In the picnic area at the north end of the park you will find volley ball and lots of sandy beach for sunbathing.
Kayaking and windsurfing are also popular here. Kayak rentals are available at Dana Point Harbor. Surfing, however, is restricted to the day use/picnic area north of San Juan Creek.
Doheny covers an area of 62 acres. There are
122 campsites available... reservations are recommended.
This beach is one of our most popular California State Beaches. Basically, it attracts over 850,000 people per year (whew).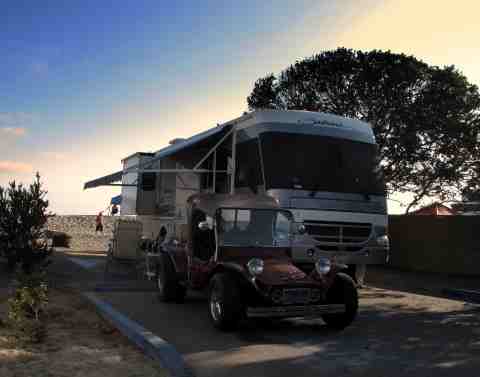 Just Off The Beach... Over 122 Paved And Level
Campsites To Choose From!
This beach has some of the warmest waters on the coast and claims to have the best swimming and surfing in California. The picnic area adjacent to the swimming beach covers 5 acres of grassy parkland. It has plenty of BBQ's, food concessions, showers, restrooms, and etc.
San Clemente State Beach


If Doheny seems a bit crowded, or you aren't able to find a spot open, there is another great beach, San Clemente State Beach, just eight miles down the coast. It is another one of our more popular Southern California beaches. San Clemente has been around since 1937. There are 160 Paved campsites setting up on a bluff area back from the beach. Two trails, or access points, lead down to the shore.
San Clemente Is Another One Of Our Southern California Beaches That Has Electrical Power!
Surfing In California
At the extreme south end of the park, San Clemente's Trestles Beach is a good surfing beach due to the wave action's rapid peeling across San Mateo Point. When the surf is up, usually during the summer months, you will find serious surfers riding these waves.
In fact, back before this area became a park, and it was still part of Camp Pendleton Marine Base, surfers would wage a guerrilla warfare with the Marines. These trespassing surfers were chased away on a regular basis... sometimes they were arrested and fined, and on one occasion they even had their boards confiscated and broken in two. All I can say is, the surfing must be damned good!
---
Looking North At Carlsbad Beach From The Campgrounds
Located At The Top Of The Bluffs
South Carlsbad State Beach


Our final stop in this tour of Southern California Beaches will be at South Carlsbad State Beach. South Carlsbad is 29 miles south of San Clemente, and it does have overnight camping. This Southern California Beach has 122 large level campsites setting on a bluff overlooking the Pacific Ocean. This is a campground that does not offer a lot of amenities. The other Carlsbad State Park is only a day use facility. Basically, it is kind of confusing. South Carlsbad State beach has camping and Carlsbad State Beach is only a day use area. The day use park has volley ball, grass, and walking trails. It has a gentle slope to the water that is very good for swimming.
At any rate, South Carlsbad sits up on a bluff overlooking the beach; and if you pay the extra $10.00, you get a site with a view. This, of course, has its advantages. You can sit by your campfire and watch the sun/moon go over the horizon. On clear windy days, as the sun sets, it is possible to see a
green flash
as this orb goes over the horizon. I've seen this phenomenon in Kauai, HI, a few years ago. I've been told that this is one of the good Southern California Beaches to witness this event.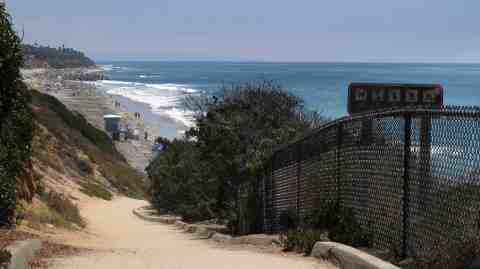 Looking South On Carlsbad Beach
What Is A Green Flash Phenomenon?
Let's discuss this afore mentioned green flash phenomenon a bit...there is a simple explanation for this green flash. This can be seen at sunrise or sunset. It occurs when some part of the sun quickly changes color (from red to orange to green/blue) as it goes over the horizon.
It appears to flash because of the short time frame, or the length of the window of opportunity that will "bend" the light around the curvature of the earth.
You see, when you witness a green flash, the sun has already
gone over the horizon and light is being bent
around our earth's atmosphere.
There is also a wave length issue going on and this is why we only see the green or blue. The sunset/sunrise condition must be very clear for this to happen.
Return To Top Of Page


Leave Southern CA, Beaches From Los Angeles to San Diego Page, And Return To California Camping Oportunities Are As Diverse
As Its People Page


Leave Southern California Beaches From Los Angeles to San Diego Page And Return To The Class C Motorhome Info Made Simple Page