There is so much to see and do all along our Southern California beaches that I could build a site just on this topic. I spent my youth here... growing up in the 1950s and '60s. That was a long time ago, and much has changed since I joined the Navy and moved away. However, a lot has stayed the same, and some things have even improved!


Custom Search
Our beaches have remained open to the public, and there are many to choose from. Southern California beaches cover an area from Jalama Beach in Santa Barbara County to the various beaches in the San Diego area, and you will find that they have maintained their original appeal to the beach goer. Basically, if you are looking to simply walk in the warm sand or sharpen your surfing skills, there are beaches here that will suit your needs.

Stretching along this sunny coast you will find many small towns that offer quaint shops ranging from upscale art galleries to simple ice cream parlors... each with a distinct personality.


---
We First Visited Jalama Three Years Ago… It Remains One Of Our Favorite Southern California Beaches


Just north of the town of Santa Barbara is a very remote beach that has a unique appeal which separates it from the rest of our Southern California beaches. We like this beach very much because it is so far west of Hwy 1.
Jalama Beach
holds the honor of being the farthermost campground away from State Route 1 (Approximately 16 miles). Most of our California coastal campgrounds are located just off of the Pacific Coast Highway... sometimes you even have to cross this highway on foot to get to the ocean.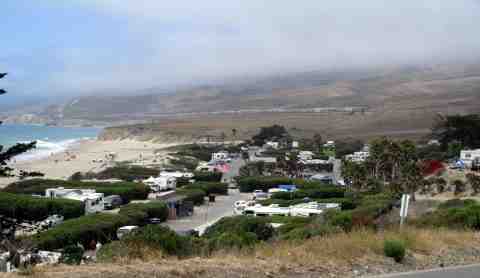 Jalama Beach County Park
So having this county park located miles to the west of this state route is very good... if you like a more remote location.
---
Gaviota State Park


Going south just a bit will take you to Gaviota State Park. Gaviota is a small campground that has campsites spaced close together, and it can get a bit crowded. It is paved, and believe it or not, there is a railroad trestle just overhead. This trestle is considered to be a local landmark. At any rate, Gaviota has a couple of good points and some potential negative aspects to consider.
It is just off of Highway 1, so it is a good place to park for an overnight stay, or maybe just a couple of days. Like most campgrounds along our Southern California Beaches, wind can be an issue, so this would probably not be a very good place for tents. However, those of us who use Class C Motorhomes should be snug enough.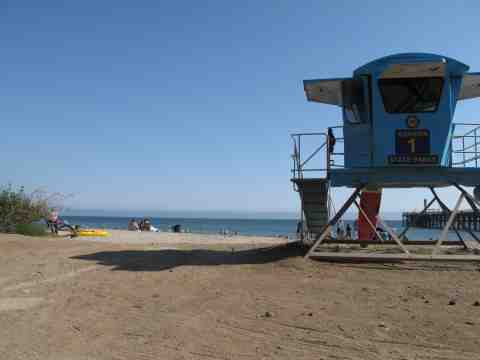 Gaviota State Park
A good reason to stick around this site is to observe a good low tide condition... low tides will expose great tide pools that need exploring. You will find them at the base of the cliffs just to the right or left of the beach. You can see crabs, mussels, and sea anemones doing their thing in the rock pools. If you want to get your feet wet, there is a life guard on duty.
If you are lucky, you may spot some sea lions
just beyond the surf!
There is a small pier on the west end of the beach used by fishermen, scuba divers, etc. A boat hoist is available on this pier that allows access to fishing and other adventures in the waters of the Santa Barbara Channel.
This is one of the beaches where you will have oil seeping up through the ocean floor, and this results in a tar-like substance sticking to the bottoms of your feet... baby oil is supposed to be the product of choice for removal of this stuff. Bottom line, I wouldn't want to spend two weeks here; but for a quick stop-over, this beach works just fine.
---
Refugio State Beach


Refugio SB is another Santa Barbara beach that many locals seem to choose over some other Southern California Beaches that are closer to town. The consensus is that it "just feels different here". There are an abundance of grills and picnic tables dotted with little palm trees along thin strips of green grass.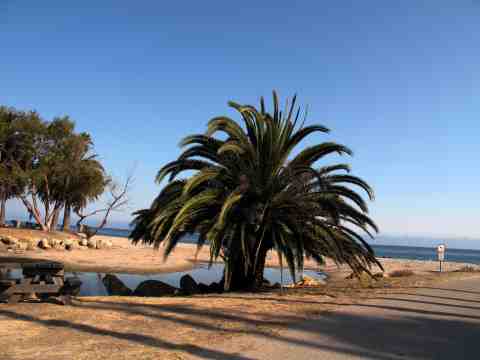 Refugio State Beach
For us Class C Motorhome folks, we can look forward to campgrounds that bump up right against the beach... with plenty of sand and surf to wiggle our toes in! This is also a good beach for diving and snorkeling... with plenty of trails ready for biking and hiking.
---
El Capitan Beach State Park


El Capitan is another favorite of the locals. Although it is not the biggest Southern California Beach, it is a beautiful one. There's a good amount of sand and a certain level of privacy. Overall, this beach is known for its calm waters and is considered to be a nice spot for children to frolic. Therefore, it is a great place to build sand castles!
Where Refugio SB has its small palm trees, El Capitan is noted for its live oaks and chaparral. To make the area a little more interesting and convenient, there is a paved bike trail connecting El Capitan to Refugio SB.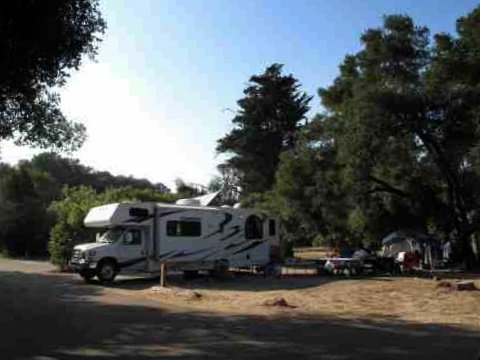 El Capitan Beach State Park


Point Mugu State Park


Point Mugu State Park is the largest preserved area in the Santa Monica Mountains and includes two camping areas. The shoreline is comprised of rocky bluffs, some dunes, a sandy beach suitable for swimming and body surfing, and a beach that has tide pools to explore.
What makes this park a bit unique are the more than 70 miles of various hiking trails exploring the inland grass valleys. These valleys are dotted with native plants, such as sycamore and oak trees. The 13,300 acre park includes the jagged pinnacles of the Boney Mountains State Wilderness area.
Overlook Trail is also a popular trail route that offers a spectacular vista of the park and the Pacific Ocean from up in the Santa Monica Mountains.
So, if you've brought your hiking shoes or like to mountain bike, this is a great destination that allows you to explore a part of California untouched by development.
Point Mugu is one of the California parks that have WI-FI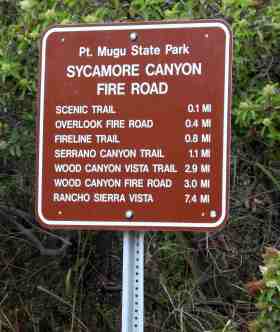 Point Mugu's Trail Head Sign Showing Several Trails
East Of The Campground
There are two campgrounds at Point Mugu State Park that can accept RVs:
Thornhill Beach
has 69 primitive sites and sits right on the beach. All sites have picnic tables and a fire ring. There is no shade here and fresh water showers are available with cold water only. Toilets are Chemical. RVs are welcome, but there are no hookups.


Sycamore Canyon Campground
is better suited for our Class C Motorhomes. This Southern California beach campground has 58 sites with a fire ring and picnic table located under various shade trees. There is a trail that has access to the beach area, but there are some rocks that you have to climb over. There are lots of hiking and biking trails accessible from this location. There is a dump station for RVs, but there are no hookups. Beach wheel chairs are available.

Leo Carrillo State Park
Leo Carrillo State Park is just a bit farther south on Hwy 1 and is sort of a sister park to Pt. Mugu. This California State Park has 1.5 miles of beach available for swimming, surfing, windsurfing, surf fishing and beach-combing.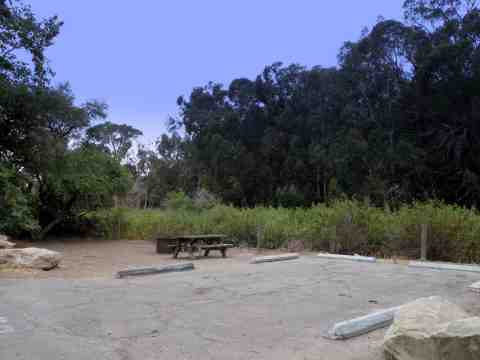 This is a good Southern California beach for exploring tidal pools and coastal headwater caves. Like Pt. Mugu, giant sycamores shade the main campgrounds and back country hiking is also accessible. It also includes access to the 13,300 acre Boney Mountains State Wilderness area.
Return To Top Of Page


Leave Southern California Beaches in Santa Barbara and Ventura Counties Page, And Return To California Camping Oportunities Are As Diverse As Its People Page


Leave Southern California Beaches in Santa Barbara and Ventura Counties Page, And Return To The Class C Motorhome Info Made Simple Page