RV Storage Tips: It Matters What You Buy... And Where You Put It


RV storage tips are not glamorous. It is not something that most of us spend a large amount of time thinking about... unless you get tired of trying to put round things into square holes.


We Are All Going To Buy Some Aftermarket Accessories, Do We Need To Think About Where
We Will Store Them?
Custom Search
Seriously, when we buy an accessory, do we think about where it will go? How hard will it be to find an accessory or actually get to one when we want and need it? Also, if
weight is a factor,
you must take something off the rig that will weigh the same as what you want to add. With all this in mind, maybe some type of storage guide, or some simple storage hints would be in order.
We have all seen the Class C Motorhomes going down the road with stuff attached to it with bungee cords.
We don't really know if they have too much stuff, if there is no place to put it inside, or they just like it hanging off the back of their rig.
Maybe their accessory storage decisions were made with poor planning, they couldn't find a suitable storage space because of a size mismatch, or they simply felt that hanging it on the outside was just the most convenient spot.
Every Class C Motorhome Will
Have Unique Storage Issues
The thing is, we have to know and understand our Class C Motorhome. It does have unique storage issues. When it comes to buying and storing things, finding some good RV storage tips that help us put our stuff safely away can give us "good piece of mind".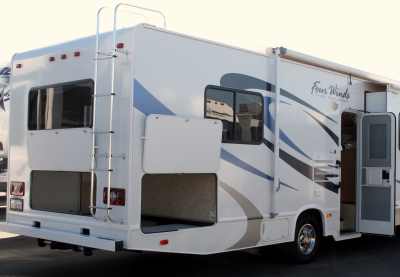 This Four Winds 5000 Has Good Basement Storage For
A Class C Motorhome.
For example, a good storage tip would be to have a tape measure handy when you are looking to buy stuff for your motorhome. But first, however, you need to measure your storage spaces and understand their different sizes. Then, when you are looking for stuff, you will have a good idea if and where it will fit in your motorhome.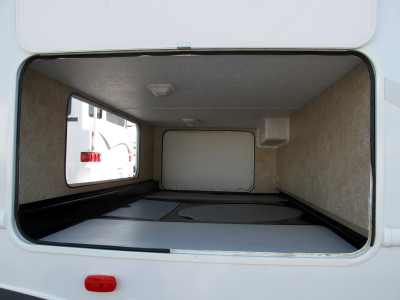 Another Look... A Little Closer This Time
---
I have, among other things that are wrong with me, a bad back. Therefore, I must pay attention to what I use when I sit down. I cannot use just any old chair. I like to use a folding rocking chair. This gives me good lower back support.
Therefore, there are a whole bunch of camping chairs that fold up into relatively small packages that are not suitable to my needs. Understanding my specific needs allows me to pick and choose what I bring and where I will store it.
This, of course, goes a long way toward ensuring that when we need to, we can have appropriate places for our chairs, a hammock (yes, I take one), a barbecue, and/or an inflatable kayak.
---
Here Are Some Storage Hints
I guess this would be another RV storage tip. Use inflatable equipment when possible. As an example the kayak that I use
only weighs 15 lbs, and does not have the storage and weight limitations
of a solid fiberglass boat! It's easy to use, easy to store, and easy to lug around.
Another area that doesn't quite fit into an RV storage tip category, but will lighten your load a bit, is the mattress on your bed. If you were to get rid of the thing and put in a
good air mattress, you will save anywhere up to 75 LBS.
It all adds up!
---
Another RV storage tip would be to use a French Press as a means to make your morning coffee. Not only does it require a smaller storage area (it is about a third of the size of your traditional drip machine). Arguably it will give you a better cup of coffee without the use of electricity.
If you find that you just have to have an electric coffee machine, get the pot that can be installed under the cabinet if you have the room.
An easy RV storage tip is to get the brew pot that has a built in carafe... as an integral part of the coffee machine. This way you will not have a glass decanter to worry about putting away in your limited storage area.
---
Do you have ideas on storage hints and solutions that you have developed and found useful? If you wish to share some of these ideas just click on the response and comment link below.


---
Custom Search



---
Return To Top Of Page

Leave RV Storage Tips: It Matters, What You Buy... And Where You Put It. Page And Return To Location Of Storage Space May Affect Your GVWR
When You Put Stuff In Your Rig

Leave RV Storage Tips: It Matters, What You Buy... And Where You Put It. Page, And Return To The Class C Motorhome: How To Achieve The Maximum RV Lifestyle!