RV Shore Power:
Protect Your Equipment When Traveling… Know Your Electrical Grid


What is the value of quality shore power, and how does this value relate to the protection of my electrical/electronic equipment? Why is important to have a good AC power source and be able to control your voltage regulation?


What Is A Proper Voltage Value?
Custom Search
Low voltage, called brown outs, can damage any sensitive electronic/ electrical equipment. You want to make sure that, wherever you go, you check the voltage you are getting from the rv power pedestals... you need to know just what the value of your shore power is.
When referring to value, I mean voltage. It is pretty simple...
115 VAC would be good value while 105 VAC would be poor value. Interestingly enough, 130 VAC would also be of poor value. You want your AC power source to be as close as you can get to 115/120 VAC.
A good idea that keeps your incoming ac power source at the required level would be to use a line voltage regulator. The idea behind proper voltage regulation is to keep your current draw down. A low voltage situation will make a direct impact on your current... this results in damaged equipment.
Low Voltage Will Hurt Your Rig's Components...
It Just May Take Awhile
Without using a lot of mathematical formulas, let's just say that shore power with a low voltage will increase current draw. An increased, or higher current, will, over time, prematurely burn out any electrical motor or compressor... like the one you use on your air conditioner.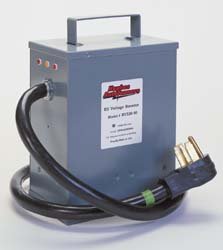 Hughes Autoformer
---
High Voltage Will Hurt Your Rig's Components...
REALLY, REALLY Fast!
Now that we have the low voltage issues covered, let's look at shore power that is giving us high voltages... or voltage spikes. I'm really not trying to scare you here, but stuff does happen.
A lot of us travel during the summer months, and these months have been known to have thunderstorms. It's not pretty when a lightening strike hits a power line... especially if you are plugged into the circuit without some type of line voltage regulator.
It is a fairly simple matter to use an inline voltage surge protector. Here again, without going into a lot of details... think of a surge protector as a VERY fast circuit breaker.
In essence, if your rig is subjected to a voltage spike, the surge protector will drop out and isolate your rig until you reset the thing.
You can buy these protectors as an "inline plug" or have them wired into the rig by an experienced technician. As a note, these surge protectors can also detect potential polarity issues.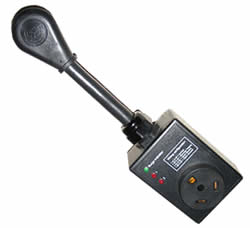 Inline Plug Surge Protector
---
Reverse polarity simply means that your incoming voltage is wired backwards. The "hot" lead is used as the return,
and the return is used as the hot.

This obviously is not what you want coming into your rig. If you do not have, or feel that you do not need surge protection,
you can use a circuit tester to check your polarity.

3 Prong Circuit Tester
---
Not All Electricity is The Same
There is another area that may be of concern if you travel abroad, whether you are south of Mexico... or almost anywhere else in the world. You need to know how to protect yourself against foreign electrical shore power grids and their potential incompatibility with the stuff we use in North America.
A lot of newer electronic devices can operate using the U. S. electrical grid and the European Metric systems. Some are compatible with either system, some are not. To find out if your laptop, as an example, can operate using the metric voltage grid system, look at your power cord.
It will have a small print notice stating, "110-240 V", "50-60 Hz per second" or something similar on the small black box (the transformer).
---
If you do not see this print notice, you would need to purchase an adapter that converts from the U.S. shore power system to the metric grid system. A good place to find these items that provide voltage protection is
http://www.magellans.com/ Magellan's travel supply.



This Magellan site also has a calculator called the "Electrical Connection Wizard", which allows you to determine what the electrical requirements are in any country you visit.

This information allows you to know in advance if you will need some type of mobile protection, like connector adapters or transformers, that will safeguard your equipment. It is a good tool to use because traveling can be tricky. For example, some countries, like Brazil, will use both the 110-125 and 220-250 volt systems.


It is always a good idea to check electrical requirements before traveling anywhere abroad.
---
Most of us will probably never go further south than Mexico with our Class C Motorhomes. However, traveling has become increasingly easier to accomplish and much more convenient than has been experienced by any previous generation.
While some of us will never leave North America, for a host of reasons, others will. It just pays to be aware of how various shore power issues can prevent potential problems before they can ruin your trip.
What If I Do Damage To My Rig... Where Can I Get The Dollars For Repair/Replacement?
One more thing to consider while traveling is money conversion rates and access to funds. Both Visa and MasterCard have worldwide services. You can make a list of convenient ATM locations in your destination cities before you go. Both Visa and MasterCard have on-line worldwide ATM locaters covering more than 210 countries.
---
Custom Search



---
Return To Top Of Page

Leave Shore Power: Protecting Your Equipment When Traveling Means Knowing Your Electrical Grid. and Return To RV Tips: Some Thoughts On Bringing Out The Best In Your Class C Motorhome Page

Leave Shore Power: Protecting Your Equipment When Traveling Means Knowing Your Electrical Grid. And Return To to Class C Motorhome Info Made Simple Homepage