RV Rubber Roof Repair Part II:
The Good Reliable EPDM Roof Will
Need Attention Too!


An RV Rubber Roof Repair Can Be A
Simple Project... Or A Big Deal
If you own an RV, chances are that you will have an RV roof repair issue of some sort... sooner or later. It may be a simple thing like
patching a small puncture
caused by backing in under a tree and having a branch snag the roof. Or it could be a more serious, unforeseen, rubber roof repair challenge that catches you by surprise.
Custom Search
When I bought my Class C Motorhome, I really did not realize that it had some issues. Let's just say that it seemed like a good idea at the time. I want to make the point, however, that since that time, I have completed a lot of research and gathered a lot of information so I now know what many of the pitfalls are when looking for a good, reliable Class C Motorhome.
Having said this, I do not regret buying this particular unit. It has been, and it continues to be, a great learning experience. And, it has been a reliable vehicle. I have had issues with my rubber roof that I want to address here. But first, I think it is important to give a little background.
You Should Know What You Are Getting Into
Before You Buy Your RV
I bought this Class C in July of 2005. We had taken a cruise to Alaska and picked up this vehicle in August when we returned to Sacramento, CA. I remember driving it home. How proud I felt. It ran good, and I was in hog heaven. But, when I got it into my driveway, it started to set in that I did not have a clue about operating or maintaining this Class C Motorhome... let alone being able to do a major RV roof repair.
I did find some operating manuals for most of the accessories like the motor-generator, microwave oven, refrigerator, air conditioner, etc. As I read through this stuff, it slowly sank in that there was more to this than just driving down the road to a park.
I had a huge knowledge vacuum that needed to be filled so I set about to methodically go through and learn what I needed to learn. It wasn't that hard really. Other than having to learn how to flush the toilet and put water in the tanks (I'm not kidding), my major fear was being stranded on the road due to breakdown. So, I had the transmission oil changed, kicked the the tires and
generally checked out the running gear.
I also had the motor-generator serviced. I wanted to set a baseline on preventive maintenance. When this was all done, I felt pretty comfortable with the mechanical condition of this motorhome.
I got lucky here. Most of the mechanical verification that was done just after acquiring this Class C Motorhome should have been done before I purchased the thing. However, I wasn't totally blind. I bought this unit on the recommendation of a friend and neighbor that had been RVing for years. He said that this was a "clean little unit". That's all I felt I needed to hear.
This was very much an emotional driven purchase. But, John did me right. It has been a good unit overall. When I add everything up, I have had more Yays than Nays.
---
Before Always Check Your Rubber Roof At The End Of The Season... Surprise Leaks Are Not What You Need During The Damp Wet Winter Months
After reassuring myself that I could go somewhere and get back home again without undue trauma, I turned my attention to the roof. At the time, I did not know that my roof was an EPDM (Ethylene Propylene Diene Monomer) barrier. I had never heard of EPDM. I couldn't even spell EPDM!
However, having lived in Sacramento, CA, I knew that rain was coming in the following winter season and it was now late August. So, it only made sense for me to check it out and ensure that my roof was in good condition.
I did not take any pictures of this earlier rubber roof repair,
but I sure wish I had. The roof was black and pretty much a mess.
I had found information saying that my roof should be cleaned on a regular basis. So, I figured,what the heck... it probably needs a good washing. I had the good sense to go to a local RV Supply Store and ask questions. They pointed me in the right direction, and I bought the
recommended cleaner
and cleaned my roof.
What a mess! I had just
waxed the fiberglass sides
, and when I washed down the roof, I ended up with black streaks all down these newly cleaned and waxed walls. So, I got to wax my Class C Motorhome again.
I'll have to say that I was surprised to see that the roof was supposed to be white. I was even more surprised to see wood where EPDM was supposed to be. That was my first clue that an ongoing battle with RV roof repairs was to be in my future.
---
The graphic to the right was taken last June (almost three years later). This was taken just after I had removed the adhesive tape
that I had put on three years earlier, and before I removed some damaged EPDM roofing. In January of 2008, I had discovered a leak over my shower, which was just under the ladder brackets where the above photo was taken.


I was suspicious of my previous rubber roof repair that I had completed three years ago. At that time, when I had first cleaned my roof, it became obvious that a rubber roof repair would be necessary because of exposed wood under the EPDM.


At the time I thought... well, no big deal! I'll just put down some
adhesive tape
. However, three years later, after noticing a leak in the shower area and having discovered that my ladder brackets were a little wobbly... I deduced that the leak was coming from a breakdown of the self-leveling sealant around these brackets... or possibly water was getting under the adhesive tape that I had put on the roof earlier.
---
Sometimes You Just Have To Pull Things Apart
I naturally assumed that my problem was going to be around the area that I had already repaired three years before. I could visualize rotted wood not holding the screws properly. This could have been a can of worms.
Therefore, I felt that I needed to remove my older tape from the previous RV roof repair. I simply had to get a good look at what was going on underneath this rubber roof repair barrier. I was thinking that I was going to have to replace some wood.
However, it turned out not to be a big deal (Whew!). After taking all the adhesive tape off, the wood looked okay. I'll tell ya this, adhesive tape sticks really well. It was three years old and still doing a good job working as a barrier.
Also, the self-leveling sealant around the ladder brackets was doing its job. The screws were rounding out a little bit so I replaced them with fatter screws. I used the same length, but replaced the size 8 screws with a size 10. It also seemed that the apparent wobbly action was also being caused from a "stretching" of the brackets themselves. They are just getting old and tired.
---
I used a heat gun to help pull the adhesive tape away
from my EPDM roof.
Unfortunately, EPDM does not like the intense heat. It wanted to bubble as I worked my way through this rubber roof repair project. I'd like to think that I got better at removing the tape, but the truth is, the heat gun and the EPDM did not get along very well. So I did damage some of it.
Liquid EPDM Can Work Well As A Water Barrier... But It May Not Always Be The Preferred Solution
I ended up just cutting away some of the more damaged areas and decided to use a liquid version of EPDM roofing material as a replacement. This liquid roof product will provide an adequate barrier, but in truth, I probably could have just reapplied new tape. I am comfortable that it would have worked just fine. However, I had already purchased the liquid EPDM rubber roofing repair compound. I will also admit, that I was curious to see if the liquid roofing material could do a proper rubber roof repair.
Mostly, I figured it wouldn't hurt to gain more information... so I ended up applying
new adhesive tape
and then applying the liquid roof compound on top of everything. How do you spell redundant? My thinking was that the area around the ladder gets a lot of wear and tear... due to high traffic relative to the rest of the roof.
I guess that is why it wore through in the first place. So, I figured I would build it up a little bit with multiple layers of
rubber roofing repair barriers.
---
After removing all the old tape that was around the ladder area, I then built a containment wall with duct tape. I wasn't sure how self-leveling the EPDM liquid would be, and I did not want it to spread all over the roof... I wanted to concentrate it. While it did not hurt to use the duct tape, it probably was not necessary. The liquid stayed localized pretty well.


Referring to the graphic on the left, you can see quite a bit of damage to the EPDM.
With the information that I have now, I will tell you, were I to do this rubber roof repair again, I would have cut more of the damaged EPDM roof away. Where the roof is exposed to wood, I would have used
WEST SYSTEM's G-Flex 650 epoxy as a foundation.
This epoxy would have acted as another water proof barrier.
---
As it is, referring to the graphic below, you can see the new adhesive tape just before I applied the liquid EPDM. Below that is the graphic showing the process of applying the liquid EPDM with a 4" sponge brush.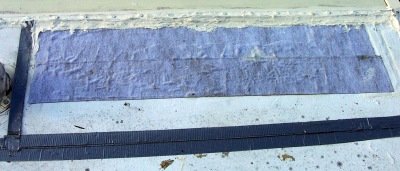 This last graphic below shows the finished product of this rubber roof repair... before I reinstalled the ladder. As it turns out, the leak was located around my black tank vent opening.

You can see where the tape is covering the old EPDM and wood area. With my previous experience using adhesive tape, I'm thinking that this will wear just fine.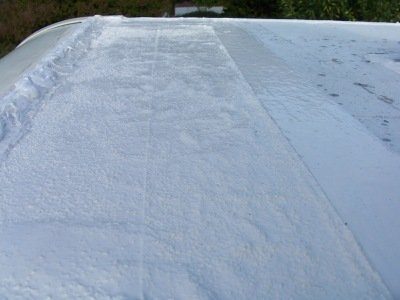 Liquid EPDM Really Wants To Self Level
Adhesive Tapes Are Available With Different
Types Of Backing
On this rubber roof repair project, I used adhesive tape with a
cloth backing
. This cloth tape was recommended due to it's porous nature. This porous attribute better enabled the liquid EPDM to adhere to the tape. In a sense, this combination becomes one continuous barrier.
The challenge I see with this rubber roof repair procedure is the potential for "wear spots". They could occur after the roof has been walked on for a bit. I was hoping that the liquid EPDM would fill the small gaps better. I applied multiple layers of the stuff without achieving a smoother result.
You can purchase an adhesive tape that has an
aluminum backing
that is smooth. If I were to have used this backing, I would have a smoother, less "peaked" surface. I think it would wear better. Only time will tell, but looking back on this rubber roof repair, I think I would feel more comfortable using the aluminum backed tape. Like I said, only time will tell.
---
Don't Get Stuck In RV Roof Repair Paralysis
One last thought... As I've said in my
Roof Repair Part I,
"Do no harm is rule one."
Well, I think I violated this rule. I spent time and dollars fixing an area that was basically okay. The lesson here is not that I was spinning my wheels. Even if I made a mistake and went too far in the wrong direction when performing this rubber roof repair, it was not catastrophic.
I was better off making a decision and acting on it than finding myself in paralysis. Ultimately, after it was all said and done,
this procedure gave me piece of mind.
There is a lot of value in that.
In other words, when I took action, I eventually found the problem and fixed it. If I had worried about making a mistake and did nothing, I could still have a tarp on this rig and be getting an
ulcer worrying about it.
---
Custom Search



---
Return to Top Of Page

Go to Response and Comment Page

Leave Roof Repair II: The Good Reliable Rubber Roof Will Need Attention Too! And Return RV Repair: Sooner Or Later, Something Is Going To Need Fixing! Page

Leave Roof Repair II: The Good Reliable Rubber Roof Will Need Attention Too! And Return To The Class C Motorhome: How To Achieve The Maximum RV Lifestyle! Page