An LED Light Manufacturer Has Introduced The G4 Super Bright lamp


The LED light manufacturer, Super Bright LEDS Inc., has elevated the Light Emitting Diode's performance output to a new level with the introduction of the new G4 LED lamp.


LED Lamps Make A Good Retrofit Upgrade
These high output SMD (Surface Mount Device) lamps make a great retrofit choice for various lighting needs on our Class C Motorhomes.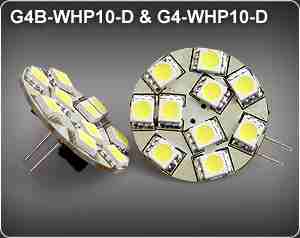 LED lamps make a great light source and help convert our motorhomes into eco-homes. After all, we are all searching for ways to help reduce the cost of ownership for our chosen lifestyles.

Aftermarket LED light manufacturers, like Super Bright, offer a great selection of lamps for such applications as dome lights, porch lights, and reading lights; or they can be used in a more efficient brake light and/or running light application.

These light manufacturers have developed a strong relationship with recreational vehicle owners. This is because these various manufacturers offer a variety of products that have cooler operating temperatures and smaller current draw over conventional wire filament lamps while their products still produce comparable illumination.


These Lamps Have An Increased Performance
And Lifespan Capacity
These high power G4 LED lamps typically use about 1/10th the power and have about 10 times the lifespan of the traditional halogen bulbs. This increase in productivity is also enhanced by the use of a buck-driver—sometimes referred to as a "step-down" driver.
This type of driver accomplishes a couple of things:



First of all, it ensures that the 12 volt supply is matched perfectly to the voltage input design characteristics of the LED bulb.


It also ensures stable power consumption over a wide potential voltage input range.

This combination will produce a superior lighting product that operates very efficiently. This Super Bright LED is a pinned lamp; therefore, adapters may be required.
Super Bright LED's online store offers a wide selection of G4 LED lamps and adapters as well as many other types of high powered LED bulbs and accent lights for all types of recreational vehicle applications.
Where Can I Buy These Lamps?
All products are available for purchase online at very competitive prices with available volume discounts.
Contact Super Bright LEDs Inc.,
4400 Earth City Expressway, St. Louis, Mo. 63045-1328; (314) 972-6200; fax (314) 972-6202;
Text Link Return To Top Of Page

Leave LED Light Manufacturer And Return To RV Tips: Some Thoughts On Bringing Out The Best In Your Class C Motorhome

Leave LED Light Manufacturer And Return To The Class C Motorhome: How To Achieve The Maximum RV Lifestyle! Page