The Santa Cruz Boardwalk Is California's Oldest Continuously Operating Seaside Amusement Park


The Santa Cruz Boardwalk Has Been A Prime Destination In Northern California For Over 100 Years
Custom Search
It was 1907 that the original carousel with its 73 hand carved and painted wooden horses first began operation. Today nearly all of these original horses have been restored and maintained by painstaking effort.
This carousel, along with the Giant Dipper roller coaster, are national landmarks. The Giant Dipper still uses the original 75-horsepower engine.
Although this park has been around for awhile, it has a strong safety record. It spends over 3 million dollars every winter during off season to tear down various rides and
X-ray them for structural faults.
The Santa Cruz boardwalk prides itself in creating a family atmosphere. The admission is free, and you can just wander in, stroll along with the crowd and absorb the sounds, smells, and the overall atmosphere. On the other hand, you can also choose to just spread a blanket out along the sandy beach... over three million visitors annually flock to the Santa Cruz Boardwalk and Beaches! These beaches have a similar flavor to the wonderful
beaches in Southern California.
Another Alternative Is The Santa Cruz Wharf
This is the place to fish, eat, or shop the local boutiques. The Santa Cruz Wharf has roots that actually go back to 1865.
This was when John Leibrandt first opened his public bathhouse. Bathing in salt water was considered a highly-touted natural medicine at the time. This got the ball rolling and soon other bathhouses began popping up all along this stretch of beach.
More concessions came just before the end of the century. Fred W. Swanton laid out plans for the "Coney Island of the West". This was to be a casino and boardwalk attraction.
Unfortunately, it burned down within 22 months of completion. But, undeterred, Swanton immediately began plans for a newer, bigger, better facility. This resulted in the original California Amusement Park... the Santa Cruz Boardwalk.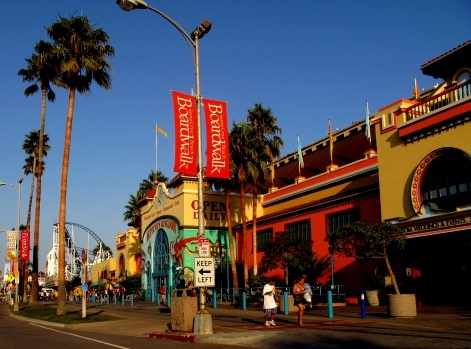 The Santa Cruz Boardwalk was Established In 1907!
When it first opened in 1907, the boardwalk consisted of a Casino with a ballroom (The Cocoanut Grove), an indoor pool called the Plunge, a pleasure pier, and a boardwalk.
With this foundation in place, the rides began appearing on the boardwalk. 1908 saw the opening of a four minute, one mile, roller-coaster constructed on a wood frame and track. Soon after in 1911 came the famous carousel that can still be ridden today. Charles I. D. Looff delivered his hand carved creation from Europe. It still uses the original 342-pipe band organ made in 1894 by Ruth Und Sohn.
This is one of a dozen remaining carousels that still supplies a ring to toss at an open mouthed clown. If you successfully toss the ring into his mouth, he will light up like he just had some of his favorite boardwalk dishes, like corn dogs, cotton candy, or deep fried Twinkies! This in not the place to be
if you are worried about silly stuff like health and nutrition...
This is not your average amusement park. It is not a museum either. If you are an amusement park junky, there is not a better sound than a chorus of screams emanating from the Giant Dipper's 70-ft plunge into a dark tunnel where the smell of damp salt air is mixed with old painted wood and new track grease from this well maintained ride.
Santa Cruz's Giant Dipper was designed by Auther Looff. He once made the observation that this ride's goal was to create the effect of a "combination earthquake, balloon ascension, and aeroplane drop." It took his builders all of 47 days to accomplish these goals at a cost of $50,000.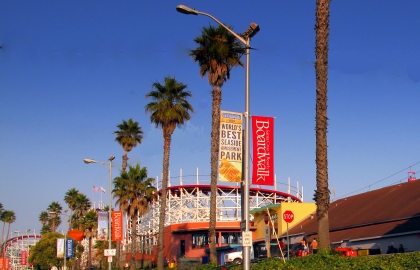 The Giant Dipper has been sitting here since 1911
David Escalante was a former public relations director for a roller coast enthusiast's club called the American Coaster Enthusiasts. This club boosts of a membership of over 8,500. David says about the Giant Dipper, "It was my first roller coaster, and it remains my all-time sentimental favorite."
You have to understand, this is a man who has ridden over 400 coasters in his career. I say over 400 because that was when he stopped counting. Anyway, David also says with some authority...
"It's one of the most outstanding roller coasters in the world, and it is arguably the best-maintained one. There is no wasted track; it's fun from start to finish; and I love the way it looks. It's like stepping into a postcard from the 1920s."
There Are Free Friday Night Summer Concerts
On The Beach Bandstand
These concerts feature classic rock groups from the 1960's up to the 1980's.
After a serious earthquake in 1989, the Plunge building went through a $5.2 million dollar upgrade resulting in a new adventure center. This center includes a two story miniature golf course called Neptune's Kingdom. It is complete with robotics, fiber optics, and a restaurant.
Today, the Santa Cruz Boardwalk has 35 rides (including the new Hurricane metal coaster with 80 degree banked turns) and three arcades that include both vintage and modern video games that will keep the kids busy for hours.
There are also 36 food vendors and at least 15 gift shops. The newest ride on the boardwalk is the Sea Swings. This carousel swing opened in 2009.
---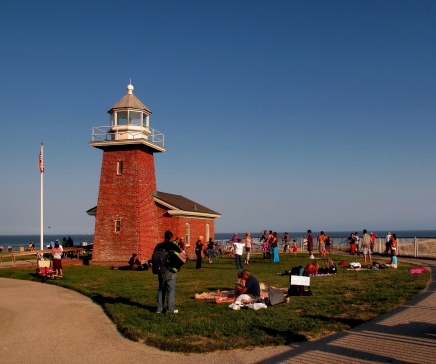 The Mark Abbot Lighthouse and Surfing Museum...
Only In Santa Cruz!
Santa Cruse Is Also A Prime Surfing Location
Something else should be added here... Santa Cruse is a prime surfing location. If you follow the bay northwest away from the Santa Cruz Boardwalk, you will come to the Mark Abbott Memorial Lighthouse at Lighthouse Point on West Cliff Drive. This is now a surfing museum that was established in 1986.
Get out and wander around, there are always a good eclectic combination of people here. On this bluff, you can see the surfers partaking in this great sport. Or you can just sit and enjoy the waves crash against the rocks and watch the harbor seals!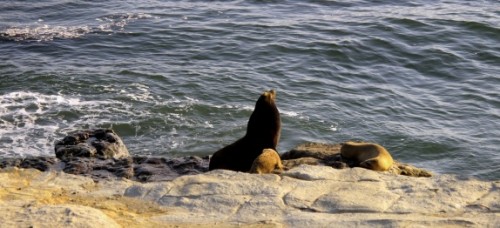 Here Are Some Harbor Seals... Looks Like Mom And A Couple Of Cubs
---
For general information, call (831) 426-7433 or (831) 423-5590, or visit www.beachboardwalk.com
SeaCliff State Beach, or New Brighten State Beach
are very good locations for you to stay while enjoying this area. They both have electrical power, and they are both on the beach.
Expect very heavy traffic during the summer peak season between memorial day and labor day weekends. It is best to use a toad if you have one. Parking for a large motorhome could be difficult.
---
---
Return To Top Of Page

Leave The Santa Cruz Boardwalk Is California's Oldest Continuously Operating Seaside Amusement Park And Return To California Attractions: So Now That We Are Here, What Are We Going To Do?

Leave The Santa Cruz Boardwalk Is California's Oldest Continuously Operating Seaside Amusement Park And Return To The Class C Motorhome: How To Achieve The Maximum RV Lifestyle! Page