Will Your Mobile Internet Connection Allow You To Have Decent
Internet Access?


Having a mobile Internet connection using a laptop data card is taking motorhome travel recreation to the next step in convenience and comfort. Motorhome recreation has become, in many ways, as comfortable as the brick and mortar homes we are leaving behind.


Custom Search
For years we have had central heat and air conditioning, microwave ovens, fireplaces, etc. in our motorhomes. Now, with technology incorporating different connection methods like laptop data cards or satellite mobile Internet connection, one more area of comfort has been added to a motorhome's list of good things.
Now, wherever you have cell phone coverage, whether you are driving down the road or sitting at a campsite, you can have a mobile Internet connection.

Motorhome owners all over the world
all over the world
are using cell phone technology, dongles and laptop data cards to make a mobile Internet connection that will allow an individual to keep in touch with friends, family, and business obligations.
Also, you can extend the range of your mobile internet connection, along with enhancing throughput on your laptop data cards, if you use a
device like a cell phone amplifier.
This will, in most cases, extend your mobile Internet connection coverage by a factor of 10, 20, or even more than 30 miles under the left conditions!
---
This cell phone technology is called EV-DO (Evolution-Data Optimized). Essentially, all you need to have in order to take advantage of this system is an EV-DO card and a monthly service plan with AT&T, Verizon, or Sprint.
If interested, you can check with each company's coverage area to determine which will work best for your travel needs.
I personally like the Verizon plan. It seems to cover more area. A monthly charge of around $60.00 will buy you a throughput service connection that is roughly equivalent to a DSL (Digital Subscriber Line), and has speeds in the neighborhood of 256 kilobytes per second (kBps). That's not bad, all things considered.
---
A note of interest is that when purchasing a EV-DO card, you want to make sure that you get the latest revision. There are only two: Revision 0 and Revision A. Revision A is faster.
---
So what are the advantages and disadvantages of the EV-DO? Everything is a trade off, and achieving a strong mobile Internet connection using a laptop data card is no exception. A big advantage of this system over, let's say, WI-FI (wireless technology) is that EV-DO is truly mobile.
With WI-FI, if you want to connect to the Internet, you are stuck sitting in an RV park, coffee shop, or some other type of localized area. Laptop data cards and EV-DO technology allow you to access the Internet anywhere you have cell phone coverage, even while traveling down the highway!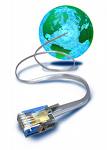 You have a lot of room to move about, and you will be able to maintain connection a great deal of the time.

The disadvantage is cell that phone coverage is not everywhere. Even with a cell phone amplifier you will, on occasion, find yourself out of a coverage area... especially if you like to go to remote locations looking for peace and quiet... bummer! Cell phone companies like to put their cell towers next to population centers. Something about a profit margin.


---
Oh yeah... I almost forgot! EV-DO will not work overseas, and it has limited connection in Canada.
If you are like me, driving to Alaska through Canada without any Internet connection would be the same as trying to drive through Canada holding my breath. To say the least, it would not be comfortable.
---
This brings us to another cool toy. If you have the dollars (and really want a mobile Internet connection anywhere and all of the time, satellite based Internet will give you a good throughput connection. It will connect anywhere in North America that has a clear shot at the Southern Hemisphere.
This is accomplished through the use of proprietary equipment and satellite based technology. Satellite is expensive, but it will almost double your throughput in comparison to an average laptop data card.
---
As a note, unlike a laptop data card, you cannot achieve a satellite connection while the vehicle is moving.
Any motorhome satellite based Internet must be in a stationary position with a good line of site facing south.
Simply said, when you are out in the woods, you can use your computer along with a MotoSat dish to contact a satellite which, in turn, contacts an Internet Service Provider like the HughesNet Network Operation Center (NOC).
NOC then contacts the specific website you are requesting. Your chosen website then beams the information back through the same path to your computer.
The key here is, there are no land lines or cellular phone connections in the loop. All
you need is enough power (115V AC) to power up your equipment.
HughsNet and MotoSat seem to be the big guns for RV users.
---
A good tracking system from MotoSat, labor included, can cost you up to $5,000. On top of that, you will have a monthly charge from around $60 to over $200 for the service provided by HughsNet depending on how fast your want your service.
No question about it, this is an expensive proposition! But, if you really need the Internet, that's the price you pay for this type of connectivity. And to be fair, you are paying for convenience and speed.
---
The MotoSat is a unit that is installed on the roof of your rig. While you are setting up camp just after arriving at your destination, you just need to push a button. In less than ten minutes you will have a satellite connection... as long as you have a clear shot of the Southern Hemisphere.

The alternative to this scenario is a system that would cost you less money. It consists of using a tripod/satellite. You could potentially have an easier time getting a clear line of site on the Southern Hemisphere, but locking into that satellite might be a real bear.
On the other hand, this would give you more options. Heck, I've seen people run these things up a tree to get better reception! It is, however, against the law to put them on the ground because there is a risk of high frequency radiation... think microwave cooking.
People have been known to do this, but it really isn't a good idea. Technically, the FCC could hassle you, but I would like to think that the FCC would have bigger fish to fry... no pun intended.
---
Additionally, there are other providers like VSAT. But it appears that they are geared more toward the professional players that need a lot of bandwidth.
They will sell to RV owners, but they are expensive. If VoIP (Voice over Internet Protocol) is something that you must have, as an example, higher bandwidth is a good answer for your needs. Just remember, bandwidth costs money.
All in all, a simple laptop data card along with a reliable cell phone service package suits the needs for most people, most of the time.
---
Custom Search



---
Return To Top Off Page

Leave Will Your Mobile Internet Connection Allow You To Have A Decent Internet Access Page, And Return To Communications: How To Stay In Touch With Friends And Family! Page

Leave Will Your Mobile Internet Connection Allow You To Have A Decent Internet Access Page, And Return To Class C Motorhome: How To
Achieve The Maximum RV Lifestyle!