Computer Cleaning Is Something That Should Be Performed On A
Regular Basis


Computer Cleaning requirements are similar to housekeeping requirements… you don't wait until they are trashed to clean them. There are more and more computers being used in our Class C Motorhomes. Most of them are laptops. However, I'm sure you will also find the good ole' PC in a few of them.


Cleaning A Computer Becomes A Must Chore
When We Are Camping In The Dirt
Our screens will attract dust, and keyboards, over time, accumulate a wide variety of grime and dirt. It is important to keep the exterior and interior of your computer clean.
Custom Search
The point is, just like our RV, if we use them, they will get dirty (especially out in nature). So we must pay attention to our computer cleaning chores.
Computer cleaning usually starts on the outside and then, to make sure it is operating at its maximum potential, by getting rid of the heat-generating dust built up on the inside.
You will need a few things before getting started cleaning a computer:
denatured alcohol


Q tips


soft cloths


some type of screen cleaner


phillips screw driver


compressed can of air


vacuum cleaner


all purpose cleaner


glass cleaner


If you are cleaning a PC, the first thing you want to do is unplug it. At least once a year, maybe every 3 to 6 months under dusty conditions, you want to remove the side panel opposite the system board. Use a vacuum with the crevice tool to remove all the dust bunnies that are going to be inside your computer. You can use a can of compressed air to do this if a vacuum is not available.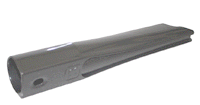 ---




Do not touch any circuit card with your fingers! ESD (Electrostatic Discharge) can cause damage to your micro-processors.





---



You do not want to disturb anything in the computer. Just vacuum it out, or blow out the dust and close it up. You do, however, want to make sure your fan blades are clean and can turn freely.
Use a soft clean cloth along with the glass cleaner and wipe the glass monitor screen clean. A lot of us are using Liquid crystal displays now, if so, just use an LCD screen cleaner your monitor's surface.


Turn over you mouse and remove the mouse ball if your mouse has one. Use Q tips with alcohol and clean the three contact points. Put the mouse ball back and the mouse is good to go.



If you are using an optical mouse there will not be a ball or any contact points. The only thing that may be a concern, would be the small soft rubber feet. They can gunk-up and cause erratic movement. Simply clean them with a Q tip and alcohol.



Disconnect the keyboard and turn it upside down.



Shake it over a trash can several times. This should remove loose stuff.


Turn it back over and use Q tips with an all purpose cleaner to wipe the tops and sides of individual key pads.


Use compressed air to blow out remaining loose stuff.



Let everything dry, and then connect it back together. Most of it is color coded.
---
The Laptop Cleaning Process Is Somewhat Different
Your laptop is a little different. But it does have a cooling system, and it will become dirty and require service.
Most laptops will require a good cleaning at least once a year. If you do not do this, they may begin to run hot. This, of course, will shorten their lifespan.
Take it to a professional computer repair
service and let them clean it for you.
You can perform the same external cleaning listed above with a few modifications. The major difference will be the use of a dedicated LED screen cleaner. You can buy this cleaner at Office Depot, Computer Warehouse, etc. It comes as a spray or individual wipes.


Ensure that your laptop is unplugged with the battery removed. It is a good idea to keep the battery out of the laptop unless you are using it as a power source.


Use compressed air to blow out the keyboard.


Use an all purpose cleaner on a Q tip to clean individual tabs on the keyboard.



Do not allow any fluid to seep under keypad and onto the laptop circuit boards. If this does happen allow plenty of time for it to dry out, you can even put the sucker under a fan for a day, maybe two, if there was a lot of liquid involved.




Use the screen cleaner spray on a soft cloth, wipe screen clean or use individual wipes and wipe screen clean.


It's just like your Class C. If you keep on top of things and do your cleaning often... you will have less hassles.
A Periodic Registry Cleanup Will Get Your Machine Back Up To Speed And Running Again
Last,but not least, you may need to do a registry cleanup. In the normal course of events, when we surf the web there is a very good chance that we will pick up unwanted tracking cookies. These are executable files and are called "Trojans".

These Trojans will run in the background and eat up your resources. That's computer talk for telling you that they will slow down your computers processing time.

There are a bunch of people on the WEB that want to monitor your actions so they can send "pop-ups" selling stuff. Doing a good registry clean up will get rid of this stuff.

When I do a through computer cleaning, I always run a couple of free registry cleanup programs. Adware Pro by Lavasoft, and Spy Bot Search and Destroy.

These programs are easy to download, and best of all, they are free. The trick is just make sure that they are updated and you should be good to go!

Computer cleaning really is not big of a deal. The trick is to stay on top of it. If you wait until your system is so bogged down that it will hardly run then you will have problems.


---
Custom Search



---
Return To Top Of Page

Leave Computer Cleaning Is Something That Should Be Performed On A Regular Basis Page And Return To Class C Motorhomes And Housekeeping: How Can We Make It Simple? Page

Leave Computer Cleaning Is Something That Should Be Performed On A Regular Basis And Return To Class C Motorhome: How To Achieve The Maximum RV Lifestyle!