Of all the cleaning hints that will help you to accomplish your Class C Motorhome housekeeping chores, the best tip would be to not get your rig dirty in the first place.
Custom Search
Of course, this is easier said than done... you are, after all, parking your rig in the dirt. There usually is not a well manicured lawn surrounding your Class C Motorhome when you are out in nature.
With that being the case, RV Cleaning is much easier said than done. The bottom line is... you want to keep as much dirt outside your rig as possible. Unfortunately dust is going to happen.
We will just have to wipe, sweep, and vacuum it up as often as necessary. However, there are some things we can do about tracking in wet sand and dirty mud.
Here Are A Few Cleaning Hints That Help Reduce The Amount Of Dirt And Dust That Gets Into Your Rig
If your rig has an external shower, and it is located where the used water will not puddle in front of the door, a good cleaning tip would be to use it to wash off much of the sand, dust, dirt, etc. on your shoes before it gets tracked all over the inside of your rig.
This helps so much with your housekeeping. The trick to this is to keep your feet clean, or mostly clean, between the shower location and the entry of your Class C Motorhome.
I use an artificial turf rug under the awning. It's not the best solution, but it works pretty good as a first line of defense against tracking in mud and other stuff.
---
Another cleaning tip is to use a Soft Swipe pad just below the step leading to the entrance of your RV. (It just requires someone to go out once a day, depending on use, and knock the loose sand/dirt off of it.) It is a good device to wipe my feet on to remove the grime.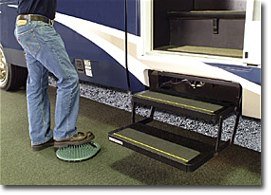 ---
You may want to change shoes when entering your Class C Motorhome. I've found that generally it is not a good idea to use a pair of shoes to romp around the forest/beach/desert and then use the same shoes to wander around the rig.
I have found that it works best if I use two pairs of shoes. One pair for the outside of the rig, and another for indoors use.
I can then sit just inside the rig and swap shoes to keep from tracking mud/dirt everywhere... and it will go everywhere.
Tevas work well for inside use; I find them easy to slip into.
I will also admit that swapping shoes will become a pain if you are going in and out a lot. So I prefer a tile floor over carpet because it is easier to do a quick sweep than a quick vacuum.
---
A Basic Cleaning Tip Is To Be Disciplined Enough
To Clean Up After yourself
A cleaning tip that was shown to me a long time ago was to use a small broom and dustpan combo for quick cleaning (It's called cleaning up after yourself). After swapping out my shoes, there is usually a small amount of dirt just in front of the chair that will cause problems if it isn't dealt with right away.


A couple of throw rugs work well if they are small enough to go into the laundry once in awhile.


---
I do have a small handheld vacuum cleaner that runs off of 115V AC. This is handy to vacuum up small spills, the comforter on the bed, and all the fabric upholstery if the dust is really bad.
Also, I have a hand broom that works well inside and outside of my Class C Motorhome. And like I said earlier, I use a small broom and dust pan for the high use traffic areas.
---
It's just like the way I learned how to clean house at home, I find that it is easier to do your housekeeping as you go along. This is so much easier than waiting until the end of the day... or the next day to do it. Let's face it, any Class C Motorhome is going to be cramped in comparison to a brick and mortar house.
Therefore, if we do not pick up after ourselves, in a short time our home on wheels can become very messy. I have a hard time with this, and I have to always remind myself to put stuff away.
You know the old saying, "A place for everything, and everything in its place". If this does not apply to a Class C Motorhome, then I don't know what would.
---
We use a paper towel with a spray bottle of cleaning solution to keep the surface areas clean and dust free.
If we are cleaning up during/after cooking, we'll use the dish rag to wipe stuff up.
We also like to use disinfectant wipes to sanitize our counters.
I also use disinfectant wipes to wipe down the bathroom. I find that it is a good thing to do at least a couple times during the day or just after using the facilities.
I Think A Great Cleaning Tip Is The Multiple Uses Of Vinegar And A Micro Fiber Cloth
Because of the lack of storage in motorhomes in general and Class C Motorhomes in particular, I find that a basic bottle of vinegar and water (2/3 solution) works well as a general purpose cleaner for cleaning windows, removing spots, etc.
A micro fiber cloth also works well for window cleaning. You just have to be careful with what laundry you wash it with since they have a tendency to pick up lint easily.
---
Heck, you can use vinegar for lots of stuff. For example, mix 1/2 cup of white vinegar and a good quality auto wash in a bucket of water and you can use it to wash your Class C Motorhome. This combination will also dramatically cut back on water spots.
---
Some Other Cleaning Tips That Have Proven Useful
If you are in very dusty condition... like motorbikes in the desert... bring an extra flat bed sheet.



You can spread it over the bed and then just take it off when you are ready to retire for the night.



You could bring a small power blower and push the loose sand/leaves/dirt away from the entrance to your rig.
I would only do this if I was camping in a site that was somewhat remote. You don't want to be blowing dirt on your neighbors picnic table... makes them grumpy.




I like to wipe the wood surfaces down with Howard Orange Oil. It keeps the wood from drying out, and it gives a nice orange citrus smell to the rig.
---
Custom Search



---
Return To Top Of Page

Leave What Are Some Cleaning Tips That Will Keep Our Class C Motorhomes Sparkling Clean? Page And Return To Class C Motorhomes And Housekeeping: Can We Make It Simple?


Leave What Are Some Cleaning Tips That Will Keep Our Class C Motorhomes Sparkling Clean? Page, And Return To Class C Motorhome: How To Achieve The Maximum RV Lifestyle!