RV Bedding Options, The Old Against The New... Sometimes It's
Mix & Match!


RV Bedding is probably not high on the list when you are sitting around discussing all the different types of Class C Motorhome accessories that are available for us. Although as I'm writing this, I'm thinking that we all bought our Class C Motorhomes because of the comfort and convenience that they offer.


An RV Mattress Is Not Something To Ignore...
If You Want A Good Nights Rest!
Custom Search
This being the case, would it not make sense to have an upgraded RV bedding system that would give you a good night's rest? I'm trying not to sound like an infomercial here, but how can you put a figure on a good night's rest?
We all have a varying degree of income invested in our individual Class C Motorhome. Some are going to be top of the line, some are going to be entry level, and there will be a bunch in between. This means that there will be a wide variety of RV beds in use. Look At your RV mattress as an example; some are really good, and some are really not so good. How does your camper mattress feel to you?
---
We All Have Different Sleeping Requirements
To personalize this just a bit, look at our bodies. Some of us are in very good shape, and some of us are hanging in there… this leads me to the conclusion that for some of us, a good support mattress is much more of a necessity. That being the case, I want to present on overview of the RV bedding options available.
---
I will mostly talk about the best mattresses available in today's market. These various RV mattress combination and option are the foundation for all other bedding discussions.
There are 3 mattress types that would be appropriate RV beds... determining which of these are the best mattresses for your body is what this is all about:
Innerspring Mattresses


Memory Foam Mattresses


Air Mattresses


---
The Innerspring Mattress
The innerspring mattress is the most common type of mattress available
today. The technology of the spring coil hasn't changed significantly since Heinrich Westphal was credited with inventing the innerspring mattress in 1871.
Innerspring mattresses were an improvement over the basic bed that had been used for thousands of years. They had more softness and conformity.
However, coil springs will still always have a basic problem: They can only cushion a downward force. They cannot push up, and they cannot give you uniform conformity that will properly support your body.
---
The Memory Foam Mattress
Memory foam is a material that has a solid and subtle feel to it.
It does not feel like it is pushing back against your body.

NASA's Ames Research Center developed this material for use in the Apollo program to protect our astronauts from the effects of g-forces. Commercial production began in 1991 by the Swedish Mattress Company, Tempur-Pedic®.

This material has a tendency to mold against the body. This enhances your sleep experience because of the universal support and pressure relief where needed.


---
The Airbed Mattress
Considering that the Airbed design is a relatively new conceptual idea of supplying sleep solutions
to the masses, there is a lot going on in this market.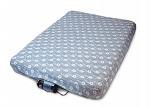 Most people have heard of Select Comfort and Comfortaire. Many people would consider them the standard-bearers.
These competitors put out a good product that will give you a good night's rest, and they provide you with good service.
However, there are good alternatives to the high cost advertised products that most of us are familiar with.
---
So, Where Can You Find These Mattress?
When shopping for a mattress, I feel that a knowledgeable sales representitive
is indispensable.

There are multitudes of places to shop, however, from specialty stores to chain discounters.

Just a little bit of surfing on the web can overwhelm you with knowledge and offerings for
a special this and that.




---
Custom Search



---
Return To Top Of Page

Leave RV Bedding Options, The Old Against The New... Sometimes It's Mix & Match! Page, And Return To Class C Motorhome: How To Achieve The Maximum RV Lifestyle!