Back To The Future!
From 1979 to 21st Century
by Kristin
(Denver, CO)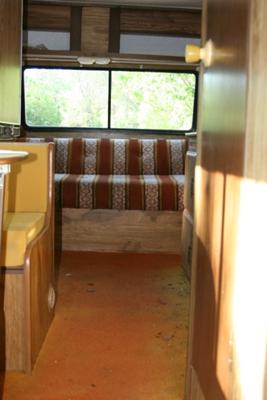 This is what a 1979 Dodge Honey Bee Looks Like
Before New Floors!
We bought a '79 Dodge Honey for $800 on craigslist. It came with orange carpet & old wood paneling along with a bad smell. Oh yeah... and water damage!! Bad

We sealed the outside with roofing tape. It rained. No leaks... yay! We then simply tore out parts of the ceiling and other damaged areas. I used bleach to get back into tight areas to hopefully kill the mold and sealed everything, using a Kilz primer and then it was simply a matter of applying paint.

We now have wood floors, painted walls and even managed granite counter tops... Woo! (Click on the before and after pics above to see an enlarged graphic for the before and after shots)... It's beautiful and only cost about $200 to do. Craigslist and Home Depot... oh!, and the ReStore outlet for Habitat for Humanity. Awesome! Granite $20. Booya!

This was a cheap down and dirty project. It's going to live on our property. Not using it to travel... just a nice little get away!

Join in and write your own page! It's easy to do. How? Simply click here to return to Class C Motorhome Project Invitation.